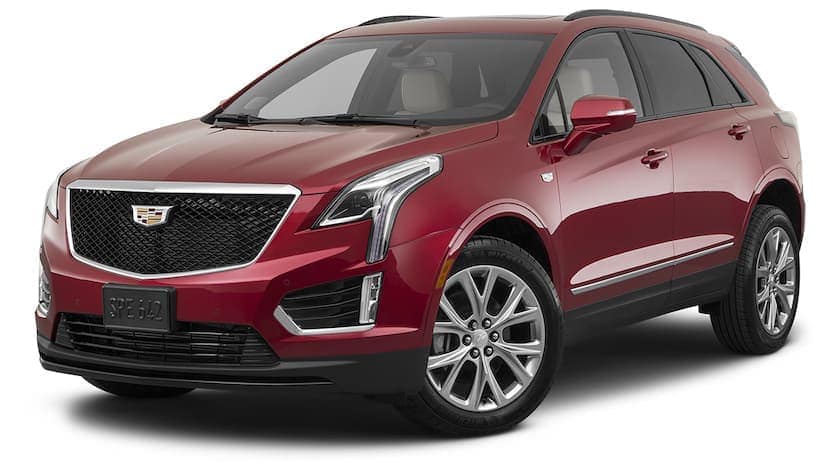 Cadillac delivers luxurious mid-size sports utility like never before with the 2021 Cadillac XT5. This versatile vehicle provides incomparable comfort while delivering reliable performance and unmatched quality. For the 2021 model year, the XT5 has been made even better with a variety of new technologies to enhance both safety and entertainment.
This crossover SUV is designed to appeal to intrepid drivers who seek thrills but enjoy luxury and convenience above all else. The 2021 Cadillac XT5 is the epitome of combining the utility aspects of a sports vehicle with the lavish extravagance that the Cadillac brand is known for, all while providing drivers with something more compact than a full-sized SUV. If you are looking to experience everything that makes Cadillac a standout name in the automotive industry, it is difficult to go wrong with the XT5.
22/29 MPG
Fuel Economy (city/highway)
Performance

ENGINE OPTIONS
The Cadillac XT5 comes with two engine options and five different drivetrain configurations across its three different trim levels. The base XT5 is a front-wheel drive vehicle that comes equipped with a 2.0-liter turbocharged producing 235 hp and 258 lb-ft of torque. However, this engine can also be paired with an all-wheel drive system for bad-weather performance. Either powertrain is capable of towing up to 1,000 lbs, which is perfect for towing camping supplies or taking mountain bikes into the hills.
The alternative engine option for the XT5 is a 3.6-liter V6 that can produce up to 310 hp and 271 lb-ft of torque. While this engine also comes with either front-wheel drive or all-wheel drive, it can be optioned with a more advanced twin-clutch all-wheel drive system that can transfer power laterally for better traction. The 3.6-liter V6 is also available with a towing package that allows it to haul up to 3,500 lbs, making the XT5 a surprisingly practical tow vehicle.
FUEL ECONOMY
Both powertrains are matched with a modern 9-speed automatic transmission, which provides smooth shifts and enhances fuel economy. With the base turbocharged engine, the XT5 is rated for 22 MPG in the city and 29 MPG on the highway. Upgrading to the V6 will reduce that slightly to 19 MPG in the city and 26 MPG on the highway. However, that is a relatively small loss of efficiency for the amount of extra power gained.

SAFETY FEATURES
Your safety is of the utmost importance when traveling on the road in any vehicle, but not every vehicle offers you the kind of reliable safety features that you need in a midsize SUV. Cadillac has gone through great effort to ensure that the XT5 is not only stylish and flexible both on the road and off, but that it also features all of the necessary safety functionality to keep you and other passengers safe at all times.
The XT5's cabin safety starts with seven airbags to secure the driver and passengers, making sure they are fully protected from any serious injuries. However, this is just the beginning. Every XT5 trim is equipped with automatic emergency braking and electronic traction control to help you avoid potential accidents. Automatic parking assist with electronic braking is also available for both the Premium Luxury and Sport trims, along with enhanced automatic emergency braking.
Lane change and blind zone alerts are available with the Premium Luxury and Sport trims. However, forward collision alert, following distance indicators, an HD rear vision camera, lane change alert, lane keep assist, and automatic front pedestrian sensors and braking are available as standard features on all three trims.
ONSTAR AND TEEN DRIVER
OnStar connected services is also a standard safety feature for all 2021 Cadillac XT5 levels, along with child-safety mechanics such as security door locks and safety alert seat. A configurable teen driver mode is available that automatically enables certain safety features such as seat belt reminders and driver report cards available for parental perusal. No matter who is driving the XT5, the safety features are present and available to guarantee that every driver and passenger arrives safely at their destination.
QUALITY INFOTAINMENT
The 2021 Cadillac XT5 is at the forefront of infotainment availability, with every trim coming fully equipped with 4G LTE WiFi capability and an 8-inch diagonal multi-touch LED screen with voice-activated technology. Crystal clear audio is transmitted through a Bose premium 8-speaker system, while an optional Bose performance series 14-speaker setup is available for the Premium Luxury and Sport trim.
Wireless connectivity with smart devices such as iPhones and Android devices is available through Apple CarPlay and Android Auto, along with support for Amazon Alexa. Smart device mobile pairing is also possible through near field communication (NFC), enabling XT5 owners to stream music or listen to their favorite MP3 playlist without having to manually connect the device to the vehicle. This includes support for LG, Samsung, Xiaomi, Huawei, Google Pixel, and Sony Xperia devices.

A LISTENING EXPERIENCE LIKE NO OTHER
Another exciting new feature in the 2021 Cadillac Escalade is the first-ever AKG Studio Reference system. This innovative audio system uses 38 speakers and 3 amplifiers to deliver the highest-quality sound possible.
AKG is world-renowned for producing headphones and microphones used by professional musicians and music production studios. They worked with Cadillac to create the best in-vehicle music experience; the AKG system is groundbreaking.
STUDIO 3D SURROUND AND OTHER FEATURES
It comes with Studio 3D Surround, conversation enhancement, audio rendering for navigation, and volume control for the front passenger. Studio 3D Surrounds uses strategically placed speakers to deliver immersive sound throughout the cabin. Conversational enhancement uses microphones embedded throughout the vehicle so that all passengers can be easily heard. Audio rendering navigation delivers turn-by-turn directions for the driver to clearly hear, and the front-seat passenger can manage his/her own audio levels using the volume control.
Trims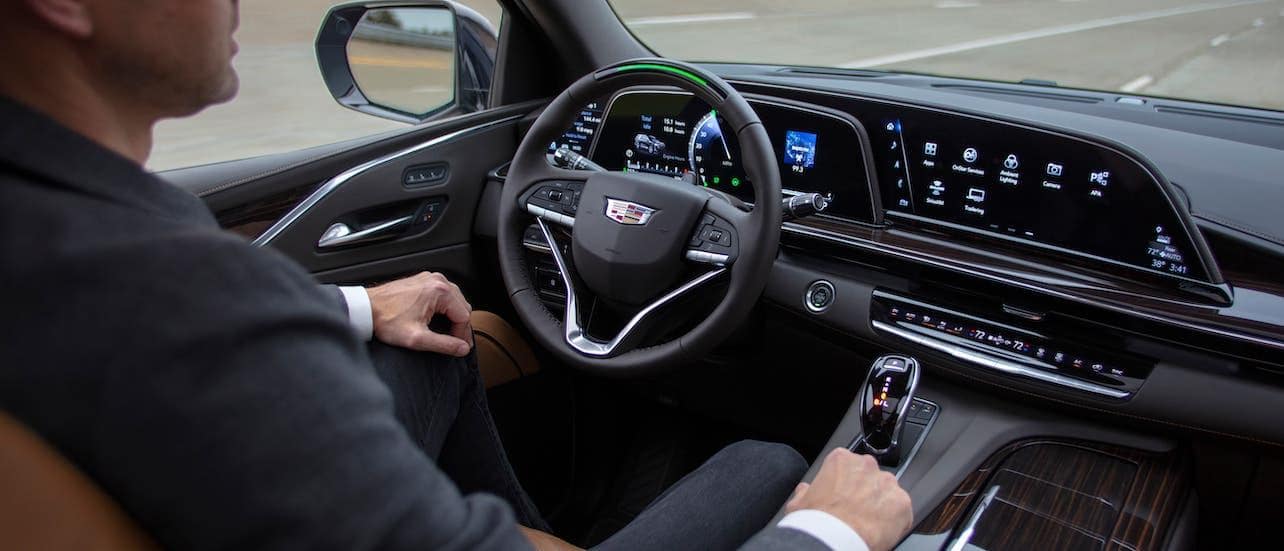 LUXURY TRIM
The four-door, five-passenger 2021 Cadillac XT5's base level is the Luxury trim. The Luxury trim comes with a 2.0-liter turbocharged engine, front-wheel drive or all-wheel drive, eight exterior colors, and four different optional packages. On the outside, the Luxury trim features 18-inch wheels, side-mirror turn signals, a chrome grille with matching chrome door handles, remote keyless access, and a power liftgate.
For the interior, the instrumental cluster contains a genuine wood trim with piano black panel inserts. Drivers are treated to 8-way power seat adjustments while passengers have access to 6-way power seats. Heated seats come standard for both driver and passenger, while leather upholstery adorns the cabin. With the rear seats folded down, the XT5 offers up to 63 cubic feet of cargo space, great for packing up for vacations, weekend getaways, or out-of-town adventures.
Four optional packages are available for the Luxury trim, including the Floor Liner package with its all-weather integrated cargo floor liners. An Interior Protection package features all-weather floor mats and a cargo liner. The Premium Carpet package includes premium cargo mats and carpeted mats for the front and rear cabin floors. An Illumination Package is available for those who prefer an illuminated cargo sill plate and illuminated front door sill plates.
PREMIUM LUXURY TRIM
The Premium Luxury trim comes with all of the features from the base Luxury trim, including the 2.0-liter engine and both front-wheel and all-wheel drivetrain configurations. However, in addition to the 2.0-liter engine, the Premium Luxury trim can be paired with a 3.6-liter V6 for even better performance.
The Premium Luxury edition includes a panoramic sunroof, 18-inch alloy wheels with pearl nickel finish, optional real-time damping suspension for dynamic adjustments made based on road surfaces and conditions. Another performance upgrade is the Smart Towing package, with its heavy-duty cooling system and hitch guidance for improved trailering and towing.
Cadillac's XT5 Premium Luxury trim also opens up additional package options for car shoppers. These include the Enhanced Visibility and Technology Package, with a rear camera mirror washer, HD surround vision, rear pedestrian alert, and automatic parking and braking assist. The Cargo Convenience package includes stainless assist steps and a roof rack that can carry up to 200 lbs.
The Driver Assist Package includes built-in adaptive cruise control, automatic seat-belt tightening, and enhanced automatic emergency braking. Finally, the Platinum package provides drivers with semi-aniline leather seating with matching leather-wrapped trimming along the dashboard console and doors, along with illuminated front door sill plates and front and rear premium carpeted floor mats.
SPORT TRIM
For top-of-the-line performance in the XT5, the Sport trim comes standard with the 3.6-liter V6 engine and a twin-clutch all-wheel-drive system. This features an active yaw control mechanism with unique tuning calibrations to help with maneuvering and sharp cornering, so the XT5 can handle even the most winding of roads. The real-time damping suspension and heavy-duty cooling system available on the Premium Luxury trim also come standard instead of being optional. This allows the Cadillac XT5 Sport to traverse into off-road terrain without any additional modifications being required.
On the exterior side, the XT5 Sport features larger 20-inch alloy wheels with a pearl nickel finish paired with all-season tires. The exterior elements are also backed-out for a more aggressive sporty appearance. The XT5 Sport trim is for those who want nearly all of the luxury features that Cadillac has to offer for the midsize SUV but made available in a single package.
1Dealer Discount applied to everyone.