2021 CADILLAC ESCALADE - FORT WORTH, TX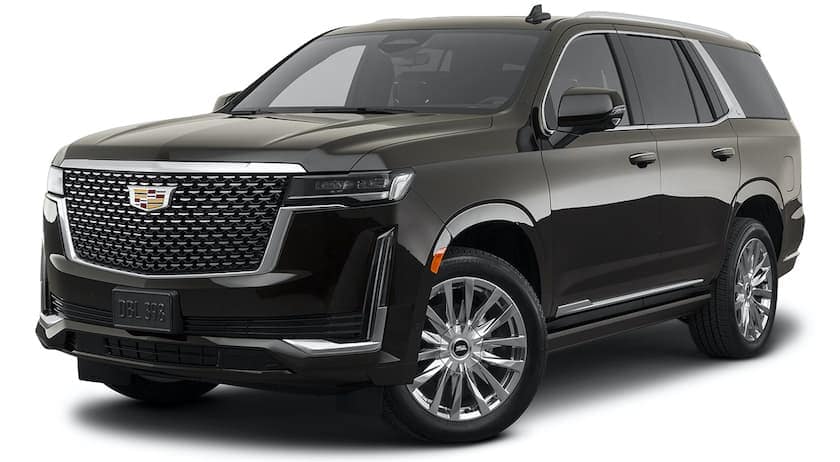 If you are looking for an elegant SUV that has plenty of room and lots of luxury features, then we have good news for you! The upcoming 2021 Cadillac Escalade is on its way. Boasting state-of-the-art entertainment and safety technology, you'll be hard-pressed to find something you don't love about this sophisticated model.
The new 2021 Cadillac Escalade will be the first vehicle to feature Organic Light Emitting Diode (OLED) display technology and AKG audio. It will also come with Super Cruise driver assistance technology, which Cadillac created five years ago. Pushing this luxury vehicle beyond the confines of a conventional SUV, this American automaker plans to have these beauties rolling out to dealership lots by Fall 2020.
Using the Cadillac Escala concept vehicle as inspiration, the 2021 Cadillac has undergone an interior refresh. The new cabin style is brimming with advanced features with a heavy focus on high-fashion and high-performance. You will have eight different interior color and trim options to customize the look of your new ride. You can also choose the type of quilting and perforation patterns that you want inside the cabin.
This model is larger than ever before, as well. The interior has been drastically expanded, offering about 40 percent (34.9-inches) more legroom for passengers in the third row. That's approximately 10-inches more than the 2020 model. Also, the cargo area behind the third row has been increased by about 68 percent. With 25.5 cubic feet of storage space, you can load groceries, luggage, sports gear, and more.
Although not every detail has yet been released about this luxurious SUV, our experts here at Frank Kent Cadillac have all the latest details. Let's take a closer look at what the upcoming 2021 Cadillac Escalade has to offer.
Performance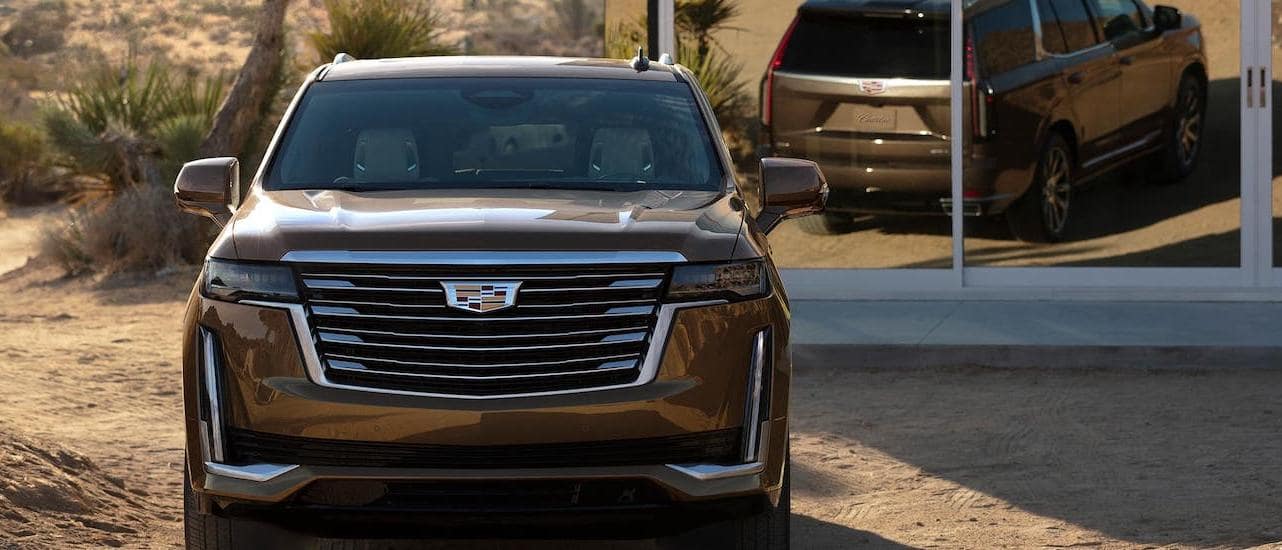 The upcoming production year for the Escalade is full of firsts. The 2021 model will be the first Escalade to be available with two engine choices. The standard is a new 6.2-liter V8 engine that uses variable valve timing, dynamic fuel management, and start/stop technologies to generate 420 horsepower and 460 lb-ft of torque. The second option is a 3.0-liter turbo-diesel engine that is designed for optimal torque. Perfect for people who love to travel with an RV, boat, or trailer in tow, this powertrain pushes out 460 lb-ft of torque and 277 horsepower. 
Advanced Features
Both of these engines come equipped with electronic shift control and a 10-speed automatic transmission. They also feature a standard trailering package to enhance the vehicle's ability to haul. If you feel like you need a bit more in the area of towing, you can always opt for the enhanced Trailering Integration Package. 
For optimized driving, the 2021 Cadillac features several upgrades, including the new multilink independent rear suspension, electronic limited-slip differential, Air Ride Adaptive Suspension, and Magnetic Ride Control. 
Using a stabilizer bar, a longitudinal arm, three lateral arms, and coil springs, the sophisticated independent rear suspension system makes handling all sorts of road conditions very easy. You and your guests will experience a smooth ride every time you get inside the cabin. 
For precise traction control and more power to the rear wheels, the electronic limited-slip differential helps to deliver torque where it's needed. When taking on a sharp corner or driving over slick roads, certain wheels may need more torque and traction control than others. This system will put the power in the right place to help you maintain control of the vehicle. 
The New Air Ride Adaptive Suspension
The all-new Air Ride Adaptive Suspension works with Magnetic Ride Control to optimize your experience behind the wheel. The Air Ride Adaptive Suspension system uses automatic ride-height adjustments and load-leveling with all four wheels during the drive. For example, if you are driving at high-speeds on the highway, this system will lower the ride-height for better aerodynamics. Similarly, you can opt to raise the ride-height when you are going over rocky or rough terrain. Meanwhile, Magnetic Ride Control uses a series of advanced sensors to monitor the road conditions. This system works with the shock absorbers to reduce the amount of body roll, vibrations, and body motion. If you have children who are prone to motion sickness, this type of technology is a game-changer. 
Advanced Technology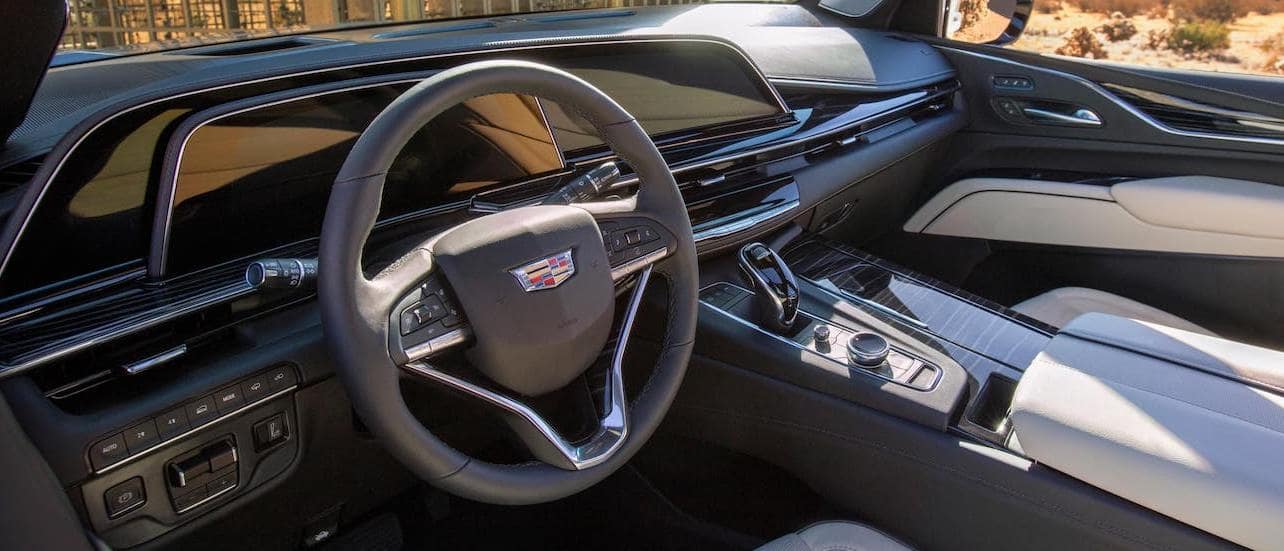 THE OLED DISPLAY
As we touched on briefly before, the 2021 Cadillac Escalade is full of innovative technology. The first notable upgrade is the industry-first curved OLED display. This screen offers bold imagery, two-times more pixels than a 4K television, and the broadest color range for any screen in the auto industry. Three screens equate to a total of 38-inches.
The first part of the screen is the driver information center that is displayed on a 7.2-inch screen located on the left side of the cabin. Behind the steering wheel is the cluster display that measures 14.2-inches. Finally, the largest screen inside the cabin is the infotainment interface. Measuring 16.9-inches, this display is situated to the right of the driver. Due to the advanced OLED technology, each of these screens are curved and paper-thin, eliminating the need for a hood and providing brighter imagery.
ADVANCED FEATURES
Other innovative vision-oriented features include rear-seat entertainment, night vision, rearview camera mirror, augmented reality-enabled navigation, surround vision, and the Trailering Integration Package.
If you are thinking about purchasing the upcoming Cadillac Escalade, it's safe to assume that you have children. To keep them occupied during long road trips, engineers at Cadillac have installed a rear-seat entertainment system. This system features dual 12.6-inch touchscreen monitors that can stream videos, games, music, and even navigation. Both screens have USB and HDMI ports as well.
For optimal visibility after dark, this vehicle comes with night vision technology. Using infrared sensors to detect pedestrians, animals, and other vehicles, this function can help prevent frontal-collision accidents at night.
The rearview camera mirror is another handy feature that can save you from a fender bender. Instead of the video feed being displayed on the center-stack infotainment interface, it is shown on the rearview mirror.
INTELLIGENT FEATURES THAT MAKE TRAVEL A BREEZE
Taking navigation up a step, the new augmented reality-enabled navigation system is quite interesting. It provides you with enhanced directions by showing you live views of the street with directional overlays. Instead of viewing a graphically designed map, you can actually see what the streets look like. You won't have to worry about getting lost again.
When it comes to safety and enhanced visibility, Cadillac doesn't slouch. The upcoming 2021 Escalade also features surround vision, which uses a series of cameras to provide a birds-eye-view of what's around the vehicle.
Finally, the Trailering Integration Package comes with nine cameras, including a rearview camera with guidelines. This system is meant to assist with hitch a trailer to the Escalade.
Advanced Entertainment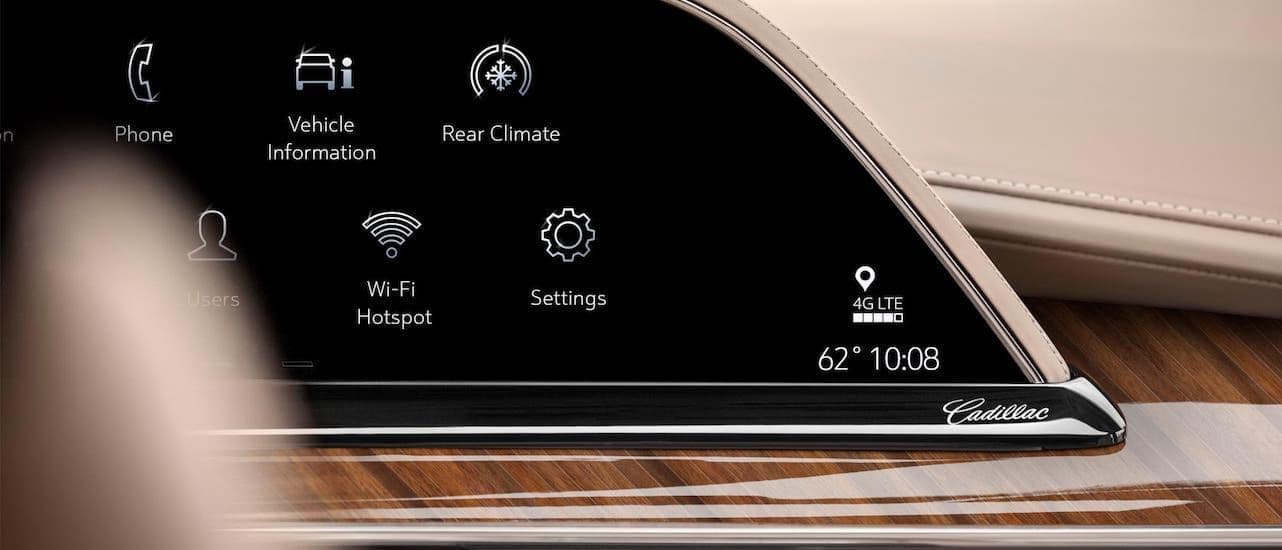 A LISTENING EXPERIENCE LIKE NO OTHER
Another exciting new feature in the 2021 Cadillac Escalade is the first-ever AKG Studio Reference system. This innovative audio system uses 38 speakers and 3 amplifiers to deliver the highest-quality sound possible.
AKG is world-renowned for producing headphones and microphones used by professional musicians and music production studios. They worked with Cadillac to create the best in-vehicle music experience; the AKG system is groundbreaking.
STUDIO 3D SURROUND AND OTHER FEATURES
It comes with Studio 3D Surround, conversation enhancement, audio rendering for navigation, and volume control for the front passenger. Studio 3D Surrounds uses strategically placed speakers to deliver immersive sound throughout the cabin. Conversational enhancement uses microphones embedded throughout the vehicle so that all passengers can be easily heard. Audio rendering navigation delivers turn-by-turn directions for the driver to clearly hear, and the front-seat passenger can manage his/her own audio levels using the volume control.
Super Cruise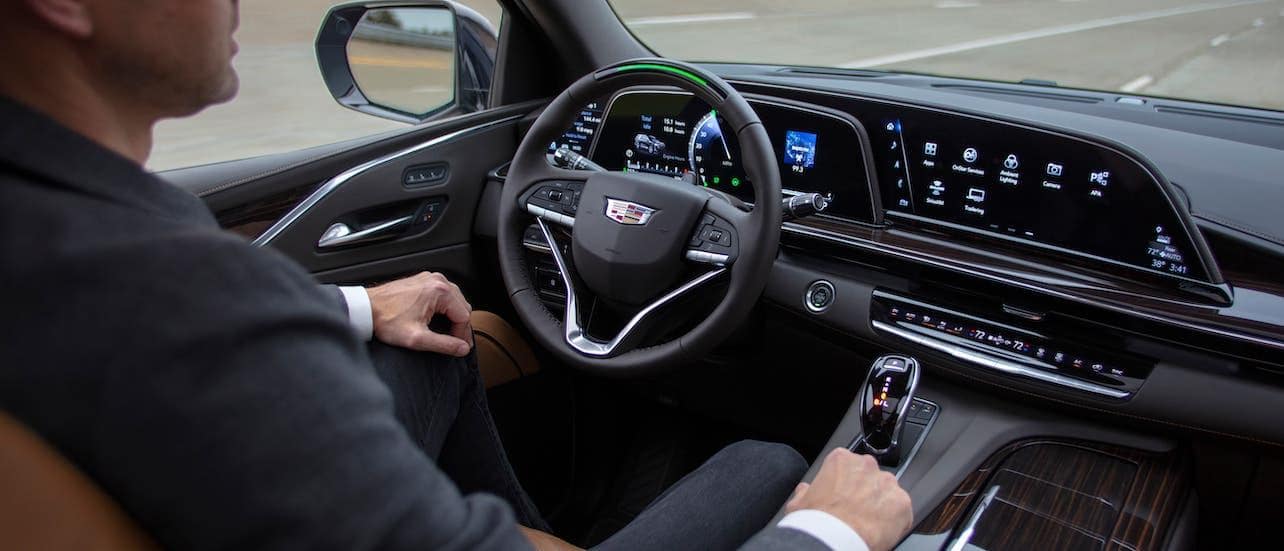 AN AUTOMATED DRIVING SYSTEM
Super Cruise was developed by Cadillac engineers a few years ago, and it has gotten better every year since its conception. This driver assistance technology allows you to drive hands-free on over 200,000 highways across the United States and Canada. As an automated driving system, it uses technology such as LiDAR map data, high-precision GPS, radar sensors, a series of cameras, and a driver attention system to travel without driver input on compatible highways. For 2021, automated lane change has been added to the system. This enables the vehicle to switch lanes safely on its own.
1Dealer Discount applied to everyone.