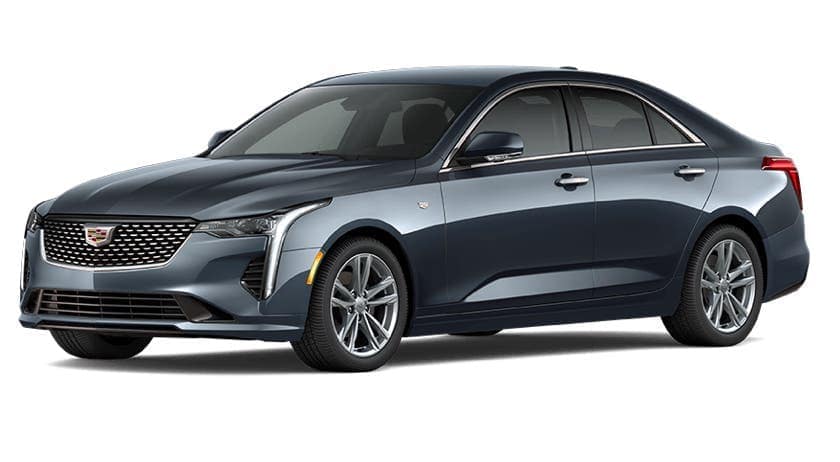 The 2021 Cadillac CT4 is a perfect example of when both style and substance result in a stellar package. When compared to its contemporaries, the Cadillac CT4 stands out in many ways, namely its emphasis on luxury and performance. As a relatively new model from a historically excellent manufacturer, Cadillac had an opportunity with the CT4 to develop a contemporary sedan with plenty of performance, and Cadillac took full advantage of this opportunity. As a manufacturer, Cadillac has seen it all with over a century of continuous production. With the 2021 Cadillac CT4, drivers can experience the result of a century worth of research and development, which grants new models such as the CT4 a respectable reputation out of the gate. The model is now in its second year on the market and has received its fair share of changes, resulting in an overall more refined experience than ever.
Starting with the base trim known as the Luxury, the CT4 has an MSRP of $33,395. Drivers will be pleased with the standard offering of features, including both safety and convenience. In addition to this, Cadillac has ensured the base model performs admirably against its counterparts thanks to its high-performance powertrain. The Luxury trim is followed by the Premium Luxury trim, adding additional powertrains to choose from, along with a plethora of luxury-oriented interior features such as leather seating. Finishing up the lineup, the Sport is the next available trim with a further upgraded interior, and it is followed by the V-series. This trim sits at the top of the list and grants drivers the utmost performance out of this already extraordinary automobile.
23/34 MPG
Fuel Economy (city/highway)
Performance

Keeping up with its status as a luxury-oriented sedan, the 2021 Cadillac CT4 is highly performant and equally as fuel-efficient. There are two engines within the lineup, with the latter of the two being offered with two different power outputs. The first of these engines that drivers will find standard in the CT4 is a turbocharged 2.0L 4-cylinder that produces 237 hp and 258 lb-ft of torque. This engine comes paired with 8-speed automatic transmission and provides drivers with ample performance, especially for everyday driving. Furthering its potential as the perfect choice for city and highway travel, this engine receives EPA-estimated ratings of 23 MPG city and 34 MPG highway.
THE 2.7 TURBO
Higher-tier trims in the lineup will allow for a turbocharged 2.7L 4-cylinder engine and upgrade the transmission to a 10-speed automatic. With this engine equipped, the CT4 produces 310 hp and 350 lb-ft of torque, a solid 30% increase in horsepower and a 35% increase torque when compared to the standard offering. Although this engine provides better performance overall, its fuel-efficiency ratings are slightly lower at 21 MPG city and 31 MPG highway. Opting for the V-series trim will grant drivers an even stronger variant of this engine, this time producing an impressive 325 hp and 380 lb-ft of torque. Overall, drivers will be impressed with the capabilities of their 2021 CT4, whether it's for city or highway travel.
Interior

Cadillac has a reputation for luxury and quality. The 2021 Cadillac CT4's interior is indistinguishably Cadillac, and drivers will be impressed by the immersive cabin built with high-quality materials. Every CT4 model supports a maximum seating capacity of five passengers and provides a comfortable ride for each passenger as the cabin is generously spacious. Up in the front row, passengers will have 38.3-inches of headroom and 42.4-inches of legroom, while rear-row passengers will have 36.5-inches of headroom and 33.4-inches of legroom. Additionally, the CT4 provides 10.7 cu.ft. of cargo space, allowing easy transportation for everyday items.
CONNECTIVITY
The 2021 Cadillac XT5 is brimming with connectivity features, thanks in part to its standard infotainment center. Within the past decade, manufacturers such as Cadillac have gone above and beyond to implement connectivity-oriented features into their automobiles, and the CT4 is no exception. The infotainment center that comes included in every CT4 is displayed on an 8-inch screen and contains additional sought-after features such as Bluetooth and 4G LTE Wi-Fi hotspots. Drivers have expressed interest in personal hotspots recently, and it's not uncommon to see their implementation on newly released automobiles, allowing a strong and safe internet connection for your passengers.
TECHNOLOGY
The CT4 also includes Apple CarPlay and Android Auto. However, unlike other implementations of these software suites elsewhere on the market, the CT4 allows drivers to connect their smartphones wirelessly. Apple CarPlay and Android Auto have become immensely popular ever since both software suites were introduced to the market a few years ago, with a large portion of its popularity coming from their ease of use. With the CT4, drivers can connect their smartphones to the infotainment center and access a wealth of exciting features focused on quality-of-life. Drivers will have full access to their virtual assistant via voice commands and can perform functions such as perusing their music library, asking for directions, and sending text messages and phone calls. Owners of the CT4 will also have the opportunity to opt for an available premium audio system from Bose that will fit 14 speakers throughout the vehicle's cabin for a whole new audio experience.

A LISTENING EXPERIENCE LIKE NO OTHER
Another exciting new feature in the 2021 Cadillac Escalade is the first-ever AKG Studio Reference system. This innovative audio system uses 38 speakers and 3 amplifiers to deliver the highest-quality sound possible.
AKG is world-renowned for producing headphones and microphones used by professional musicians and music production studios. They worked with Cadillac to create the best in-vehicle music experience; the AKG system is groundbreaking.
STUDIO 3D SURROUND AND OTHER FEATURES
It comes with Studio 3D Surround, conversation enhancement, audio rendering for navigation, and volume control for the front passenger. Studio 3D Surrounds uses strategically placed speakers to deliver immersive sound throughout the cabin. Conversational enhancement uses microphones embedded throughout the vehicle so that all passengers can be easily heard. Audio rendering navigation delivers turn-by-turn directions for the driver to clearly hear, and the front-seat passenger can manage his/her own audio levels using the volume control.
Safety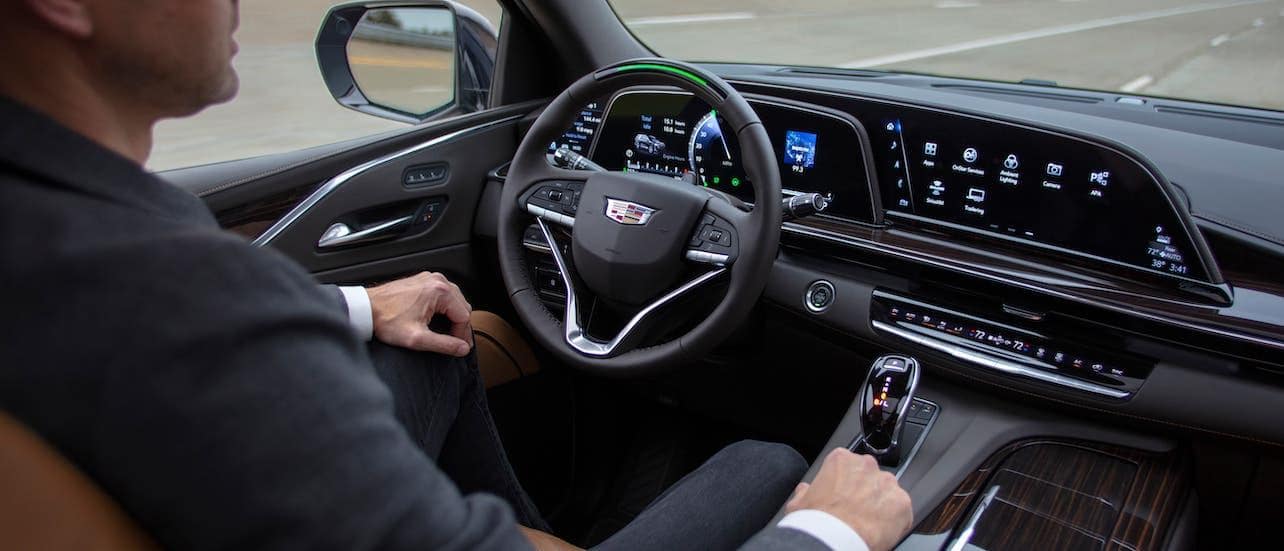 Modern-day sedans are often praised for their integration of the latest safety features, and Cadillac has done so here with the 2021 CT4. One of the more subtle features that drivers will notice is the Buckle to Drive feature that will restrict the vehicle from shifting from park if the driver is not wearing their seatbelt. Trims other than the base Luxury trim can be fitted with a driver assist package supplied from Cadillac, adding a trio of additional safety features.
ADVANCED SAFETY FEATURES
Among the additional available features is adaptive cruise control that replaces the traditional cruise control that comes standard. Adaptive cruise control adjusts the driver's set speed based on the distance to the vehicle ahead and will dynamically shift the speed to remain safe in traffic. Enhanced automatic emergency braking is also included with this package, which adds more capable radar sensors to the standard camera-based automatic emergency braking system. The last feature available with this package is reverse automatic braking to prevent accidental collisions while reversing.
In addition to the Driver Assist Package, owners of the CT4 may also opt for the Driver Awareness Plus Package should their trim level allow for it. With this package, the CT4 is given even more safety features, including lane change alert with side blind zone alert. Lane Change Alert will notify the driver if switching lanes is feasible at that given moment, and Blind Zone Alert will inform the driver of any potential obstructions in their blindspot. Lane Keep Assist will provide the steering wheel with subtle input in efforts to keep the vehicle within its intended lane, while Lane Departure Warning will warn the driver of unintentional lane crossing. Also part of this package is a Following Distance Indicator that will give the driver a better understanding of how far back they should be from the vehicle in front of them. Rear Cross-Traffic Alert is also part of this package, allowing drivers to reverse out of parking spaces with better spatial awareness with the help of their rearview camera.
STANDARD SAFETY FEATURES
Forward Collision Alert comes standard with the CT4, which will notify the driver of a possible impact. When coupled with automatic emergency braking, the CT4 is a highly reliable ride. One safety feature that drivers will be glad to have if they have a newly-licensed driver in the family is a Teen Driver safety system. This safety system is essentially a teaching tool for new drivers, and it does so in some interesting ways, including limiters for both vehicle speed and music volume. In addition to the speed limiter, drivers may set speed indicators that will warn their children of speeding when detected. Another helpful feature is that when the teenager sits in the vehicle, the vehicle will be unable to switch from parking gear until the teenager has fastened their seatbelts. At the end of the day, Teen Driver produces a report card that will inform the parents how well their child drove and highlight any trouble areas that need improvement.
1Dealer Discount applied to everyone.