Cadillac Overview
Offering a lineup of prestigious vehicles, Cadillac is a luxury auto brand under the General Motors umbrella. Founded in 1902, Cadillac was one of the world's first automakers, coming onto the scene just after Ford.
The company rapidly gained a reputation for innovation and advanced technology. Many breakthroughs in the auto industry can be credited to Cadillac, including the steel roof, fully electric systems, classless manual transmissions, and even the V8 engine. That's right! Cadillac is responsible for setting the standard for power with the V8 motor.
Besides engineering feats, Cadillac has cultivated a reputation for being one of the most luxurious and sophisticated automakers in the United States. From presidents to movie stars, everyone who was anyone drove a Cadillac. While vehicles have evolved over the years, the desire to drive around town in elegance has not. People still love the Cadillac, and it has become a bit more accessible with an expanded lineup today.
Your Local Cadillac Dealership
If you live in Fort Worth, Arlington, or Dallas, TX, the best place to find a new or used Cadillac is right here at Frank Kent. We've got a substantial selection of sparkling new Cadillac models to choose from as well as pre-owned models. If you want a luxury sedan to get to and from your office and run errands around town, we have them. If you are searching for a family-friendly SUV that doesn't require you to give up on luxury, we specialize in those too. And if you already have your dream model picked out, or are just starting the search, our sales department is open Monday through Friday from 8:00 am to 8:00 pm and on Saturday from 8:00 am to 7:00 pm. We also offer the most competitive financing options around to help you find the right vehicle that suits your budget.
Our dealership is a full-service dealer. That means that we have a knowledgeable team of certified technicians who can handle routine maintenance and major repairs. If you need your oil changed, an air filter replacement, or a new battery, our experts can get you squared away quickly and back on the road. If you have an accident, you can rest assured that our highly-trained mechanics can take care of any bodywork or engine issues. We also have our own parts department for ease and efficiency. There will be no cutting corners here. Our technicians use only OEM parts to ensure that you get the best quality service available. We want you to get your money's worth out of your Cadillac. Our goal is to keep you satisfied and driving safely on the Texas roads for years to come. If you need our mechanics to take a look at your vehicle, give us a call to schedule an appointment. Our service and parts departments are open from Monday through Friday from 8:00 am to 7:00 pm and from 8:00 am to 5:00 pm on Saturdays.
Frank Kent Dealership Awards
Recognized as the GM Dealer of the Year for 2012, 2013, and 2014, Frank Kent Cadillac is one of the best dealerships in the region. Across the entire United States, only about 2% of dealerships get the honor of receiving this award. Due to superior sales performance, high-quality service, and an excellent customer satisfaction rating, our dealership is very proud of these awards.
Another feather in our cap is the Cadillac Master Dealer award. This impressive distinction has only been given to a select few Cadillac dealerships. Due to our dedication and passion for bringing a "Standard of the World" experience to each and every customer who stops by, we are proud to display this honor on our trophy shelf. Offering flexible business hours, a friendly team of sales associates, an expansive inventory, and impeccable customer service, Frank Kent Cadillac is determined to continue making our guests happy.
Directions to Frank Kent
Our team of experts here at Frank Kent Cadillac is here to assist folks from all over. Serving Fort Worth, TX, and surrounding cities such as Arlington and Dallas, our team is experienced in finding the right model and getting you behind the wheel quickly.
Coming from the heart of Fort Worth, you will head west and hop on I-30. Then, you will merge onto I-820 S and continue for just over a mile. Take Exit 2 and a slight right turn toward Camp Bowie W Blvd. Take a left onto Alemeda Street, then take another left. You will see our dealership.
Traveling from Arlington has a similar route, but it takes about 30 minutes to get here because Arlington is further east. You can either take I-30 W or I-20 W depending on which part of the city you are coming from. Choosing the I-20 W route will generally add an extra 5 minutes of travel time. Using I-30 W, you will continue along the interstate until it's time to merge onto I-820 S. Continue for about a mile and take Exit 2. Take a slight right turn heading towards Camp Bowie W Blvd, and then take a left onto Alameda St. From there, you will take the next left and find our dealership. As for the I-20 W route, you will travel on this interstate until you get to the 820 Loop. Then, take Exit 1B from 820 N towards Chaplin Rd. Turn left onto Chaplin Rd. Then, turn right onto Alameda St. One more right turn, and you'll be in front of our dealership.
For folks coming from Dallas, you will spend about 45 minutes on the road via I-30 W or I-20 W. Follow the same end of route directions mentioned in the previous directions.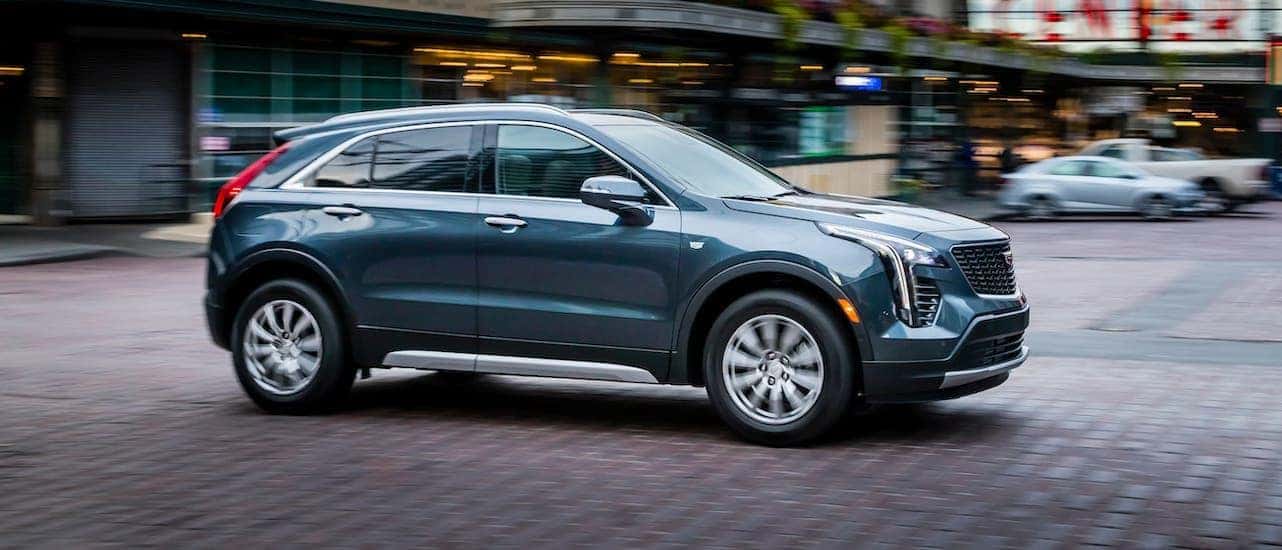 2020 Cadillac Crossovers
2020 Cadillac XT4 Overview
With available seating for five people, the new 2020 Cadillac XT4 can be found at the Frank Kent Cadillac dealership in Fort Worth, TX. Technically a compact crossover, this petite SUV still has plenty of room for groceries, luggage, or sports gear. Behind the back row is 22.5 cubic feet of space, which can be expanded to 48.9 cubic feet by simply folding down those seats.
Rumbling under the hood is a turbocharged 2.0-L four-cylinder engine coupled with a smooth-shifting 9-speed automatic transmission. Equipped with FWD, this powertrain generates 237 hp and 258 lb-ft of torque. It has an estimated fuel economy set at 26 mpg combined (24 city/30 highway), and it can haul up to 2,500 pounds effortlessly. As an entry-level luxury vehicle, it's perfect for small families.
2020 Cadillac XT4 Trims
Available in a trio of trims, the new XT4 is ideal for families seeking comfort, convenience, and sophistication. Rolling on 18-inch alloy wheels, the base Luxury level includes LED headlights and tail lamps for optimal visibility. The cabin is draped in simulated leather upholstery and features an advanced infotainment interface that uses Bluetooth and a 4G LTE Wifi connection. Compatibility with Apple CarPlay and Android Auto for seamless audio and pap integration is also a given. Standard driving aids include rear park assist and emergency braking.
The mid-level Premium Luxury model adds a hands-free power liftgate and premium leather upholstery. Driver seat memory settings can be programmed for optimal comfort, and additional safety features have been installed, including front park assist, lane-change alert, blindspot monitoring, and rear cross-traffic alert.
Finally, the top-tier Sport model is equipped similarly to the Premium Luxury version. The main difference can be seen on the exterior with uniquely designed wheels and a gloss black finish in the athletically-styled grill, roof rails, and side window accents. The cabin gets more of a racecar vibe as well with accents in either real wood or carbon fiber.
Additional highlights that you can add to the Premium Luxury or Sport models include heated seats with a massaging feature, a panoramic sunroof, a wireless charging pad, and adaptive cruise control.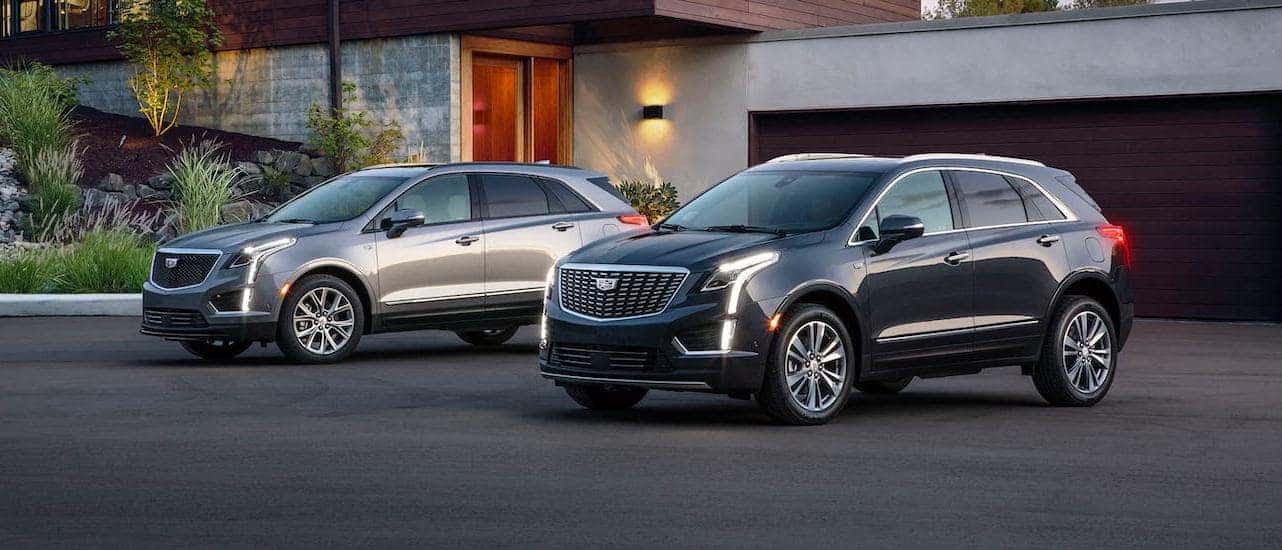 2020 Cadillac XT5 Overview
Taking a step up to the new 2020 Cadillac XT5 will grant families a bit more cargo room. Still considered to be a compact crossover, this petite model can carry five passengers comfortably. Behind the rear seats is a whopping 30 cubic feet of room. This area can grow up to 63 cubic feet by laying the back row down flat. That's pretty impressive for a compact SUV.
There are two engine choices that depend solely on which trim level you choose. First is the standard turbocharged 2.0-L four-cylinder engine that comes equipped with the Luxury and Premium Luxury models. Mated with a 9-speed automatic transmission and FWD (AWD is optional), this powertrain pushes out 237 hp and 258 lb-ft of torque. It gets 22 mpg combined (18 city/26 highway), but it can only manage to haul about 1,000 pounds. The second engine comes on the Sport version. It's a 3.6-L V6 engine that makes 310 hp and 271 lb-ft of torque. With a fuel economy set at 21 mpg combined (18 city/25highway), this model has the same towing capacity as the others.
2020 Cadillac XT5 Trims
Also available in three trims, the XT5 is well-equipped even on the base level. The infotainment interface is displayed on an 8-inch touchscreen that operates with Apple CarPlay, Android Auto, and Bluetooth. You can seamlessly stream your favorite playlist through the premium Bose stereo, and the power-adjustable seats are draped in simulated leather. Standard safety features include lane departure warning, forward collision warning, front/rear park assist, and emergency braking.
Next is the Premium Luxury model. This mid-level version of the XT5 comes with additional safety advancements such as blindspot monitoring, rear cross-traffic alert, lane-change alert, and rain-sensing wipers. A hands-free liftgate has also been added that will come in handy when your arms are full of groceries. The useful cargo management system can help you stay organized with a cargo shade and fence. A wireless charging pad keeps the cabin declutter by eliminating the need for annoying cables, and you can enjoy a breeze from the outside by opening the panoramic sunroof.
Lastly, the top-of-the-line Sport trim adds quite a bit more besides the aforementioned V6 engine. Equipped with AWD, this version comes with an engine cooling unit and a sport-tuned suspension with active dampers. Rolling on unique 20-inch 12-spoke alloy wheels with a pearl nickel finish, this athletically-styled model gets high-gloss black exterior accents for a sleeker look.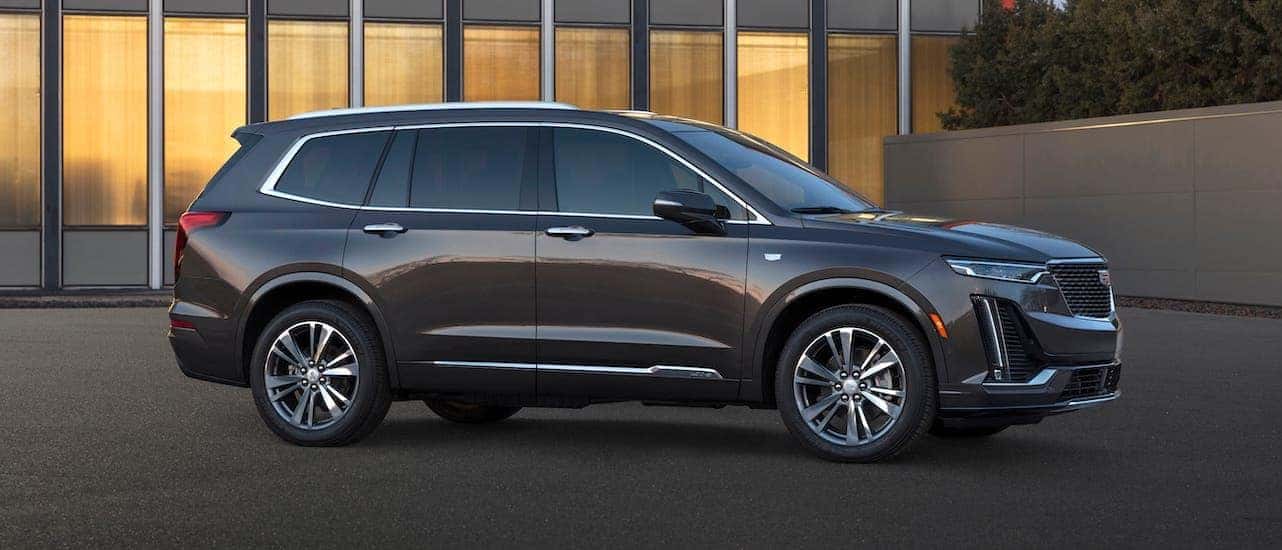 2020 Cadillac XT6 Overview
Next is the brand new 2020 Cadillac XT6. This mid-size crossover has seating for up to seven people and plenty of cargo room. Behind the back row is about 12.6 cubic feet. While that may seem like it isn't much, it's enough for groceries and backpacks. Folding down the third row will open the area up to 43.1 cubes, and folding down both back rows of seating will expand the cargo space to 78.7 cubes.
Only available in two trims, both are powered by a robust 3.6-L V6 engine like the one inside the XT5 Sport. Combined with a 9-speed automatic transmission and FWD, this powertrain puts out 310 hp and 271 lb-ft of torque. AWD is optional on the base trim and standard on the top trim.
2020 Cadillac XT6 Trims
As we mentioned briefly, there are only two trim levels available for the new Cadillac XT6. The first is typically seen as a mid-level trim. Known as the Premium Luxury, this model is well-appointed with authentic exotic wood accents throughout the cabin, heated front seats, and a heated steering wheel. These comfort features will help keep you warm during the cold winter months. For the warmer months of the year, you can take advantage of the panoramic sunroof. The infotainment interface is displayed on an 8-inch touchscreen and functions with numbs features such as Android Auto, Apple CarPlay, and Bluetooth connectivity. Six USB ports are also provided throughout the cabin, as well as satellite radio, a wireless charging pad, and a 4G LTE Wifi hotspot. Safety features and driving aids include emergency braking, blindspot warning, lane-keeping assist, parking sensors, and a rearview camera that displays the video feed in the rearview mirror.
The other option is the top-tier Sport model. This beauty adds athletic touches such as gloss-black exterior accents and carbon-fiber decor on the interior. Adaptive suspension has been added for enhanced handling around sharp corners, and uniquely styled wheels have also been put on.
Additional highlights that you can opt for include premium leather upholstery, a navigation system, a Bose stereo system, and safety features like night vision and adaptive cruise control.
Find the Perfect Cadillac Crossover
Whichever crossover tickles your fancy, you can find it right here at Frank Kent Cadillac. These luxury models will have you cruising around town in style! Give us a call or stop by for a test drive today.