Your Next Vehicle Should be a Used Cadillac SUV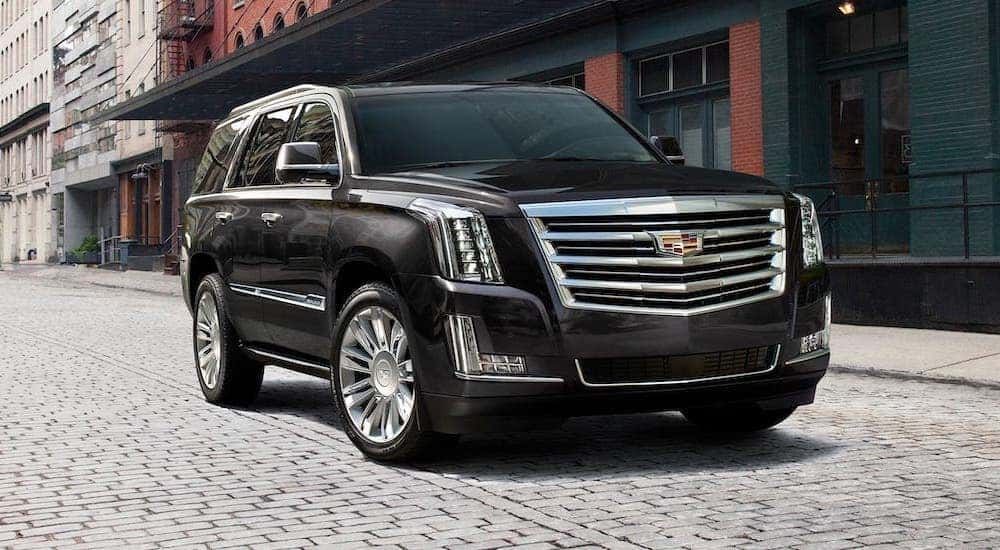 Folks in the know are aware that you are never going to get better value when buying a vehicle than by getting one that was previously owned. Some folks call them used cars, while others call them pre-owned. Whatever you call them, you are getting an excellent vehicle at a price well below what you will pay for a new comparable model vehicle. This is particularly true if you are considering a used Cadillac for sale.
The reason why used cars are such a great deal is because new cars lose their greatest amount of value during their first year of ownership, in some cases, up to half their initial value. If you are looking to finance your next vehicle, this can present a big problem as you will also need to get gap insurance to make up for your vehicle's depreciation. By buying used, you will avoid this.
Best of all, buying used means that you have more money to spend and that you can spring for a better vehicle. That's right; your improved buying power means you can afford a more luxurious car by buying used. That's why if you are looking for a used Cadillac for sale, you don't have to worry that you won't be able to afford one of those great luxurious used Cadillac SUVs. Buying used gives you the ability to move up to a Cadillac that you might not otherwise be able to afford if you were buying new.
If you stop in to visit our Fort Worth dealership, Frank Kent Cadillac will get you a great deal on a used, pre-owned, or certified pre-owned Cadillac SUV. Come in and find out why Frank Cadillac has achieved the elite status of a Cadillac Master Dealer and was named GM Dealer of the Year for 2012, 2013, and 2014. We will make sure you get the used Cadillac SUV that will meet all your automotive dreams.
Escalade: The Height of Luxury
Everyone knows the Cadillac Escalade. This is one of the most exclusive and luxurious full-size SUVs that you are going to find on the marketplace. From its bold exterior to its roomy and comfortable interior, the Escalade is all about style. While you are going to have to pay a premium if you want to buy one brand-new, a used Cadillac Escalade is actually incredibly affordable, giving you an amazing vehicle at great savings.
The Cadillac Escalade is rear-wheel drive standard, but all-wheel drive is available if you want better handling in inclement weather. The current model features a 6.2-liter V8 gas engine that is both powerful and smooth, befitting a vehicle that is all about luxury. This engine comes equipped with a 10-speed automatic transmission and produces 420 horsepower and 460 pounds to feet of torque. This is enough power to make your used Escalade capable of towing up to 8,300 pounds of trailer, so the Escalade is also versatile.
You and your seven passengers are sure to enjoy the leather seats, Cadillac Infotainment System, and smooth ride of your pre-owned Escalade. What's more, the Escalade has plenty of room in the back, so you don't have to choose between cargo and passengers. Nevertheless, if you think you have a need for even more room, you can find a Cadillac Escalade ESV for sale used. This will provide extra passenger and trunk space, as well as a larger gas tank giving the Escalade even more range. If you love taking road trips, then this feature will be something you are sure to want on your used Escalade.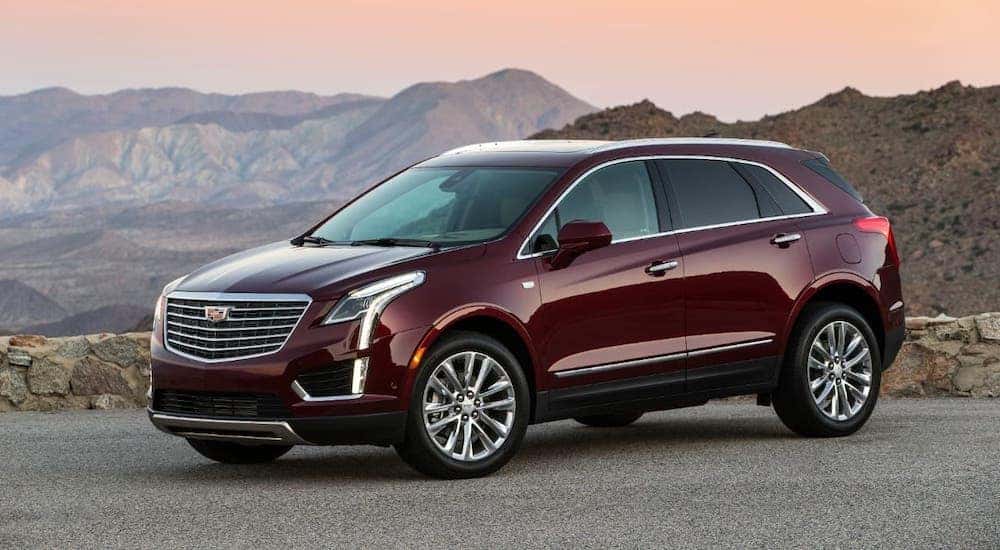 XT: The Definition of Crossover Touring
Building off of the success of the Escalade, Cadillac introduced a lineup of three SUVs with the name XT for crossover touring. The XT4 is a compact SUV with plenty of performance for someone who loves to drive, and room enough for five passengers. If you need a slightly bigger vehicle, then the XT5 midsize luxury SUV is a great choice. The XT6 adds a third row of seats, giving this midsize SUV room for up to seven passengers. As you can see, each model provides something a little different for a driver, giving you options and choices that other vehicles don't offer.
The great Cadillac styling on the XT line carries over to performance. The XT4 is front-wheel drive standard and comes with a 2.0-liter Turbo 4-cylinder gas engine that gives this compact SUV incredible speed and pickup. This engine is equipped with a 9-speed automatic transmission and produces 237 hp and 258 lb-ft of torque. Aside from great performance, the Cadillac XT4 provides exceptional fuel economy with an estimated 24 mpg in city driving and 30 mpg in highway driving. There is also an optional all-wheel drive system that provides slightly less fuel efficiency but improves handling and traction.
The Cadillac XT5 has two different engine options, so you should keep in mind which one you want when you are buying a used XT5. The 2.0-liter Turbo 4-cylinder gas engine provides 237 hp and 258 lb-ft of torque. The other option, a 3.6-liter V6 gas engine, provides 310 hp and 271 lb-ft of torque. While the V6 gives you more speed, the Turbo 4-cylinder will be more fuel-efficient.
The XT6 has the same 3.6-liter V6 gas engine that is an option on the XT5. Both the XT5 and XT6 feature a 9-speed automatic transmission to give you maximum control over your luxury SUV. The XT5 and XT6 come standard with front-wheel drive but have an available all-wheel drivetrain. Just like the XT4, if you choose all-wheel drive, you will be sacrificing some fuel efficiency. You should keep these factors in mind when shopping for your next used Cadillac SUV.
Cadillac has brought to the XT line the same attention to detail and premium styling that made the Escalade the SUV of choice for top celebrities and athletes. This includes the excellent Cadillac Infotainment System and exceptional sound system, which help you stay connected and entertained. Your passengers are also sure to enjoy the plush interiors that make you feel like you're in someone's posh living room and not a sport utility vehicle. The only question will be whether you are having more fun driving your pre-owned Cadillac XT then your passengers are riding along with you in its luxurious cabin.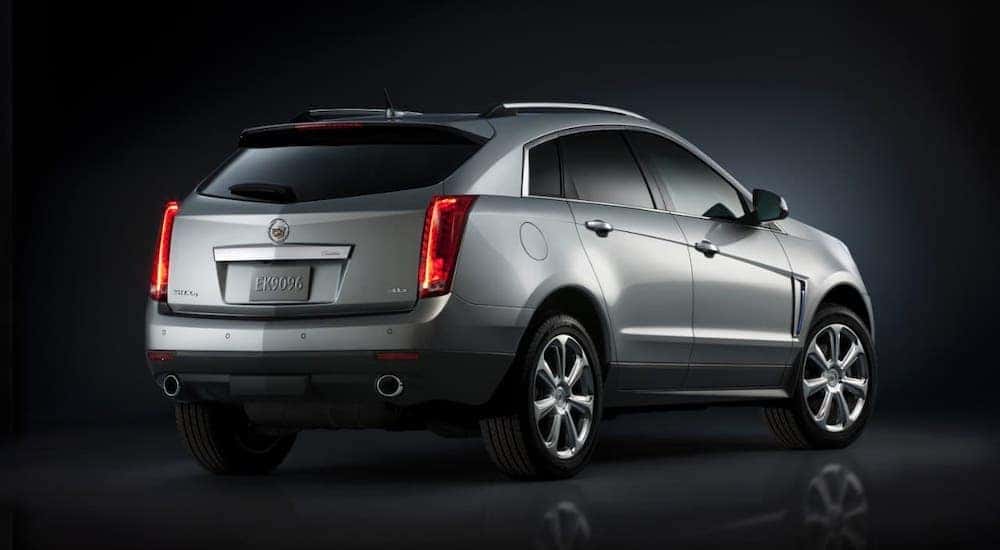 SRX: Incredible Luxury at a Great Value
Before Cadillac launched the XT lineup of luxury SUVs for 2017, the popular choice for buyers was the Cadillac SRX, which stood for "series reconfigurable crossover." This is because the engineers saw the SRX as fitting into the crossover space, combining the best features of Cadillac's storied line of luxury sedans with the size, power, and roominess of the Escalade SUV. Basically, the SRX was designed as the kid sister of the Escalade, and the vehicle became a big hit with both buyers and automotive enthusiasts. Fortunately for you, you can find plenty of these wonderful luxury midsize SUVs for sale on the secondary auto market. Some are even available under Cadillac's excellent certified pre-owned program, providing you with added benefits like enhanced warranties and roadside assistance.
The Cadillac SRX is noted for having excellent luxury and safety features, eye-catching style, and exceptional ride and handling. Older models will feature either a 2.8-liter LAU Turbo V6 or a 3.0-liter LF1 V6 gas engine. The Turbo V6 was discontinued after the 2011 model year, and the 3.0-liter V6 was replaced with a 3.6-liter LFX V6 for the 2012 model year. The 3.6-liter V6 produces 308 horsepower and 265 pounds to feet of torque. This is more powerful than either of the other two engines, so if you want to make sure you are getting the stronger engine, check the model year of the used Cadillac SRX you are considering to purchase.
All SRX models are equipped with a 6-speed automatic transmission and are front-wheel drive standard with available all-wheel drive. No matter which year of used SRX you decide on, you will be getting unmatched luxury and performance at an incredible price. People often worry when buying a used vehicle that they are sacrificing quality for price. You will not have this worry if you are buying a used Cadillac SUV, where you can have brilliance on a budget.