YOU DON'T HAVE TO BREAK THE BANK FOR THE 2019 CADILLAC XT4 CROSSOVER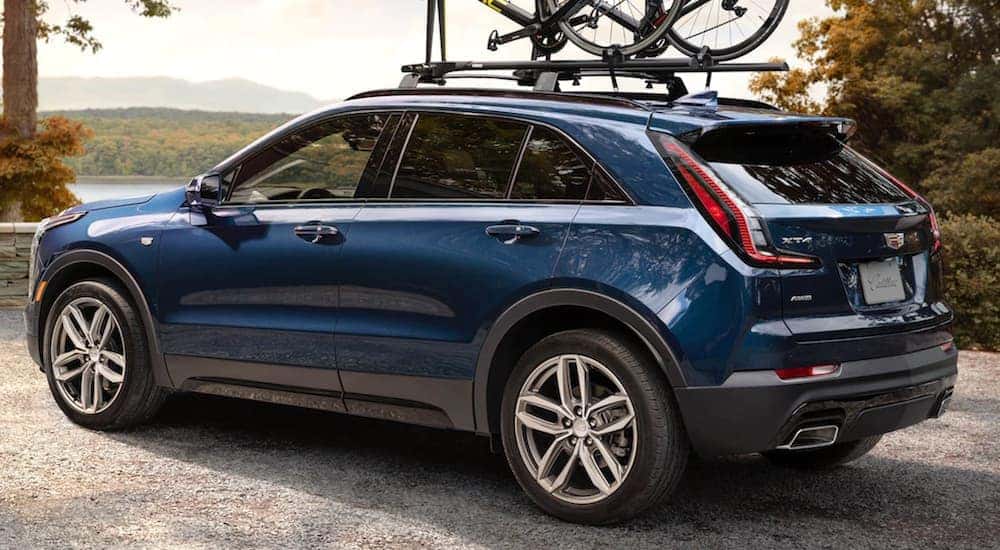 Cadillac's various vehicles might not fit into every customer's budget, but the brand still has a worthy target for those who aren't looking to break the bank. The 2019 Cadillac XT4 Crossover is one of the brand's least-expensive rides, but that doesn't mean the nameplate should be disregarded in any way. Rather, it makes for a perfect choice for those who will soon be shopping at a Cadillac dealership near Dallas.
The 2019 Cadillac XT4 Crossover provides everything you could want in a new SUV: optimal performance (and surprising efficiency), plenty of interior space, top-notch technology, and reliable safety functions. Plus, when you consider the opulence and luxury of Cadillac's rides, you won't be able to find a better bang for your buck.
Below, we explored why the 2019 Cadillac XT4 Crossover is a perfect luxury option for those on a budget. Take a look at everything the vehicle provides to drivers, and maybe you'll know what nameplate you want to opt for when you head out to a Cadillac dealer near Dallas…
Performance
The 2019 Cadillac XT4 Crossover may be a smaller SUV, but the vehicle still manages to pack quite the punch. That's because engineers transformed the 2.0-liter turbo four-cylinder engine into a system that acts more like a four- or five-liter engine. In other words, you should anticipate top-notch performance from your new SUV.
The 2.0-liter turbo four-cylinder engine ultimately pumps out an incredible 237 horsepower and 258 pound-feet of torque, meaning you'll have more than enough muscle to overcome your fellow drivers on the highway. Perhaps most impressive is the fuel efficiency specs. Thanks to technologies like Active Fuel Management, drivers can ultimately expect up to a 30-mile-per-gallon highway fuel efficiency (on the front-wheel-drive variation). While you'll have to dish out some dough for your new Cadillac, you'll have the opportunity to save extra money as the gas station.
Despite all of this power, drivers won't have any issues controlling their brand-new SUV. That's because the brand added many mechanical features that help drivers maintain a proper handle of their ride at all times. For instance, the intuitive nine-speed automatic transmission allows drivers to choose the gear that best fits their driving needs (it also plays a role in optimizing those previously-mentioned fuel efficiency numbers). The Twin-Clutch All-Wheel Drive system maximizes the overall handling, while the various driving modes (including Tour, Sport, Snow/Ice (on the FWD version), and AWD (on the AWD version)) will prepare your SUV for the impending road conditions.
So, yes, the 2019 Cadillac XT4 Crossover is considered to a be a smaller SUV. However, once you dive into all of the features that are lingering under the hood, you'll understand that the nameplate probably shouldn't be judged for its size. If you take that shortsighted mindset, you'll be missing out on an incredibly-powerful ride.
Technology
While you were surely expecting Cadillac's technology to test the limits, we'd bet you still weren't expecting the 2019 Cadillac XT4 Crossover to include all of these amenities. The nameplate may truly be one of the most technologically-advanced vehicles in the entire segment, and for very good reason.
The vehicle's touchscreen unit is incredibly easy to use, as drivers can simply click the screen to access their preferred radio stations or navigation system. The Bluetooth technology allows drivers and occupants to connect two smartphones at the same time, meaning no one will miss any important phone calls or text messages. Plus, with plenty of pairing technologies and easy-to-use controls, whatever you need to access is always a simple click away.
There are additional amenities that will be appreciated by drivers. The innovative Head-Up Display puts important information directly on the windshield, assuring that you'll never have to strain your neck attempting to view the dashboard. Meanwhile, the front seats provide more than heating and ventilating capabilities; rather, drivers can even equip these seats with massaging functions, assuring that you're truly remaining comfortable at all times.
Cadillac has even teamed up with Amazon to make your Amazon Prime deliveries a whole lot easier. Now, instead of leaving your packages in front of your house (thus making them targets for any thieves), your delivery person can simply secure them inside of your SUV, making sure that they're safe for when you get home.
Interior
Of course, the 2019 Cadillac XT4 Crossover's interior provides more than innovative technology. Rather, the SUV provides drivers with plenty of space to spread out and store their cargo.
The vehicle delivers a respectable 22.5-cubic-feet of space behind the second row, but drivers can unlock up to 48.9-cubic-feet of space when they hide those rear seats. Speaking of, the 60/40 folding rear seats means you'll never struggle to unlock that maximum cargo space, and the Hands-Free lift gate means you won't ever have to struggle while loading those groceries or luggage inside of your ride. There are even six storage units included throughout the interior, providing you with some clever hiding spots for your more valuable cargo.
If you're not taking advantage of that incredible cargo space, your rear passengers will have more than enough room to spread out and remain comfortable. Whether you're preparing for a road trip or a simple day around town, your SUV will be fully prepared for wherever you're going to take it.
Safety
You'll never have to worry about your well being when you're traveling inside of your new SUV. That's because the vehicle is equipped with a number of preventative and protective safety functions. While you'll remain secure in the event of an accident, the 2019 Cadillac XT4 Crossover will do everything in its power to assure that you don't find yourself in that collision in the first place.
Inclusions like the Automatic Braking system will keep you out of harm's way. When the technology detects that a collision may be imminent, it will automatically apply the brakes to help lessen (or potentially avoid) the impact. Meanwhile, the Active Sport Suspension relies on the innovative Continuous Damping Control technology to maximize control and traction, while the Rear Camera Mirror allows you to monitor everything that's happening behind your SUV at all times. Drivers legitimately have more than one way to avoid collisions, thus assuring their safety.
If you do find yourself in a crash, the 2019 Cadillac XT4 Crossover goes the extra mile to keep you safe. The vehicle is equipped with eight standard airbags, assuring everyone receives the proper cushion. The Rollover Sensing ensures that your vehicle will remain upright during a crash, while the high-strength steel structure should keep the accompanying energy away from your occupants.
If you're going to be relying on the 2019 Cadillac XT4 Crossover as a family SUV, then you can rest easy knowing that the nameplate is fully prepared to keep all of your occupants safe.
Whether you live in Fort Worth, Arlington, or Dallas, there's no better place to purchase your 2019 Cadillac XT4 Crossover than Frank Kent Cadillac. The dealership doesn't only have the best prices in the entire area. Rather, the dealership's array of services will assure that you're receiving the best possible buying experience.
If you're preparing for a trip to a Cadillac dealership near Dallas, then take the extra hour to travel to Frank Kent Cadillac. You surely won't regret the endeavor, and you could be driving home in your brand-new 2019 Cadillac XT4 Crossover.