SUV Model Overviews
Cadillac Escalade
The Escalade is one of the most popular Cadillac vehicles of all time. It is incredibly luxurious, classic, and advanced. This full-size SUV is currently in its fourth generation, having been available on the market since 1998. Recent used models of the Cadillac Escalade are loaded with standard entertainment technology, including an 8-inch touchscreen display, Apple CarPlay, Android Auto, and Bluetooth. Meanwhile, the interior offers genuine leather upholstery and wood trim. This used Cadillac SUV can also be found equipped with some exceptional luxury features including heated and massaging front seats, 18-way power adjustable front seats, heated second-row seats, and a heated steering wheel. The Cadillac Escalade can seat up to eight passengers and is no stranger to power and capability since it is offering a maximum towing capacity of 8,300 BS and producing up to 420 hp on its 2018 model. If you're looking for a large, luxurious, and powerful SUV, the Cadillac Escalade is certainly worth checking out.
Cadillac SRX
The Cadillac SRX is a luxurious compact SUV that was produced from 2004-2016. During that time it was one of the most popular selling Cadillac vehicles, and would later be replaced by the Cadillac XT5. The SRX filled a void in the Cadillac lineup where drivers could enjoy a smaller, yet still versatile, luxury vehicle than the Cadillac Escalade. It's smaller size also made it more fuel efficient and less expensive, allowing this luxury SUV to appeal to a wider audience. On its 2016 model, the last model year available, the SRX offered a powerful V6 engine which produced up to 308 hp. This model offered fuel economy ratings of up to 17 mpg in the city and 24 mpg on the highway, and was available in both front-wheel drive and all-wheel drive. The Cadillac SRX sat up to five passengers, but allowed for ample head and leg room and provides up to 61.1 cubic feet of cargo space.
The 2016 Cadillac SRX came standard with an 8-inch touchscreen display, wireless charging, a WiFi hotspot, and Bluetooth. Meanwhile, the SRX can also be found equipped with some of the most luxurious features on the market, including leather upholstery, heated front seats, heated rear fronts, and a variety of driver assist features. Overall, the Cadillac SRX is one of the most affordable used Cadillac SUVs available and offers incredibly luxurious and advanced features. However, its list of premium standard features is not as long as that of the used Cadillac Escalade.
Cadillac XT5
The Cadillac XT5 replaced the Cadillac XT4 in 2016 as the lineups compact luxury SUV. This model entered the market as a 2017 model, so drivers looking for this used Cadillac SUV will have the 2017 and 2018 model years to choose from. The Cadillac XT5 is slight more efficient than the Cadillac SRX, but offers about the same level of power with up to 310 hp. Its standard entertainment suite is also similar to that of the Cadillac SRX, with an 8-inch touchscreen display, wireless charging, multiple USB ports, and Apple CarPlay and Android Auto. The XT5 also offers a long list of available driver assist features and received high safety ratings from the NHTSA. The 2017 and 2018 Cadillac XT5 can be found equipped with luxurious features like heated front and rear seats and a 14-speaker surround-sound system.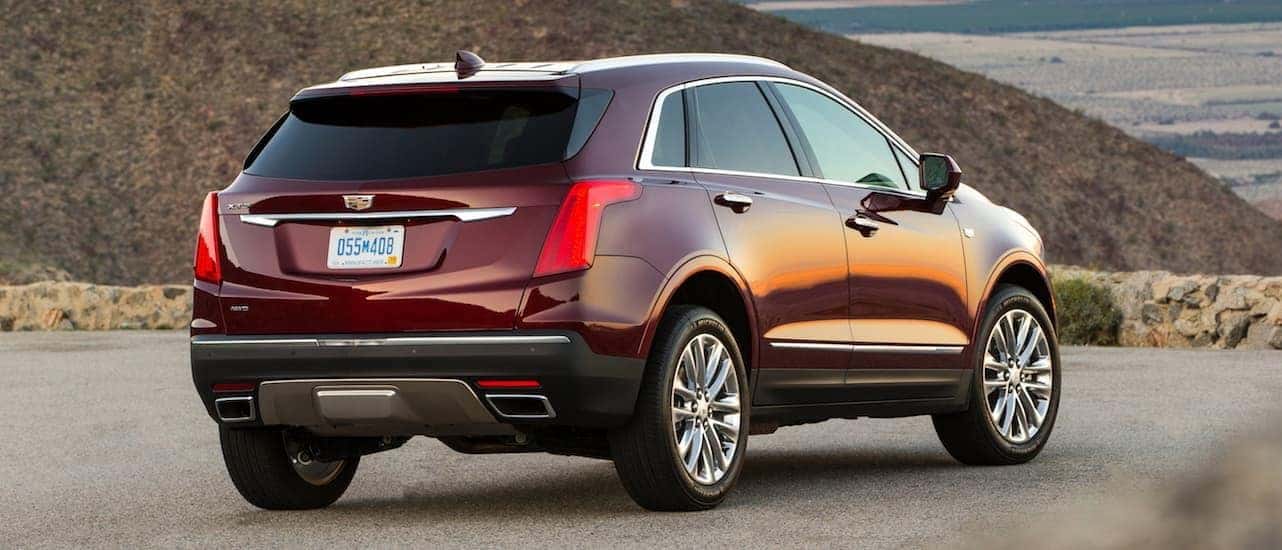 Pre-Owned Inventory Divisions
When shopping for a used Cadillac SUV with Frank Kent Cadillac, you'll have the opportunity to purchase a vehicle from our pre-owned or certified pre-owned inventory. To help you determine which option is right for you, let's take a closer look at our pre-owned vs certified pre-owned vehicles.
Pre-Owned
At Frank Kent Cadillac, we offer a variety of pre-owned vehicles. Drivers looking for a luxurious and versatile vehicle will love what the used Cadillac SUV segment of our inventory has to offer. Each used Cadillac we have to offer is of the highest quality and is priced competitively compared to other dealerships in the area. Among the vehicles of our used inventory, you can expect to find a variety of models, trim levels, and equipped package options. No matter which vehicle you select from our pre-owned inventory, you can feel confident that it features every bit of luxury associated with the Cadillac name, but at a more affordable price than a new model.
Certified Pre-Owned
Drivers interested in purchasing a used Cadillac SUV with considerably low mileage and of a more recent model year, may want to check out the certified pre-owned inventory at Frank Kent Cadillac. CPO vehicles are used vehicles that have undergone a strict certification process and are required to meet a specific set of guidelines. For example, to qualify as a certified pre-owned Cadillac SUV, the vehicle must be of a recent model year, offer low mileage, and be in like-new condition both mechanically and aesthetically. CPO vehicles also include a comprehensive warranty, featuring roadside assistance and emergency travel reimbursement. Compared to our pre-owned inventory, CPO vehicles are slightly more expensive, however they are still more cost effective than purchasing a new Cadillac.
The Frank Kent Pre-Owned Promise
Negotiation-Free Pricing
As part of our Frank Kent Pre-Owned Promise, our valued customers can always enjoy haggle-free pricing on each and every vehicle on our lot. So, when you're searching for a luxurious used Cadillac SUV, you won't have to worry about negotiating with our sales team to receive the lowest possible price. Instead, the price that we list is the lowest price we can offer. We are also careful to list and discuss any applicable specials and incentives, and see that they are applied during the purchase of your vehicle. To learn more about our current pricing or available specials and incentives, visit the Frank Kent Cadillac website.
Comprehensive Warranty Options
New and returning customers who choose to purchase a vehicle from our CPO inventory, can enjoy a comprehensive warranty. The Frank Kent Certified Pre-Owned Warranty is a 6-year/100,000-mile limited warranty featuring roadside assistance and emergency travel reimbursement. This includes the following exclusive benefits:
2-Day Rental Reimbursement for Out of Town Emergencies
24/7 Assistance for Tows, Battery Issues, Flat Tires, and More
At Frank Kent Cadillac, we stand behind the quality of our pre-owned vehicles, and this is just one of the ways we strive to ensure that our customers feel safe and protected on the road for years to come.
Easy Vehicle Trade-In
Whether you're ready to complete your vehicle purchase or are still undecided, you can always trade-in a vehicle with Frank Kent Cadillac. We'll purchase your vehicle from you at a fair price with no obligation to purchase a vehicle from our lot. To receive a quote on the value of your vehicle, simply visit our website or give us a call today!