What Is the XT Line, and When Was It First Introduced?
XT actually stands for Crossover Touring. This line was initially introduced in 2003, starting with the SRX. What this means for consumers is that the XT is a versatile and spacious vehicle. Touring type automobiles were initially developed to be larger and provide extra cargo space and passenger room compared to their smaller counterparts. And the Crossover Touring line for Cadillac SUVs is no different. All vehicles in the line maximize the space they have for superior comfort on long drives with plenty of room for all your luggage.
What Is the XT4?
The XT4 is the smallest SUV in the Cadillac lineup. However, the XT4 delivers tons of space where it counts in both the passenger and storage areas with almost 50 cu.ft. of cargo space. Even beyond space, this compact crossover has a lot to offer; it is packed with safety features, including automatic emergency braking and safety alert seats. Like most Cadillacs, its engineering and performance has been built beautifully. The XT4 offers a nine-speed automatic transmission as well as a turbocharged engine with 258 lb-ft of torque and 237 hp. It even has twin-clutch all-wheel drive. With the XT4, you're guaranteed a smooth ride with plenty of power.
What Is the Most Popular Cadillac SUV?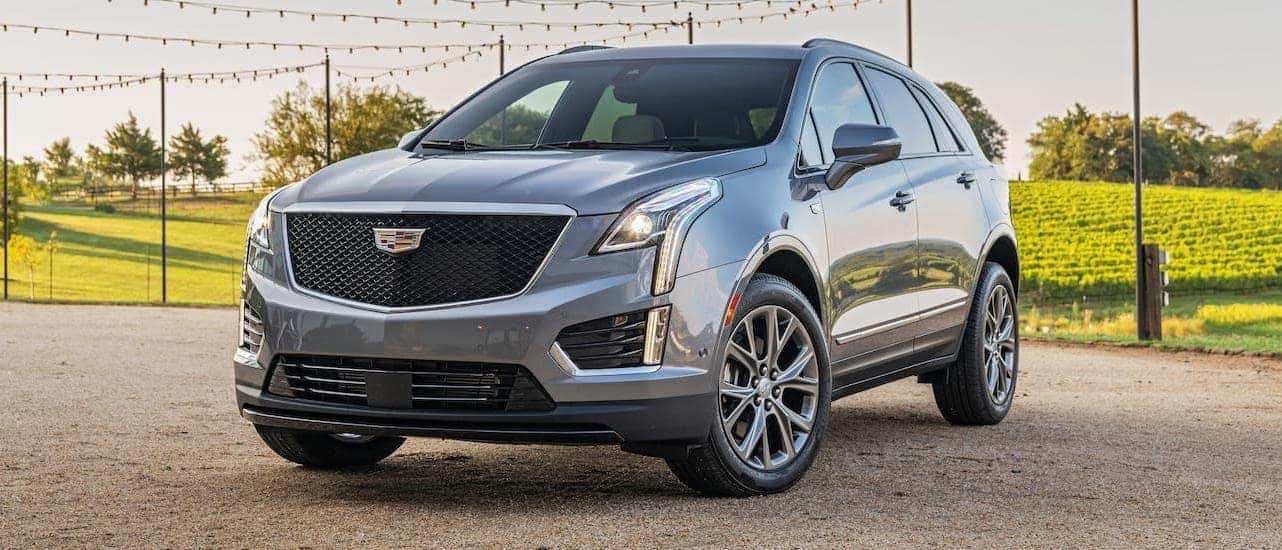 The XT5 takes the cake in popularity. The XT5 is another compact SUV, though it is slightly larger than the XT4 model. With an exceptionally smooth ride and standard 4-cylinder engine, the XT4 is perfectly equipped to take you where you want to go. Cadillac even offers the option for a V6 engine upgrade with 310 hp and 271 lb-ft of torque if you are looking for more power.
The XT5 boasts a refined interior with several desirable amenities (along with lots of passenger and cargo space). Most impressively, the XT5 builds on the safety features of the XT4, providing front pedestrian braking and forward collision alert, which notify you via haptic seat alerts. This high-end safety technology can even apply the breaks or enhance driver breaking automatically to prevent costly mistakes.
The safety innovations of the XT5 have been applied to the backing features as well. Rear cross-traffic alert warns the driver of left or right crossing traffic behind you as you back up. When you put all these features together, plus lane change alert and night vision, you can rest assured that you are driving one of the safest crossovers available on the market.
What Is the Largest XT That Cadillac Makes?
The XT6 tops the lineup of Cadillac's Crossover Touring Range. It has a very spacious and quiet interior and an expansive three rows of seating. The XT6 even features a segment-leading amount of third-row headroom as a standard design element. This SUV also has a standard 3.6-liter V6 engine with 310 hp and 271 hp for optimal performance. And do not worry, the XT6 offers numerous safety features, including front pedestrian braking, lane-keep assist, and even infrared night vision for late-night driving visibility. If you want an SUV with enough space for family and friends, some extra power, and excellent safety features, the XT6 is a great choice.
Does Cadillac Make a Large SUV?
The top of Cadillac's SUV range is the iconic Escalade. Popularized by the glitz and glamor of Hollywood and the music industry and known for its smooth ride and spacious interior, the Escalade is in a class all its own. Boasting a 6.2-liter V8 engine that pushes out 420 hp, the Escalade's capability doesn't disappoint either. Plus, in using a 10-speed automatic transmission, you're guaranteed a quiet drive that gets you to your destination in no time.
The Escalade carries up to eight passengers, perfect for road trips, or bringing friends along for a ride. Rear seat entertainment makes long trips more fun in the second and third rows. While it incorporates many safety features standard in the XT Line, the Escalade goes a step further with surround vision, allowing the driver to see the areas around the vehicle when in low-speed drive or reverse. The Escalade is pure luxury and makes driver and passenger satisfaction a top priority in the large SUV slot of Cadillac's lineup.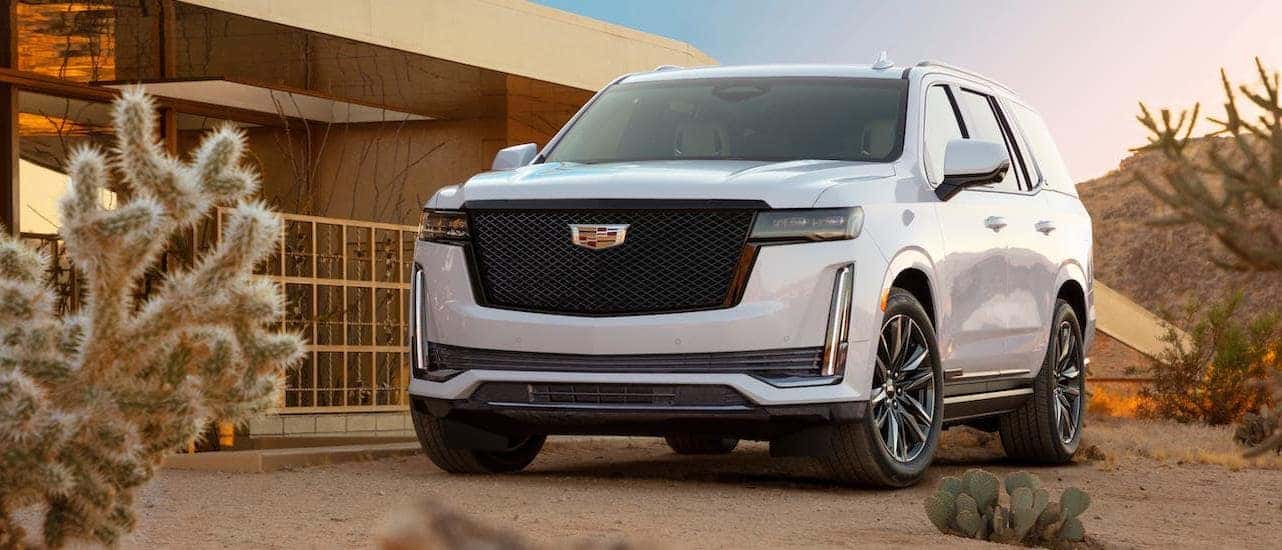 Available Cadillac Models
2021 Cadillac Escalade
If you are looking for the ultimate expression of luxury and sophistication in a large and powerful SUV, then the 2021 Cadillac Escalade is the clear choice. While the Escalade has been an absolute legend among luxury SUVs for years, the all-new 2021 model takes everything people love about the Escalade to entirely new levels. It is a stunning vehicle that includes incredible technology and features that we are sure to see competitors chase for years to come.
In terms of performance, there are two engines available for the all-new Escalade, both of which are offered on every trim and come with rear-wheel drive standard. All-wheel drive is available, without trim restrictions, so if you prefer the added performance and traction of AWD, then you can choose it. The standard engine is a 6.2L V8 that delivers up to 420 hp and 460 lb-ft of torque; and there is an available 3.0L Duramax Turbo Diesel engine available, which offers up to 277 hp and 460 lb-ft of torque. No matter which engine you choose, it comes with a 10-speed automatic transmission for smooth, quick shifting that is a joy to drive.
The incredible performance offered by the all-new 2021 Cadillac Escalade is only the beginning, however, as the features you can find inside this gorgeous model go beyond anything we have seen before. Undoubtedly, the star of the show is the new curved OLED display measuring 38 inches in diagonal length. It is a massive, gorgeous display that stretches across the interior dashboard, including the driver's display and the central infotainment system. With perfect blacks and startlingly gorgeous color, featuring twice the pixel density of a 4K HDTV, this new display sets the mark that others will follow.
For anyone that enjoys going for a drive with your music enveloping and surrounding you, carrying you away with it to enjoy the splendor of your ride, the all-new Escalade offers something truly special. The standard AKG Studio 19-speaker sound system gives you stunning, high-fidelity sound that is an absolute treat for the ears. But if you consider yourself a serious audiophile, then there is an available AKG Studio Reference sound system with 36 speakers located throughout the cabin, at different heights and various places, to create an immersive listening experience beyond anything you have heard before.
And yet, the technology within the 2021 Cadillac Escalade still goes so far beyond the OLED curved display and stunning audio that we can hardly list it all. Consider, for example, the augmented-reality-enabled Navigation system, which projects a live street view from in front of your vehicle onto the display with directions so you can see exactly where you need to go. Or the available Night Vision system, which includes thermal heat imagery on the display to help you spot people and animals on even the darkest of roads. There is even a full-color head-up display available, as well as in-cabin microphones that make it easy for people in the front and third rows to communicate.
We could go on, but you get the point. The all-new Escalade is like nothing we have ever seen before, and truly sets the bar for luxury SUVs higher than ever before.
2020 Cadillac XT6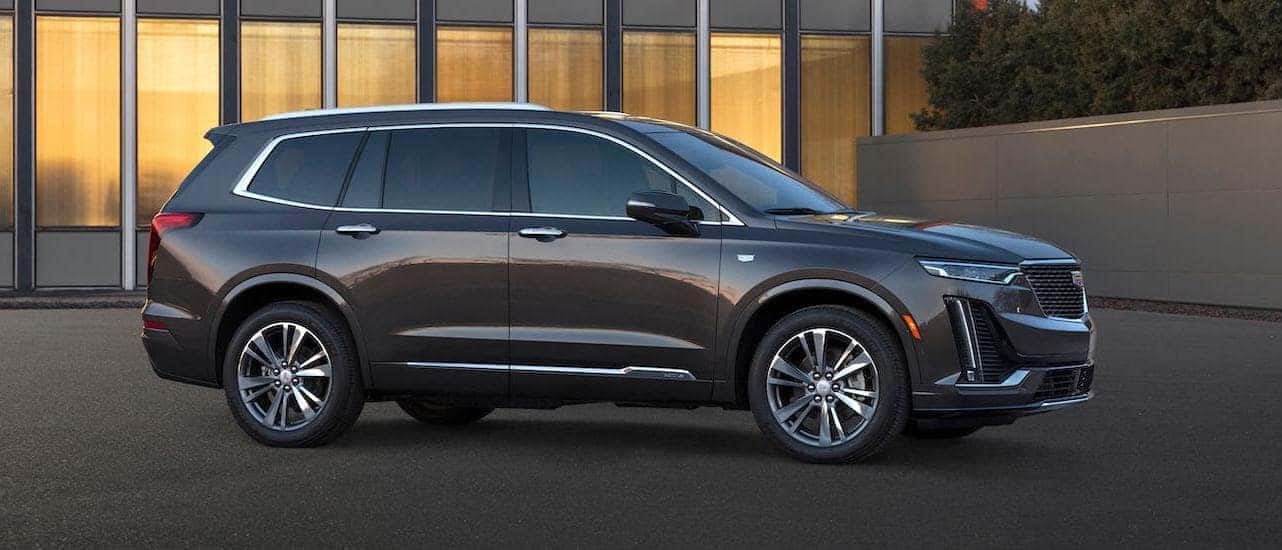 Although the Cadillac Escalade gets a lot of attention, which we completely understand, sometimes you do not need a gorgeous vehicle that is quite that large. The 2020 Cadillac XT6 is a midsize option that still delivers incredible style and sophistication, in a size that is a bit easier to fit into a more modest lifestyle. Do not let that smaller frame fool you, however, as this is still an unbelievable option for tremendous luxury and gorgeous comfort.
The XT6 is powered by a fantastic 3.6L V6 engine that delivers up to 310 hp and 271 lb-ft of torque for excellent performance. This is paired with a 9-speed automatic transmission that gives you a smooth ride and a responsive driving experience that keeps you in control as you enjoy your drive. While front-wheel drive is standard on the Cadillac XT6, all-wheel drive is available if you prefer the functionality and traction it affords you.
Inside the Cadillac XT6, you will find seating for seven people across three rows, giving you plenty of room for your family and friends, while also ensuring everyone stays comfortable. If you prefer, there is also a six-passenger configuration available with captain's chairs for everyone, which allows for even more space for your third-row passengers. The materials used inside the XT6 are of the highest quality, including exotic woods, carbon fiber, and leather appointments with metallic accents that truly set it apart from its competition.
All of that comfort comes with some fantastic technology as well, including a standard 8-speaker Bose premium sound system, with an available 14-speaker Bose Performance Series audio system. Heated driver and front passenger seats are standard, along with a heated, leather-wrapped steering wheel and remote start with keyless open. You get an 8-inch infotainment system, with available navigation, plus a customizable driver information center, tri-zone automatic climate control, and a wireless charging pad.
2020 Cadillac XT5
One of the best things about the midsize SUV market is that it is a very flexible segment, which means a wide range of vehicles can fit within that "midsize" descriptor. While a larger midsize option like the XT6 is great for anyone that wants seating for seven or eight people, the more modest Cadillac XT5 is the perfect option if you want midsize performance in a more streamlined package. This kind of variety is one of the things we love most about the modern Cadillac lineup, as there really is something for everyone here.
Although it is a midsize model like the XT6, the Cadillac XT5 is noticeably smaller in overall size and design, making it perfect if you like a midsize option, but do not need as much seating or interior space as the XT6 has to offer. The XT5 has two rows of seating for your friends and family, offering seats for up to five people. You still get plenty of interior cargo space, however, making it the perfect choice for long road trips where you want to remain comfortable, even once you have loaded up everything you need.
There are two engines to choose from with the XT5, which comes with front-wheel drive standard, though all-wheel drive is available. The standard option is a 2.0L Turbo 4-cylinder engine that provides up to 237 hp and 258 lb-ft of torque. If you want even more power, then there is an available 3.6L V6 engine that delivers up to 310 hp and 271 lb-ft of torque. Both of these engines come paired with a 9-speed automatic transmission for a smooth and responsive driving experience that is a tremendous amount of fun.
As you would expect, luxury within the Cadillac XT5 is abundant, including gorgeous materials such as cut-and-sewn leather, natural woods, carbon fiber details, and Galvano accents that really elevate the sophistication of this gorgeous vehicle. The available UltraView sunroof is absolutely stunning and provides amazing ceiling views for both the front and rear row of seats. There are three trim levels available, but no matter which one you choose, you will immediately recognize the style and elegance of Cadillac design.
In terms of technology, the XT5 shines in that department as well, featuring an 8-inch infotainment center and an available 8-inch customizable driver information center. The standard 8-speaker Bose premium sound system provides excellent audio, while an available 14-speaker Bose Performance Series audio system gives you deep, rich sound that truly envelops you. Heated seats, a leather-wrapped steering wheel, and many more options allow you to get a luxurious and sophisticated experience you simply will not find anywhere else.