Choosing a Cadillac
As your Cadillac dealership near Dallas, we understand that choosing a Cadillac is making a choice to prioritize luxury and sophistication above just about everything else. Cadillac means something – it is an experience unlike what any other vehicle has to offer. And though it has often been imitated over the years, the Cadillac brand stands apart as the pinnacle of what an American luxury vehicle can be.
At Frank Kent Cadillac, we take a great deal of pride in that and it is a major part of why we exist as your Cadillac dealership near Dallas. We believe in our vehicles, in the luxury and superiority they provide over a lot of other cars out there. Whether you want a big SUV to dominate the road, or you prefer a sleek sedan that makes a statement in a quiet yet undeniable manner, we understand exactly what you are looking for.
Brand New Models
One of the biggest reasons to choose us as your Cadillac dealership near Dallas rather than any of our competitors is the vast selection of brand new models we have to offer. There is nothing quite like sliding into the interior of a new Cadillac and taking it for a ride, feeling the road open up and letting your body melt into the comfort and luxury it provides. It is an experience all its own, one that we appreciate and know our customers look for when choosing a vehicle.
Every year, we have a wide array of the latest models for you to choose from, with plenty of different trim levels and options available. If you want to customize your selection and get just the perfect vehicle for your lifestyle and needs, then we are the Cadillac dealership near Dallas for you. Of course, a brand new vehicle is not the right choice for everyone, and we have plenty of other options to choose from too.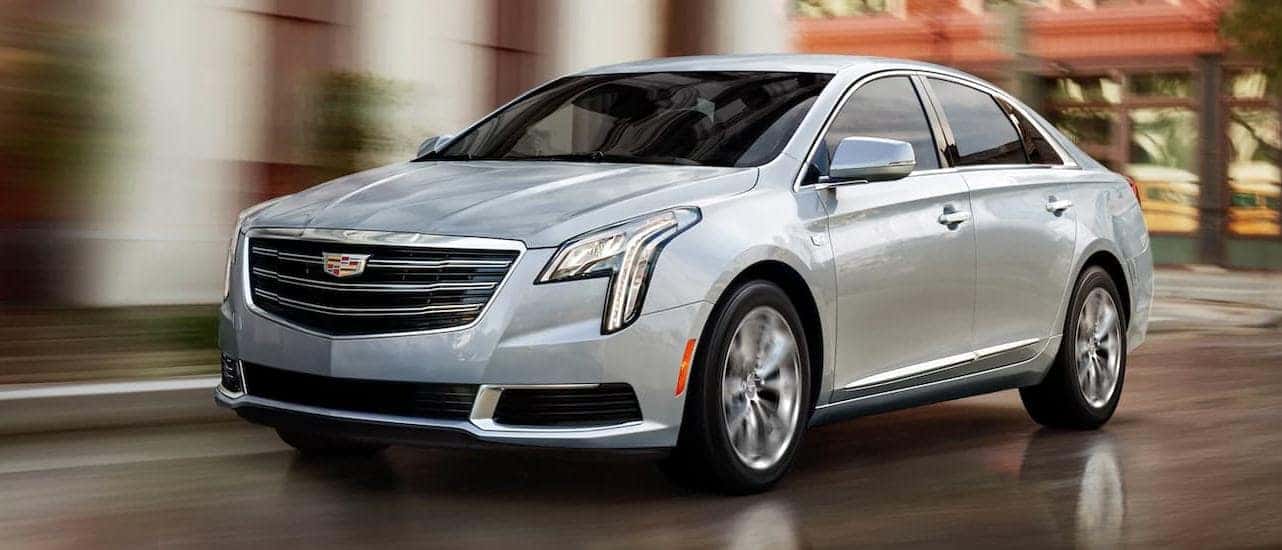 Pre-Owned Offers
A pre-owned Cadillac is a great way to experience the unbridled magnificence of these vehicles while remaining within a more modest budget. Just because a brand new model is not right for your lifestyle does not mean you should have to sacrifice all the beauty and grandeur that Cadillac has to offer. There is nothing "used" or "second-hand" about a pre-owned Cadillac – these vehicles retain their glamour and appeal for years.
As your Cadillac dealership near Dallas, we offer a huge selection of pre-owned vehicles for you to look over and choose from. Buying a pre-owned vehicle does not mean you should have to sacrifice the freedom to consider different options. Far from it. Our tremendous inventory of used vehicles lets you see all sorts of different choices to consider so you can find the right vehicle to meet your needs.
Certified Pre-Owned Cadillacs
If you want to go easy on your budget, but you do not want to miss out on the security of buying a new vehicle, then consider a certified pre-owned option from Cadillac. These are vehicles that have gone through a rigorous 172-point inspection to ensure they are in the absolute best quality possible. All certified pre-owned models include a 6-year/100,000-mile warranty from Cadillac that goes into effect only once the original warranty ends.
All certified pre-owned Cadillacs include 24-hour roadside assistance and support, including courtesy transportation and towing if you ever find yourself in an emergency. You also get a full vehicle history report on each of these vehicles, so you know everything we know about them and have a sense of the life the Cadillac lived before it came to you. We are proud to offer an impressive selection of different certified pre-owned Cadillacs for you to choose from so you can find just what you need.
The Frank Kent Promise
Any dealership can offer new and used vehicles, which is why we take things a step further to show why we are your Cadillac dealership near Dallas. Every used vehicle we offer is backed by the Frank Kent Promise. This is a promise that your car-buying experience will be as simple as possible, and your purchase will be protected for years to come.
The Frank Kent Promise starts with simple, honest, haggle-free pricing on every pre-owned vehicle we offer. We use all the information available to us, including pricing at our competitors, to evaluate our prices every day. That all comes together in our haggle-free price on every pre-owned vehicle: what you see is what you pay. So you can feel confident that you get a fair price without negotiating or bargaining.
Every pre-owned vehicle we sell is backed by the Frank Kent Certified Pre-Owned Warranty, separate from any manufacturer warranty that might be on the vehicle. This is an additional 2-year/100,000-mile term of coverage based on our own 128-point inspection of every pre-owned vehicle we sell. It even includes a one-year membership in Road America's Auto Assist program, which includes 24/7 roadside assistance and up to two days of rental reimbursement and travel expenses if you find yourself in trouble far from home.