WANT A CADILLAC? CHECK OUT OUR CADILLAC LEASE DEALS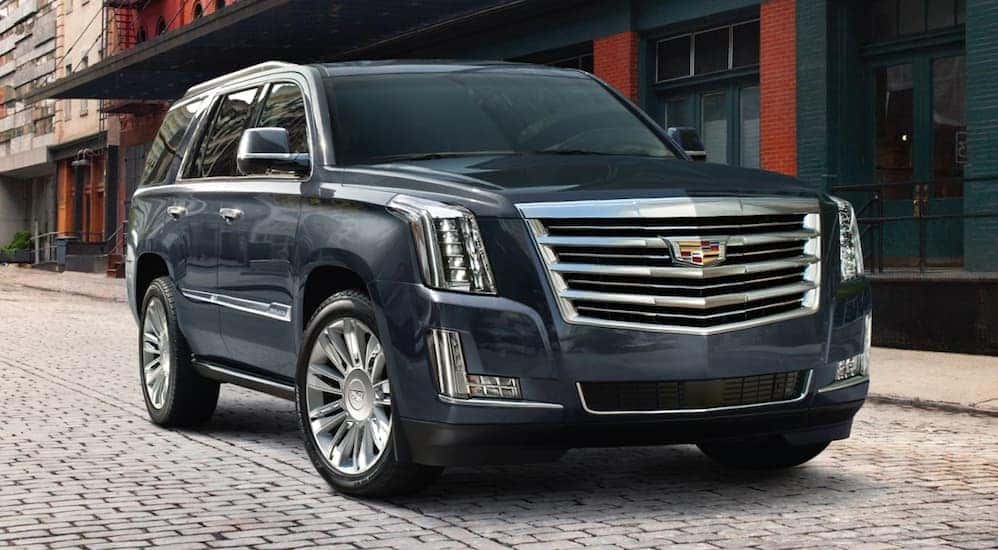 Cadillac owners know there's nothing like driving the iconic vehicle that put American auto engineering on the map. And when looking for more car for the money, leasing a new Cadillac is a desirable route to make luxury automobile ownership a reality. Cadillac lease deals are available at Frank Kent Cadillac for new sedans, coupes, V-Series, crossovers and SUVs and there's something for everyone. These models all provide distinctive features and functional design that help make Cadillac the leading luxury auto brand since 1902.
Why Lease?
A Cadillac lease has many advantages for savvy buyers who prefer the option of driving a brand-new car, then returning it after a few years to pick out a replacement once the lease ends. This is ideal for buyers trying to drive down their monthly car payment while choosing all the bells and whistles the most current Cadillac models offer. This can also lessen the chance of car repair costs because a Cadillac lease deal can cover the manufacturer's warranty terms. And it's convenient for drivers who may not plan to put a considerable amount of miles on the vehicle, and don't want to worry about selling the car later, negotiating trade-in values, or paying for major after-market maintenance and repairs.
At Frank Kent Cadillac, finding that perfect dream car with a turbocharged V8 or the ideal multi-functional vehicle for home or work can be easy with our affordable Cadillac lease deals. Cadillac offers compact/subcompact luxury crossover SUVs as an awesome option for drivers looking for roomy space, sportiness, and a fair amount of fuel economy. Maybe Cadillac's high-performance sports 4-door sedans or 2-door coupes with twin-turbocharged DOHC V6 is more your speed. No matter the preference, a Cadillac lease can make driving this world-famous, classic luxury American automobile attainable for a variety of budgets.
Luxury in Design
Frank Kent Cadillac lease deals help our customers drive off the lot in a luxury vehicle that provides the latest in auto technology updates, top safety features, and state-of-the-art connectivity and entertainment options. A Cadillac lease makes the unimaginable imaginable. When it comes to innovation, Cadillac has always been at the forefront of refined driving. Cadillac is on the cutting edge of modernism and adaptability with keyless ignition and entry, remote start, driver assistance, exterior and rear back-up cameras, Android Auto, Apple Carplay, in-car wifi, heated mirrors, and automatic climate control. Cadillac is consistently and strategically developing its turbocharged propulsion engineering, industry-leading valve-train design, advanced fuel efficiency, and evolving smart technology to continue to lead the industry as it has since the early 1900s.
Many people might not know that in 1906, Cadillac was the first volume manufacturer of a fully enclosed car, designed and built right out of Detroit. And just six years later, Cadillac was first out the auto-design gate to manufacture a state-of-the-art electrical system featuring a starter-based ignition, and lighting, in none other than the Motor City. These were all groundbreaking innovations in Cadillac's early beginnings. Fast forward to today's highly connected world, and current drivers choose Cadillac lease deals for accessibility to advanced, intelligent technology. These options and upgrades include high-precision GPS navigation, smartphone compatibility, and remote roadside crisis assistance and emergency services, to name a few. Jumping ahead to modern times all of these great features can be acquired in one way or another by the every day driver. Leasing makes accessibility to that revolutionary art and science behind Cadillac's legendary design possible.
Cruising in an Escalade
Cadillac lease deals are always available for the iconic Escalade, the brand's best-selling, full-size luxury SUV with the signature grille design. For the last few decades, the Escalade has continually been recognized for its innovation, as well as an iconic reputation in the auto industry – and even pop culture. The Escalade has been the winner of numerous Consumer Guide Automotive's Best Buy Awards and J.D. Power study awards since first making an appearance on the Cadillac assembly line in Arlington, Texas, on Feb. 8, 1998. With each year, the Escalade continues to offer more horsepower and greater EPA-estimated highway fuel economy than the original 1999 model.
The beauty of leasing a new Cadillac Escalade lies in the access to emerging technological advances that continue to highlight the luxury SUV's resume. These include safety features such as LED high-beam headlamps and taillamps with total internal reflection, revealed in the 2015 model, and the first-ever front-center airbag in a luxury SUV that same pivotal year. The Cadillac Escalade was also the first full-size luxury SUV to offer Magnetic Ride Control, the world's quickest-reacting suspension system, in 2009. The advancements have only continued and with each new year a lease deal allows for the latest and greatest to be enjoyed at a lower cost than outright buying the vehicle.
Other popular features that make a Cadillac lease deal desirable for the Escalade include LED exterior lighting, a hands-free programmable power liftgate, automatic parking assist, noise cancelation technology, keyless access and push-button start, power-telescoping/tilting steering column. Also popular in the Escalade is its fold-flat second- and third-row seats (with power-folding third row), and tri-zone climate control along with cooled front seats, heated second-row bucket seats, and heated, leather-wrapped steering wheel with wood accents.
So Many Lease Options
Additional Cadillac lease deals are also available for its line of tech-savvy, spacious and comfortable sedans. Cadillac's luxury sedans provide a cargo advantage with room for five and luggage. Standard all-wheel drive, a twin-turbocharged V6 engine, adaptive cruise control, and Cadillac Connected apps for smart technology compatibility are just a few of the Cadillac sedan characteristics that make leasing even more attractive. A host of features are available for new Cadillac sedans, coupes, V-Series, crossovers and SUVs lease deals. Premium Luxury, Platinum and V-Sport Platinum Packages are all options to be considered, especially when choosing a deal that can make driving a Cadillac possible.
No matter the potential lease model, Frank Kent Cadillac encourages customers to educate themselves on navigating Cadillac lease deals. It helps to understand what may be due upon signing a lease agreement, and what fees and taxes, including the acquisition fee, will be applied. Know how making a down payment or offering up a pre-owned trade-in can help drive the payment down each month. This would be important in deciding how many extras on the car, in terms of options and luxury packages, you want and can afford.
A Cadillac lease deal might help prompt deals on car insurance policies, for example, as leased luxury vehicles with all-wheel drive models tend to include safety features that insurance companies appreciate, thus resulting in lower monthly payments. Vehicle-tracking systems, advanced connectivity, exterior camera and radar sensors, a driver assist package, lane keep assist with lane departure warning, surround vision and Safety Seat Alert on the luxury Cadillac are all safety features which may help lower insurance costs thanks to their higher chance of avoiding accidents. Residual value – meaning the car's expected worth at lease's end – and payoff balance in case the lease might end before the term's end, can be huge deciding factors on leasing versus buying. Other considerations include mileage allowance and gap insurance, which is the difference in what's still owed on the car.
When you're ready to check out these magnificent machines, the newest features and our current Cadillac lease deals, visit us at Frank Kent Cadillac and get behind the wheel today.