The Futuristic Cadillac Lyriq: From Rumor to Reality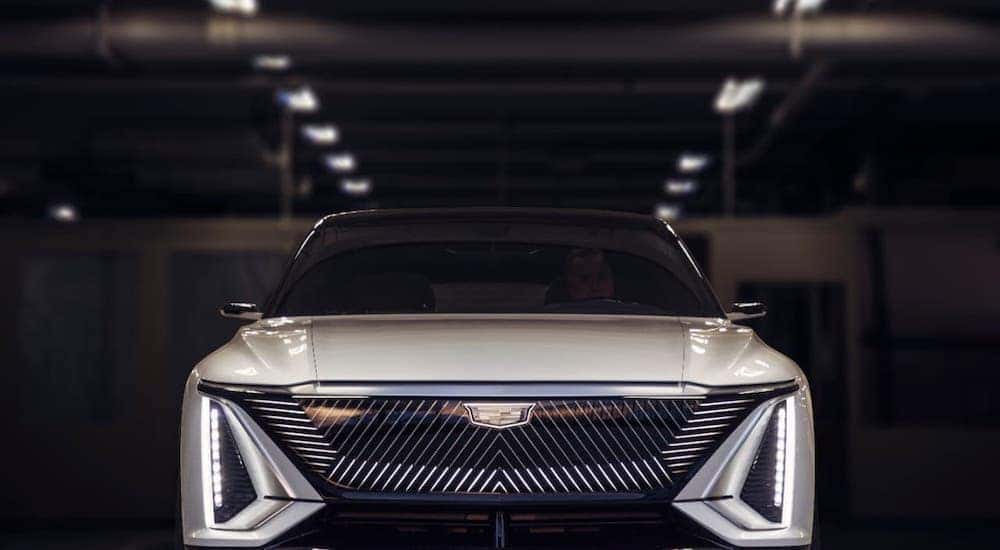 We heard a rumor that the 2021 Cadillac Lyriq is pretty spectacular. Why are thousands of curious luxury car buyers holding their breath, impatiently waiting, and asking, "where is the best Cadillac dealer near me?" It could be they haven't thought about checking out Cadillac for a while because perhaps they didn't realize that the gold standard of luxury American car brands is still innovating and bringing technologically-advanced, game-changing vehicles to the market. That's right! Cadillac is not only a respected luxury car brand – it's a leader in technological advancements in fuel economy, performance, and even design.
The all-electric Cadillac Lyriq currently exists only as a show car, but as more information becomes available, we can extract a narrative that paints a pretty clear picture. First off, the Lyriq looks to have a crossover body style that leans more toward the SUV category, putting it in competition with some of the recent all-electric European luxury SUVs. Cadillac knows the competition is stiff, so the intended launch date of 2022 for the 2023 model year gives the company more time to refine its production vehicle plan. This release will be a car that competes not only against the other electric SUVs but even some of the traditional gasoline-powered luxury SUV.
When was the last time you visited a Cadillac dealership? The Lyriq might be just the impetus you need to get reacquainted with this venerable automotive nameplate. What's so special about it? For now, it's mostly speculation (with a little bit of factual information coming from the company itself), but we're pretty sure this new Lyriq is shaping up to be something special. And different. And technologically advanced. We investigated the rumors and the facts and presented them here so you can get just as excited as we are.
What Does It Look Like?
We've mostly seen prototypes so far, but what we've seen has us frothing at the mouth because this new Lyriq is designed so uniquely that nothing currently on the road comes anywhere near it. We're talking very uniquely. Adjectives are always helpful when describing a concept, so we're going with futuristic, dynamic, bold, and aggressive. All are true, and this is what you get just from the first glimpse. Take a little extra time to really examine its lines, and you'll pile on the accolades.
Cadillac teases with close up photos of the grille, which continue to evoke the same feeling of dynamic, futuristic beauty, but also showcase Cadillac's attention to detail. There is a full-glass two-tone roof that is angled for maximum aerodynamic efficiency and a grille pattern that sets the Lyriq apart from anything else on the road today. When examining the car in profile, you realize it's not really a car as much as a crossover, borrowing design cues from both the most beautiful sedans and the most rugged SUVs. It sports 23″ wheels with a "Juniper-tinted matte finish" and a hint that the wheels preview the color scheme of the Lyriq's interior.
Speaking of the interior, if the Lyriq show car is even close to what will be rolling off the assembly line, buyers are in for a futuristic, technology-first cockpit that looks more like the inside of a fighter jet (if a fighter jet had Juniper leather seating, aluminum finishes, and a 19-speaker AKG audio system, that is). The 33-inch curved driver information screen is capable of displaying over one billion colors, which feels a lot like a virtual reality-type of interface. In addition, Cadillac has engineered an augmented reality head-up display, which will show standard driver information like speed and direction, but it also shows transparent road signals and alerts farther forward on the display, giving it a 3D quality.
How Does It Perform?
First of all, and most importantly, this is an electric vehicle (EV). This is a first for Cadillac and tells us that the company is primed to enter the EV category. Some may wonder why Cadillac has waited so long to embrace alternative fuel technology, but our guess is that the timing is no accident. Cadillac's Lyriq had to be just right before the company would put the Cadillac logo on its grille, which means customers looking for a luxury EV are going to be blown away.
Cadillac estimates the Lyriq will have a 300-mile driving range on a full charge, but hints that the range could reach the 400-mile mark. That's music to EV owners' ears. A good driving range is critical to bridge the acceptance gap between traditional gas-fueled cars and EVs. Customers don't want to be inconvenienced, although, with more and more charging stations popping up along interstates across the country, the inconvenience factor is greatly minimized. Also, Cadillac is seeking a near-perfect 50-50 weight distribution and a lower center of gravity, which will deliver better handling and vehicle responsiveness.
The Lyriq will be available in rear-wheel drive and all-wheel drive, and Cadillac promises a torquey acceleration feeling and nimble performance, but the company is still mum about actual horsepower and performance ratings. We do know that the rear-wheel drive Lyriq will have one electric motor in the rear, while the all-wheel drive Lyriq will add a second electric motor over the front wheels. Other similar luxury EVs go from 0 – 60 mph in just over four seconds. We can't say for sure, but our guess is Cadillac wants the Lyriq to be competitive.
Also important to note is Cadillac's Super Cruise driver-assist cruise control system, which the company claims is truly hands-free. Together with the rest of the vehicle's features, our takeaway is that the Lyriq is designed for tech-savvy EV buyers who are looking for the best driving range and superior driver-assist technology to augment the traditional driving experience. In addition, Cadillac hopes to attract traditional gasoline-engine luxury car buyers and is hoping the 300-mile range and fast-charging nature of the Ultium battery technology will win them over to the EV category.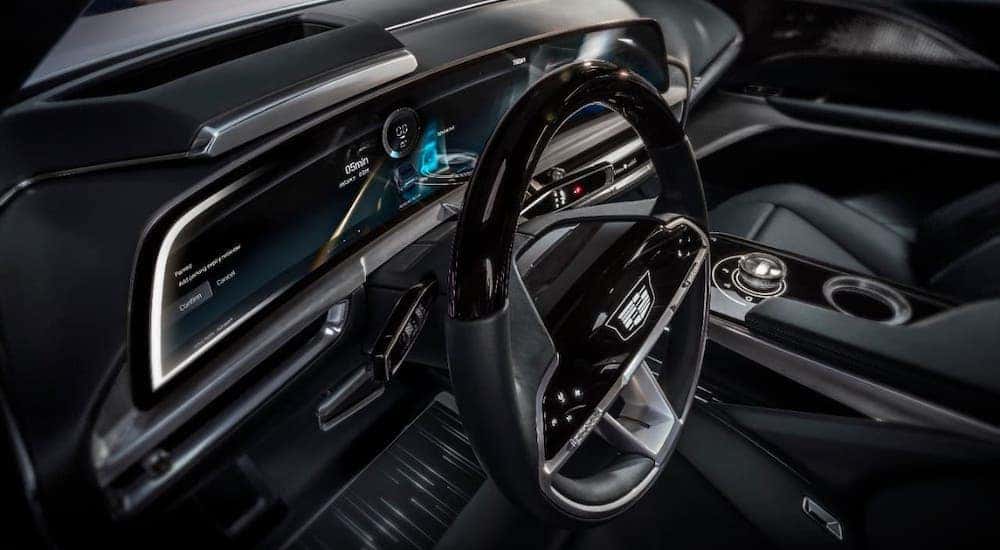 What Other Features Can We Expect?
The Lyriq is expected to include all of the smartphone connectivity buyers require, including Apple CarPlay and Android Auto, along with a driver-friendly interface and an infotainment system that's integrated into the massive 33-inch curved display. We also know that the entertainment system is provided by AKG, a premium audio company that specializes in noise-canceling technology. We believe the Lyriq's cabin will be designed to be acoustically superb and exceptionally quiet, with concert-grade sound thanks to the AKG-designed system.
As for driver-assist technology, nothing has been formally announced – except the Super Cruise feature – but we expect it to include a full suite of safety systems, including automatic emergency braking, forward collision alert, and other systems that are designed to keep driver and passengers safe and alert to current road conditions and potential hazards. We expect these systems to integrate seamlessly with the driver's head-up display and the on-board information center.
The Lyriq's warranty will likely follow suit with other GM vehicles, with category-leading coverage and a period of free maintenance. We also agree with the current speculation that the battery warranty will be generous. As for the battery itself, Cadillac estimates that it's capable of offering 100 kWh of energy. The Ultium battery technology, exclusive to General Motors, is reported to be scalable across multiple vehicles, with a top end of around 200 kWh.
It's looking like the Cadillac Lyriq will debut in 2022 as a 2023 model, but that's just speculation. The price tag is likely to come in at around $60,000, which would make it competitive with the other luxury vehicles in its segment. It's also a strategic price point that is sure to attract non-EV luxury car buyers as well. That's why Cadillac's launch activities and planned marketing approach will be so important.
We believe that launching the Lyriq as a performance SUV that happens to be all-electric is the way to go because it's clear that buyers will not be sacrificing performance for EV technology. Either way, the Lyriq is an exciting step forward for Cadillac, and the team here at Frank Kent can't wait to see it arrive at our Fort Worth dealership.