THE 2018 CADILLAC ATS – NOT YOUR GRANDPA'S SEDAN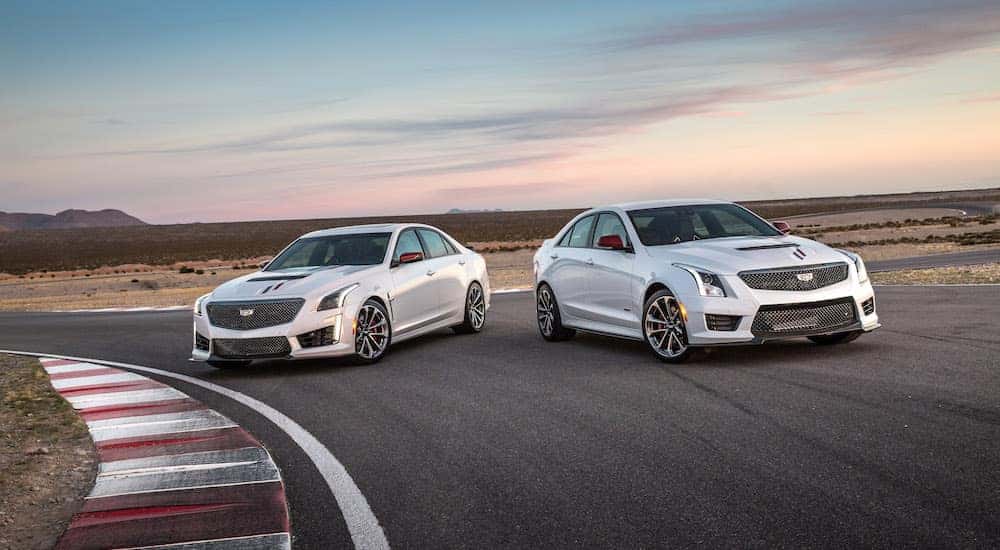 There are two things you should know when you decide to buy a new car:
Not all sedans are created equal and
Cadillac's are not just for your grandparents anymore.
To our first point, if you've just begun car shopping, it won't take long for you to feel like you've seen one sedan so you've seen them all. The run-of-the-mill body styling, the same-old features, same-old interiors… it's really no wonder that more people are choosing to drive SUVs and trucks these days, thanks to the bland sedan options on the market. However, that brings us to our second point – if you are still operating under the impression that Cadillac sedans are for the elderly (let's face it, most of our grandparents drove us around in Caddy's at one point or another), you clearly haven't been paying attention to the latest Cadillacs for sale. Pure luxury, sleek designs, and top-of-the-line trims make the 2018 crop of Cadillacs so fine you'll wonder why you ever even considered choosing another brand of sedan. In fact, if you're in the market for a new vehicle, you should simply save your time and head straight to Frank Kent Cadillac to check out the new 2018 Cadillac ATS sedan. Sexy, stylish and sophisticated, the 2018 Cadillac ATS is everything those other sedans wish they could be.
Smooth Lines Make for a Fine Design
The 2018 Cadillac ATS is a stand out sedan in more ways than one, but the first thing people will notice is its sophisticated exterior. With the iconic Cadillac logo mounted to a sparkling chrome grille, the ATS has a distinctively smooth yet angular appearance that gives it an air of elegance. Additionally, 2018 Cadillac ATS is available in a choice of nine rich exterior colors, so buyers can choose how eye-catching they want their ride to be. Exterior paint choices include Black Raven, Crystal White, Dark Adriatic Blue, Phantom Gray, Radiant Silver Metallic, Red Obsession, Satin Steel, Silver Moonlight and Stellar Black.
Riding on either 17 or 18-inch wheels (depending on your chosen trim), the 2018 Cadillac ATS breaks the mold of the overly bold and aggressive exterior angles found on many sedans on the market today. Rather, it's understated curvature coupled with the deep hues of the exterior paint made it obvious that the 2018 Cadillac ATS offers a level of high-class elegance that the other sedans simply cannot match.
High-End Trims Make for a Luxury Ride
While many shoppers may only be familiar with the outdated features of their grandparents old Cadillac, you can rest assured that the 2018 models have ditched the ashtrays and the manual roll-down windows for decidedly more modern and desirable features. In fact, the 2018 Cadillac ATS is available in four trims, so shoppers can decide exactly how luxurious they want their ride to be.
The base level trim, known simply as the "Standard" trim, starts at $35,495 and offers an abundance of high-end amenities – certainly more than can be found on most other entry-level sedans. Opt for the 2018 Cadillac ATS in Standard trim, and you'll enjoy keyless entry and ignition, heated side mirrors, faux-leather upholstery, an eight-inch touchscreen, Bluetooth functionality, Android Auto, Apple CarPlay, and Cadillacs' CUE infotainment system. There's also a 10-speaker Bose sound system, satellite radio, three USB ports and there is even a wireless charging pad, in addition to OnStar, 4G LTE internet, and a Wi-Fi hotspot.
While the Standard trim is undoubtedly a luxury ride as compared to most, if not all, base-model sedans, upgrading to the next trim level, aptly named the Luxury trim, equips the 2018 Cadillac ATS with even more high-end amenities including: leather upholstery, heated front seats coupled with heated steering wheel, a navigation system, adaptive xenon headlights and driver memory settings. The Luxury trim also includes advanced safety features such as front and rear parking sensors, but shoppers can also opt to include the Safety and Security package. The Safety and Security package adds advanced safety features such as lane departure warning, forward collision alert, automatic high beams, automatic wipers, blind spot monitoring and rear cross-traffic alert. Additional options also include a sunroof, upgraded 18-inch alloy wheels, and all-wheel drive.
If the Safety and Security package is important to you and you'd also like to enjoy your 2018 Cadillac ATS with a little sun on your face, the Premium Luxury trim is right for you. Starting at $44,895, the Premium Luxury trim includes all of the features from the Luxury trim and the additional safety package as well as the sunroof. It also includes illuminated door handles and access to two additional package options: the Driver Awareness Package, which offers even more safety features (such as Rainsense wipers, forward collision alert and a following distance indicator) and the Advanced Security package, which includes locking wheel lugs, an additional theft-deterrent alarm, a lock fuel door and a steering column lock.
Of course, you could just go for the whole shebang and ride in ultimate style and comfort, thanks to the Premium Performance trim. Choose the Premium Performance if you want to couple a heads-up display with all of the aforementioned features of the Premium Luxury trim, as well as choose additional features such as a Driver's Assist Package or a Track Performance Package. Starting at $47,895, the 2018 Cadillac ATS sedan has features that we could only dream about when we were being carpooled around by our grandparents back in the day.
Powerful Engines Make for Peak Performance
However nice the exterior and the interior of your sedan may be, it's really what's under the hood that matters. The 2018 Cadillac ATS offers two different engine choices (three if you consider the sports-tuned 2018 Cadillac ATS-V), so no matter if you're cruising around town or living life in the fast lane, there's an engine out there that's just right to power your ride.
The standard engine option is a turbocharged four-cylinder that gets up to 272 horsepower and 295 pound-feet of torque. Available with either an eight-speed automatic transmission or a six-speed manual transmission, the turbo four is available on both the Standard and Luxury trim. If you're looking for a stronger engine to power your Cadillac ATS, there is also a 3.6 liter V6 engine available for both the Premium Luxury and Premium Performance trims. Choose that engine and you'll have 335 horses galloping out from under your hood, which is certainly impressive for the sedan-class.
Visit Frank Kent Cadillac and See What a Sedan Should Be
There's a reason so many of our relatives drove Cadillac's when we were children – they were safe, reliable and well-appointed vehicles, and the same holds true today. Don't head straight for the run-of-the-mill sedans that you see flooding parking lots today. Head to Frank Kent Cadillac and let us show you why the 2018 Cadillac ATS sedan is everything a modern sedan should be.