THE 10 BEST FEATURES OF YOUR LOCAL CADILLAC DEALERSHIP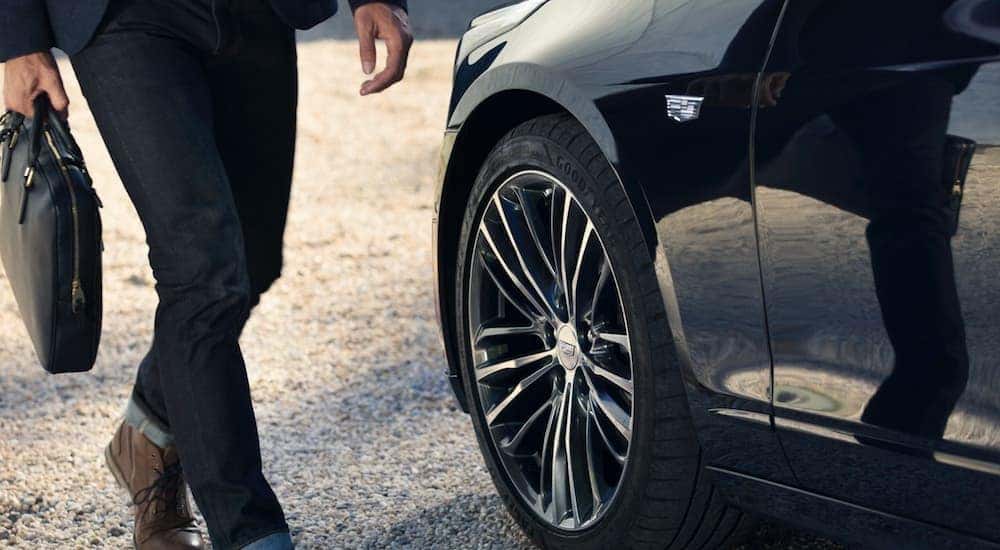 Interested in purchasing a vehicle from your local Cadillac dealership near Dallas? At Frank Kent Cadillac, we believe this is advantageous for several reasons. From the premium vehicles on our lot to available accessories and an in-house service center, here are the top ten best features of your local Cadillac dealership.
#1. Luxury Inventory
Of course one of the top perks of shopping with your local Cadillac dealership is being able to choose from its luxurious inventory. From spacious SUVs to sporty coupes, Cadillac has everything you're looking for. Here you will find all of the most popular models and at a great price. If you're searching for Cadillac dealerships then you already know what great vehicles they offer, at Frank Kent Cadillac we have the inventory to meet your needs.
Each of these vehicles are known to perform at the top of their class in premium features, performance, and design. Cadillac is a brand that takes luxury to the next level, and their dealerships are known for taking excellent care of the vehicles on their lot. And although these vehicles are priced for their premium features, you'll find them competitively priced at a reliable dealership that you can trust. If you choose to purchase one of these incredible models, you can feel confident that it is a luxurious, high-quality, and fairly priced vehicle.
#2. Used and Certified Pre-Owned Options
Cadillac understands that drivers from all types of budgets and lifestyles deserve to experience the premium features of their vehicles. For this reason, you can find pre-owned and certified pre-owned options for sale at your local Cadillac dealership. These vehicles are more affordable and make owning a luxury vehicle more practical. Drivers also don't have to worry about the depreciation of their pre-owned vehicle, unlike with new models.
If you're looking for low mileage, like-new features, and a later model year, you may want to consider a certified pre-owned Cadillac. Purchasing a CPO model will ensure that your vehicle is more affordable, but is also certified to look and function in like-new condition. At Frank Kent Cadillac, we have several pre-owned and certified pre-owned vehicles available on our lot. To check out this inventory, visit our website or stop by our lot today!
#3. Vehicles for Lease
Leasing a Cadillac is another incredibly popular option among drivers as it comes with numerous benefits. Drivers interested in leasing their next Cadillac can look forward to trading in their vehicle for a new model every couple of years, but the benefits don't end there! Here are a few of the top advantages of leasing a vehicle from your local Cadillac dealership:
Lower Deposit Required
Lower Monthly Payments
Less Out-of-Pocket Expenses
Overall, many drivers find leasing a vehicle a much more attractive decision than buying a vehicle. However, it is not for everyone. Drivers who choose to lease must be prepared to take excellent care of their vehicle and follow their mileage restrictions. Some drivers also prefer that payments go towards the eventual ownership and payoff of the vehicle that they can buy at the end of their lease.
If you're not sure whether leasing or purchasing is right for you, the finance team at Frank Kent Cadillac is happy to listen to your budget and needs and help you determine which avenue is best for your situation.
#4. Service Center
Another benefit of purchasing a vehicle through your local Cadillac dealership is our service center. Cadillac ensures that every technician on staff throughout the dealership is properly certified, expertly trained, and receives regular education on the new vehicles entering their lots. At Frank Kent Cadillac, our technicians are happy to set you up with a regular maintenance schedule or take care of simple to major repairs.
#5. Parts Center
The parts center at a Cadillac dealership is another important benefit. At Frank Kent Cadillac, if you're looking for high-quality parts for your vehicle, just let us know and we'll take care of ordering it and have it ready for you to pick up as soon as possible. If you need help choosing the correct parts to order or have any questions about the parts we have available for order, simply give our parts center a call during our flexible hours.
#6. Available Accessories
Cadillac understands that half the fun of owning a luxury vehicle is being able to customize it. For this reason, your local Cadillac dealership will have plenty of accessories available for you to choose from. These may include:
Wheels
Floor Liners
Cargo Organizers
Interior Trim Kits
Universal Tablet Holders
Exterior Vehicle Care Kits
Suspension Packages
Brake System Upgrade Kits
These are just a few of the popular accessory options available at Frank Kent Cadillac. If you're interested in learning more about our available Cadillac accessories, check out our website, give us a call, or stop by today!
#7. Finance Department
Of course one of the most important parts of the car-buying process is financing your new, used, or certified pre-owned vehicle. At Frank Kent Cadillac, our finance team has numerous local and national connections at the ready to help you secure the financing you need to drive off the lot in your new vehicle. We'll carefully go over your options, monthly expenses, and estimated costs to keep you informed and comfortable during the financing process. Our finance team will also be there to discuss the advantages and disadvantages of purchasing and leasing or choosing from a new, used, or certified pre-owned model.
#8. Deals and Incentives
At Frank Kent Cadillac, we pride ourselves on our competitive pricing. However, we still believe in reducing costs as much as possible for our new and returning customers. In an effort to do this, you'll find a variety of specials, deals, and incentives available on our website. These include service specials, new and used vehicle specials, leasing deals, and more. Visit our website for more information or ask a helpful member of our team about our current promotions.
#9. Customer Service
Customer service is one of the most important aspects of a successful dealership. In order for your local Cadillac dealership to serve you properly, they must offer excellent customer service. At Frank Kent Cadillac, we are passionate about the way we treat our customers and will always put your needs first. From being greeted with a warm smile to receiving unbiased advice and fair pricing, you'll find that our customer service is as premium as our vehicles.
#10. Helpful Website
We've mentioned many of the available uses of our website above, however there are plenty more! As a convenience to our customers, the Frank Kent Cadillac website offers the following tools:
Easy to Browse Inventory
Financing Request Application
Tire Finder
Special Offers
Available Accessories
Value Your Trade
Service Reservation
Video Tutorials
Customer Reviews
There's not much you can't do from our easy-to-navigate website. However, if you have a question at any point of your online browsing, give the helpful team at Frank Kent Cadillac a call!
Visit Frank Kent Cadillac Today!
If you're interested in learning more about what your local Cadillac dealership has to offer, visit Frank Kent Cadillac today! We are happy to provide you with the service you deserve as we guide you our inventory of luxury vehicles. Whether you're looking for new, used, or certified pre-owned, or are interested in purchasing or leasing, we'll make sure you experience an enjoyable car-buying process.