2012 Cadillac Escalade Introduction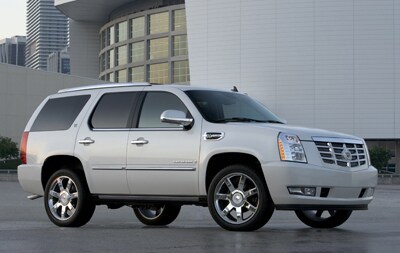 The Cadillac Escalade is the ultimate in full-size luxury SUVs. Escalade is capable of towing trailers of up to 8300 pounds and seats seven in its most popular configuration. It's a stylish truck, with a bold and sculpted look. The 2012 Escalade is available in three body styles: Escalade, ESV, and EXT.
The standard Escalade is a full-size sport utility sharing the same architecture and roughly the same dimensions as the Chevy Tahoe.
Escalade ESV is a long-wheelbase version of the Escalade. Similar in size to the Chevy Suburban, the ESV is 21 inches longer than the regular Escalade. That adds up to more third-row seating room and nearly triple the cargo space behind the third-row seats. Plus, middle passengers get windows that roll all the way down. The wheelbase is 14 inches longer, which makes for a smoother ride.
Escalade EXT is a five-passenger luxury SUV with a short pickup bed. About the same length as the ESV, the EXT is Cadillac's version of the Chevrolet Avalanche and features the clever Midgate that converts the rear seats into additional pickup space. A removable window and Midgate behind the rear seat make for versatile hauling options, including a pair of dirt bikes, 101 cubic feet of lockable space, or 4×8 building materials. We expect production of the EXT to end soon due to lack of demand, so if you want one get it now. The Cadillac EXT's Midgate is a well-engineered setup if you need to switch between having a long bed or a crew cab, but luxurious crew cab pickups such as the GMC Sierra Denali are a compelling alternative.
All Escalade versions are roomy and luxuriously appointed, letting them haul family or friends or business associates in real comfort. The big 6.2-liter V8 engine supplies serious power for surprisingly quick acceleration. On the road, all Escalades are smooth and stable. They ride smoother than a Tahoe or Suburban yet at the same time are taut and well-controlled for surprisingly good handling by full-size SUV standards. The Escalade models deliver the comfort and amenities of a luxury sedan, including automatic climate control, heated leather seats, navigation, rearview camera, premium Bose audio, ultrasonic parking assist, and power-adjustable pedals. DVD entertainment systems and a moonroof are also available.
Built on GM's full-size truck platform, Escalade comes with a 403-horsepower, 6.2-liter V8 with Active Fuel Management, which shuts off half the engine's cylinders in certain conditions in order to reduce fuel consumption. All Escalade models make excellent tow vehicles. They share their platforms with the Chevy Tahoe, Suburban, Avalanche, and Silverado. An Escalade with all-wheel-drive (AWD) gets an EPA-estimated 13/18 miles per gallon City/Highway.
The Escalade Hybrid is notably easier on fuel than the standard Escalade, with EPA-estimated fuel economy of 20/23 mpg City/Highway. Available only in the standard Escalade body style, the hybrid gas-electric powertrain shares technology with the Tahoe/Yukon two-mode hybrids.
A Platinum option is available for Escalade, Escalade ESV, and Escalade Hybrid that includes every amenity Cadillac offers, including color-contrast-stitched Tehama leather with French seams and embroidered logos, a heated steering wheel, heated and cooled cupholders, a sophisticated DVD entertainment system, LED headlamps, and much, much more. Towing trailers doesn't get any more luxurious than this, and it offers luxurious cruising for passengers, as well.
The Cadillac Escalade comes standard with a 403-hp 6.2-liter V8 engine, a 6-speed automatic transmission, 18-inch alloy wheels, and Autoride suspension. The Escalade Hybrid features a 6.0-liter V8 that develops 322 horsepower linked to two electric motors that take stored energy from the battery system and use it to power the vehicle in certain conditions.
For 2012, the Escalade's standard navigation system has been upgraded with guiding lines for the rearview camera, a low-fuel warning, point-of-interest franchise search, SiriusXM Weather Forecast, and SiriusXM Tune Select. The storage lid in the center console has been redesigned, and some new colors are offered, inside and out. The current-generation Escalade was launched as a 2007 model.
1Dealer Discount applied to everyone.