2011 Cadillac CTS Introduction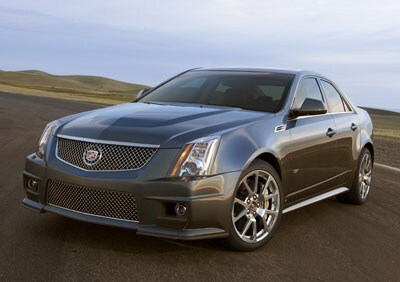 The Cadillac CTS is loaded with style, performance and technology, and it delivers the essential attributes of a true sports sedan. It's as refined as its import-brand competitors, and easier to live with than some. Simply stated, the CTS is a very enjoyable car.
For 2011, Cadillac CTS is available in two new body styles: a two-door CTS coupe and a CTS Sport Wagon. (The CTS Coupe is reviewed separately by New Car Test Drive.) This is in addition to the four-door sedan.
The CTS Sport Wagon, introduced in late 2010, is available in CTS and high-performance CTS-V trim, and the CTS-V Sport Wagon is a 556-horsepower family hauler that goes toe-to-toe with the hyper-tuned luxury cars from BMW's M division and Mercedes-Benz AMG.
The CTS offers something for a wide range of automotive needs with three engine options, manual and automatic transmissions, four different suspension and tire/wheel combos and optional all-wheel-drive in three different body styles.
By price, the Cadillac CTS line compares with compact-sized luxury competitors such as the BMW 3 Series and Mercedes C-Class. By size and function, however, the CTS is closer to midsize competitors such as the BMW 5 Series, Mercedes E-Class, and Audi A6. The base CTS sedan is a great value at about $36,000.
The CTS uses rear-wheel drive, the baseline for a true sports sedan. The standard 3.0-liter V6 generates 274 horsepower and revs freely, complementing the available 6-speed manual transmission. The upgrade 3.6-liter V6 increases output to 304 hp, with substantially more torque, and it's rated at the same 27 mpg Highway as the smaller V6. The larger V6 works great with the optional 6-speed automatic, which is one of the best in this class. Both engines feature the latest technology, with variable valve timing and high-pressure direct fuel injection for the current optimum in power, fuel economy, and low emissions.
All-wheel drive is available, and it's a valuable addition in the Snowbelt. The AWD system uses an active transfer case that normally sends 40 percent of the power to the front wheels, 60 percent to the rear, maintaining a more rear-wheel-drive feel. But in slippery conditions the system can apply all of the torque to either axle, maximizing the CTS's ability to find traction.
The CTS and CTS-V feature sophisticated suspension systems developed, among other places, at the famous Nurburgring race track in Germany. Even the standard suspension delivers a good balance of handling response and ride comfort. The ride is always comfortable, but always well damped and never mushy. Steering is as fluid, as accurate and as nicely weighted as that in any sedan in the world. The CTS feels solidly put together, and it's quiet underway. The cabin is attractive, comfortable and space efficient, and everything is easy to operate. The Bose 5.1 Cabin Surround audio upgrade sounds fantabulous.
The Cadillac CTS-V has a supercharged 6.2-liter V8 that makes 556 horsepower and 551 pound-feet of torque, offered only with rear drive. It's one fast car. Cadillac reports a top speed of 179 mph, and when we tested the CTS-V at sinewy Infineon Raceway in Sonoma, California, its lap times were nearly as quick as the NASCAR Sprint Cup racecars that compete there. Then we drove it away, coddled in quiet civility and superb audio.
The V series is tip of the CTS line-up, starting just under $63,000. Still, a buyer can find a CTS sedan with the upgrade V6, essential luxury features, the audio upgrade and navigation for less than $45,000, maintenance included for 50,000 miles. It's a luxury-class value that's hard to overlook.
1Dealer Discount applied to everyone.