2011 Cadillac CTS Coupe Walk Around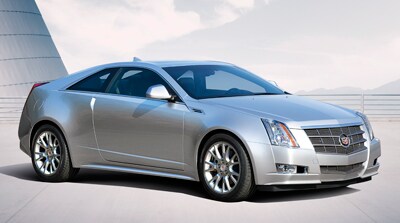 Is the CTS Coupe really all that different from the CTS sedan? Yes, and in some key places and dimensions. The coupe is virtually identical to the concept vehicle shown at the Detroit auto show in January of 2008.
The coupe's wheelbase is the same as the sedan's, but the roofline is two inches lower, the body is two inches shorter, and the rear track has been widened by two inches compared to the existing sedan, to plant those big tires. The windshield rake angle is much steeper than the sedan's, at 62.3 degrees, and the rear window is nearly flat when viewed from the side.
The rear end treatment features a centered dual-exhaust outlet under the bumper that complements all of the other sharp angles on the car. In order to have good ingress/egress into the back seat, the coupe's doors are as long as a summer day in June. There are no traditional door handles outside or inside; instead, the CTS Coupe uses pushbutton openers adapted from the Chevrolet Corvette. In spite of the very fast look of the coupe, the actual drag coefficient number is high for a coupe and high in this class, just under 0.36, when some of the competition is down around 0.26.
Interior
The interior of the CTS Coupe is pretty much the same as those of the CTS sedan and Sport Wagon, with a combination of analog and digital readouts in the main three-pod instrument cluster bathed in a very nice, crisp blue light that's easy to see and easy on the eyes.
The interior designs have made the driver's seat, center stack and center console into a well-organized command center, topped by a retractable navigation screen and slathered in brushed metal that can reflect lots of light in the wrong lighting conditions. There's just the right amount of decorative wood on the door panels, steering wheel, instrument panel and console to lend an air of richness and luxury without looking like a Victorian library.
The front bucket seats are generously sized for American male drivers, they're cushy without being mushy, and there are thick, supportive and retentive bolsters for the torso for long rides in the country. Nothing in here is difficult to see or understand or operate, and there is plenty of latitude for adjustment in the seats and steering wheel. It's a lovely place to drive from.
There really is room for four American adults inside, although entry and exit at the rear are as cumbersome and difficult as with any coupe out there.
We give it high marks for fit, finish, materials, and especially its interior design, which differs not one jot from the sedan's and which we love.
1Dealer Discount applied to everyone.