2011 Cadillac CTS Coupe Driving Impressions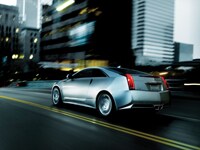 The 3.6-liter direction-injection V6 with dual overhead camshafts and 24 valves produces 304-horsepower, 273 foot-pounds of torque. The engine can be combined with one of two six-speed transmissions, an Aisin manual or a Hydra-Matic automatic with manual shift control. To get more acceleration out of the same engine as the sedan has, the CTS Coupe gets a lower 3.73:1 rear axle ratio. The CTS Coupe comes in a standard rear-drive layout, with computer-controlled all-wheel-drive optional.
In a brief driving experience over the course of two days in and around the Napa Valley in California's wine country, the CTS Coupe offered no surprises. The 3900-pound coupe performed pretty much like the CTS V6 sedan, but quicker off the mark, with a good, solid V6 engine sound at full throttle, relatively quick upshifts and downshifts from the automatic and its steering-wheel paddles, and a reassuringly buttoned-down feel when it came to sticking to the asphalt.
The chunky leather-wrapped steering wheel leads down to a power steering system that feels connected and commanding, quick to turn in, and a slightly harsher ride than we were expecting, but not objectionable.
The brakes came on powerfully and progressively whenever one of Napa's ever-present work trucks pulled out of a winery driveway.
1Dealer Discount applied to everyone.