LUXURY MEETS OPTIMAL PERFORMANCE IN THE 2018 CADILLAC LINEUP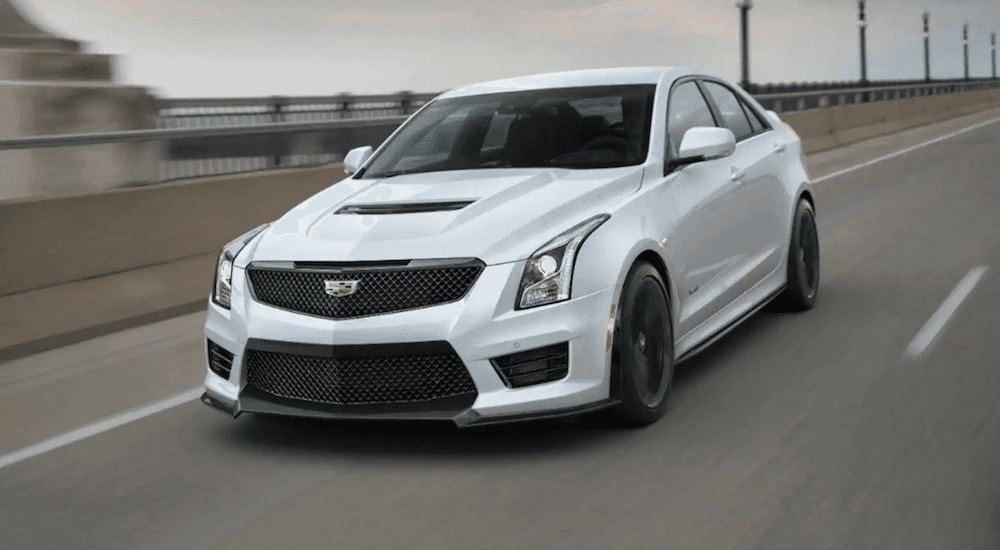 Think of a brand that brings style and sophistication to mind – you've seen it on the big screen, you can't say the word without thinking of luxury, performance, and high-class status. If it's Cadillac – then you're spot on.
Cadillac is a brand that has continually produced luxury vehicles that have become status symbols throughout the US. With stylish and sophisticated exteriors, luxury interiors, and high-performance capabilities, Cadillac has manufactured the vehicles that you expect to see on the next big screen movie.
If getting these cars off the screen and into your life is a daydream you've had for a while now, then take a look at the new 2018 Cadillacs for sale. Bringing these vehicles into your life doesn't have to be a fantasy anymore, but a realistic achievement. Drive off the Frank Kent Cadillac lot with your very own brand new luxury Cadillac today, it'll be worth every penny.
The 2018 ATS Coupe
We'll start with the best of the best luxury vehicle in the 2018 Cadillac lineup – the 2018 ATS Coupe. This vehicle has the performance and the edge to make every car buyer happy, and we'll take a look at some of the stand-out features on the latest Cadillac for sale.
Performance
The 2018 ATS Coupe is available with two premier engine options- the 2.0L Turbo Engine with an optimal 272 horsepower and 295 lb-ft of torque and the 3.6L V6 Engine with a powerful 335 horsepower and 285 lb-ft of torque. These engine options are complemented by lightweight body components to maximize performance ability and shed any excess weight that would make the vehicle less agile or maneuverable. Drivers can be confident with the available Magnetic Ride System, which reads changes in the road up to 1000 times per second and tunes the ATS to road surfaces and driver preferences. With the power and looks to make this an indomitable machine, this is a Cadillac you'll need to take out for a test drive.
Interior and Connectivity
You can't look at a Cadillac without looking at the interior – that's what they're known for. And the 2018 ATS Coupe doesn't disappoint. This model is finely crafted with exotic wood touches, a variety of leather seating color options, as well as 14-adjustable seating modes for the driver and passenger to make sure you and your comfort is a priority. Seating up to four adults comfortably, with foldable back seats to create plenty of extra cargo room, this is a vehicle you won't be able to wait to show off around town.
When it comes to connectivity, this Cadillac for sale has it all. This model has everything from a built-in WiFi hotspot, a touchscreen display that includes navigation, Bluetooth connectivity, and Apple CarPlay and Android Audio among others. Including its very own Cadillac App, this is a vehicle that you'll want to stay in all day and night.
The 2018 ATS Sedan
If you're looking for a Cadillac for sale with a little more space, then the 2018 ATS Sedan could be the perfect fit for you. With premier safety features and a race-inspired exterior, this is a vehicle that's great for the commute and for getaway weekends.
Exterior and Performance
This vehicle comes with two available engines: the 2.0L Turbo Engine with 272 horsepower and the 3.6L V6 engine with 335 horsepower. Alloy wheels are standard on this vehicle, as well as a chiseled and sculpted exterior body that looks athletic and sophisticated. This model was designed with advanced aerodynamics in mind and has the performance tires and lighting to ensure that you're vigilant and in control at all times.
Safety
The ATS Sedan is equipped with a number of high tech safety features that offer preventive and active safety for you and any of your passengers. This suite of features include adaptive cruise control – which keeps a selected distance between you and a detected vehicle, lane keep assist with departure warning – which gently steers you back into your lane if veering is detected, lane change alert with side blind zone monitoring – which alerts you if a vehicle next to you or behind you is coming into your lane, as well as forward collision alert – which alerts you if a potential crash is imminent. Working to prevent accidents before they happen, this is a luxury vehicle that is more than just looks and luxury interior – it's a vehicle that actively protects you and your loved ones.
The 2018 Cadillac Escalade
Not to be outdone, the 2018 Cadillac Escalade is the largest Cadillac for sale that has the space for large groups and the interior luxuries and performance capabilities that have made this brand so famous.
Interior Features
For those looking for a large SUV to get you and your family where you need to go, then look no further. This SUV comfortably seats up to eight adults and has the interior luxuries to make any drive a great one.
The interior comes with a variety of trims and packages, including jet black with black accents, and maple sugar with black accents. This sophisticated interior is complemented by a high tech command center which includes 16 Bose Speakers, rear entertainment, and a touchscreen display for all of your navigation and music needs. With three-way climate control, built-in WiFi, and a wireless charging station, this is a Cadillac you won't want to miss out on.
Performance
This vehicle is decked out with some impressive specs. The 2018 Cadillac Escalade has 420 horsepower and an astonishing trailer capacity of 8,300 lbs. With the specs and performance abilities of some trucks currently out on the road, why not take a step up and go with a Cadillac Escalade – you'll get the power and the luxury all in one.
This vehicle is also equipped with a StabiliTrak System and 4 wheel drive to handle any terrain confidently. Whether you're going to the mountains for the weekend, or headed to the sandy desert, this Cadillac model will have you covered.
Have questions about any of these Cadillacs for sale? Give Frank Kent Cadillac a call today, we'll be more than happy to help you!