How a Used Cadillac Offers Newer Benefits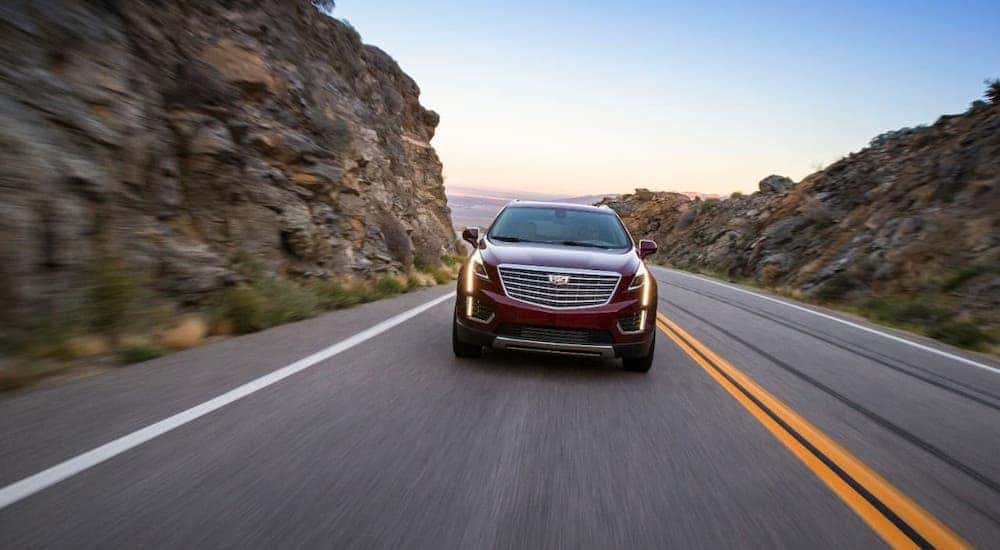 There's no sugar-coating it: purchasing a used vehicle can be scary. However, many drivers share a common fear regarding pre-owned vehicles, this being a loss of relevance in their purchase. As there are always more pre-owned vehicles than new vehicles, it doesn't take long for some models to show their age. However, used Cadillacs don't forfeit relevancy as quickly as some other brands. And this is why we always recommend exploring used Cadillacs for sale when you are in the market for a vehicle.
Whether you're purchasing a CPO vehicle or a traditional pre-owned, Cadillacs are good used cars as they're built with an emphasis on modernization. Shopping for a used Cadillac is the best way to ensure you receive performance and connectivity that rivals many newer contemporaries. The prospect of saving money while obtaining a vehicle that performs identically to its newer counterpart is undoubtedly intriguing to many shoppers. In addition to retaining a current feature set, many used Cadillacs cost merely a fraction of new variants. Whether it's great performance that you're seeking or a plethora of tech-centric connectivity features, used Cadillacs have plenty to offer, with one of the best examples being the 2017 Cadillac XT5.
2017 Cadillac XT5
The 2017 Cadillac XT5 comes bundled with many features. Even from a modern-day viewpoint, used vehicles don't get much better than a Cadillac. There are four trims in total for the 2017 XT5, with each standing the test of time. These four trims start with the base, XT5. The base trim is then followed by Luxury, Premium Luxury, and lastly Platinum. If you do your research right, you can find any of these trims at a lower price than a brand new 2020 XT5.
Front-wheel-drive comes standard with the XT5, but all-wheel-drive is available as well. Additionally, the 2017 Cadillac XT5 is powered by the same 3.6L V6 as the one found in the 2020 model. The only significant difference between the two is the 8-speed automatic transmission in the 2017 model compared to the newer 9-speed automatic. However, with this engine equipped, the 2017 Cadillac XT5 produces an identical and powerful 310 hp and 271 lb-ft of torque to that of the 2020 XT5.
Since the 2017 model, the XT5 lineup has received an additional engine, but it produces a much less powerful 237 hp. Fuel efficiency ratings remain similar between the 2017 and 2020 models, with the former achieving 19 MPG in the city and 27 MPG on the highway. Comparing this to the 2020 XT5, which gets 21 MPG in the city and 28 MPG on the highway, it is clear that you won't be losing much performance and or efficiency by purchasing a used XT5.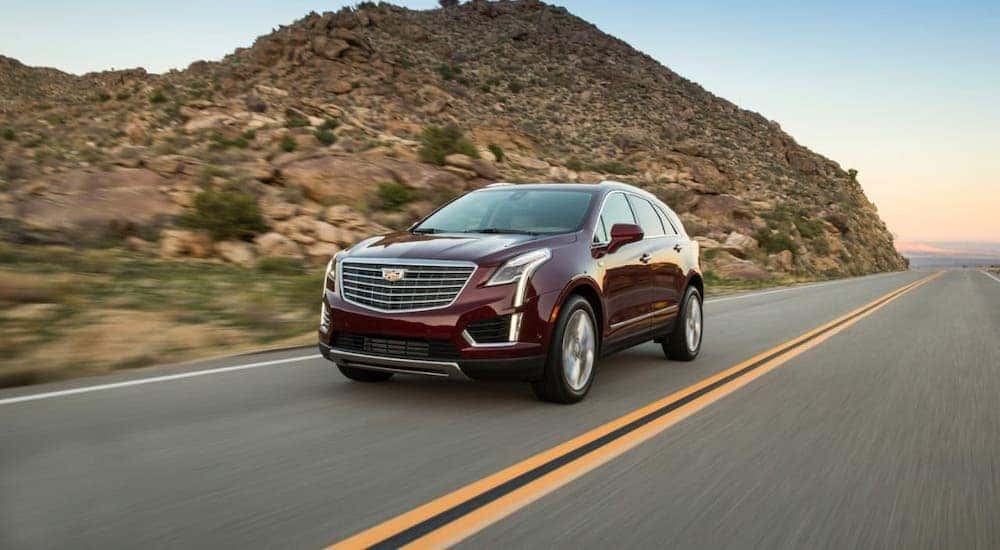 Timeless Entertainment
Another aspect of the 2017 XT5 that makes it a fantastic pre-owned vehicle is the standard feature set. Even with the base trim, the 2017 XT5 contains an immense amount of features that rivals big-name competitors in the current day. Among the features that come standard on every trim, you'll be receiving a robust infotainment center displayed on an 8-inch touch screen. Comparing this to some newer and more expensive vehicles on the market, many manufacturers include a standard screen between 5 and 7-inches.
Additionally, syncing and charging your smartphone can be easily achieved thanks to four USB ports situated in the cabin. Charging your smartphone can also be done with the included wireless charging pad. Inclusions such as this are highly beneficial as many brand new vehicles on the market today still lack a wireless charging pad whilst most smartphones support the feature.
Further, listening to your favorite music while on the road is always an immersive experience with the 2017 XT5. The XT5 comes standard with a premium audio system provided by Bose and consists of eight high-quality speakers. Bose has a reputation for being one of the top-rated audio companies, and many lineups only offer Bose speakers at a premium cost. The 2017 XT5 allows for an upgraded speaker system built with 14-speakers, which completely immerses you in crystal-clear audio.
Furthering on-road entertainment, the 2017 XT5 can be fitted with a DVD player for backseat passengers. No longer will friends and family be subjected to boredom during lengthy road trips. Couple this with a 4G LTE Wi-Fi hotspot that comes standard, and your passengers will surely be content. With the inclusion of a hotspot, your passengers may connect their wireless devices directly to the XT5's internet connection. A strong and reliable internet connection goes a very long way, and passengers will enjoy the ability to browse the web and stream their favorite music and or movies. In all, entertainment isn't the only strong suit about the XT5 experience, but connectivity as well.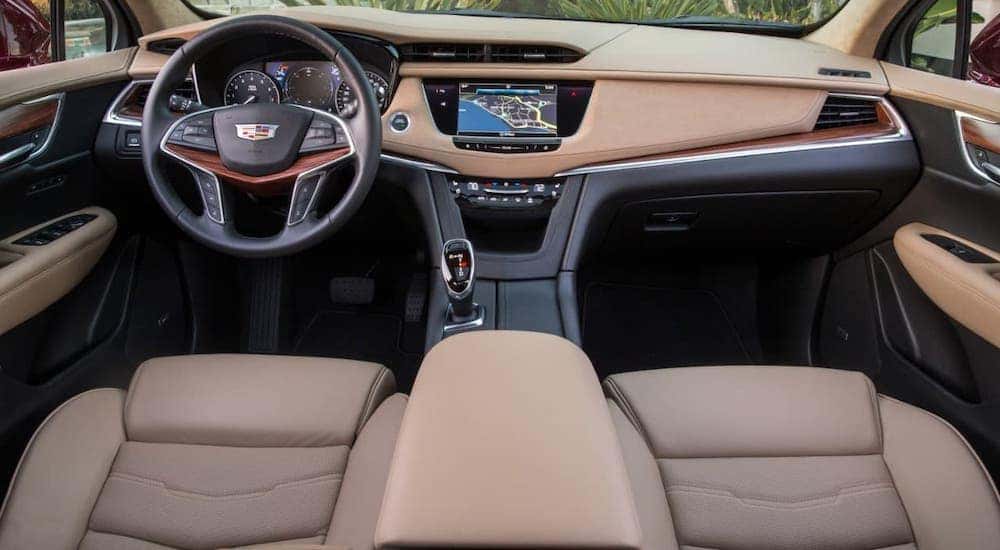 Staying Connected
Connectivity has held a major presence in the automotive industry for quite some time. With the help of the aforementioned infotainment centers, staying connected is easier than ever. Although the default operating system of the infotainment center is robust and intuitive, connecting your phone will grant you a different experience.
By plugging in your iPhone or Android device, you can utilize your XT5's integration of Apple CarPlay and Android Auto. There are still many vehicles on the market today that either charge extra for the inclusion of these software suites or not include them at all. For those wondering about the importance of CarPlay and Auto, it allows you to stay connected to your smartphone without deterring from your attention.
A majority of the functions can be performed using hands-free voice commands such as sending or reading text messages and making phone calls. With the help of voice commands, you can switch songs on your speakers, set reminders, and ask for directions. Voice commands are utilized with the help of virtual assistants such as Siri and Google Assistant, and every other function is performed on the infotainment center. Among the additional functions, you may access turn-by-turn navigation with your phone's built-in maps. Many drivers will be satisfied with the default apps; however, both CarPlay and Auto feature respective app stores where you may download even more features. And with these modern features, the 2017 XT5 is proof that Cadillacs are good used-vehicle options.
Shopping For a Used Cadillac
When shopping for a used Cadillac, taking the time to visit your local Cadillac dealer is the ideal way to get started. The dealership you work alongside should offer an extensive selection of used vehicles coupled with a professional and personable service. Our dealership is one such dealership. We're Frank Kent Cadillac, and our mission to ensure the utmost customer satisfaction has earned us a spot as one of the top-rated dealerships in our area. We are honored to serve the greater area of Fort Worth, TX, with high-quality and affordable automobiles.
Our catalog consists of vehicles both new and used, plus we offer a selection of CPO vehicles. If you require any financial assistance in your purchase, our on-site finance center is the perfect place to apply for financing, and we will even value your potential trade-in should you desire. Even if you're not shopping for a vehicle with us, our on-site service center will provide you with an extensive list of repairs and basic services. So don't keep waiting. Visit us at 3500 W Loop 820 S, Fort Worth, TX, today. We look forward to meeting you!