CADILLAC: WHY EVERYTHING IS BIGGER AND BETTER IN TEXAS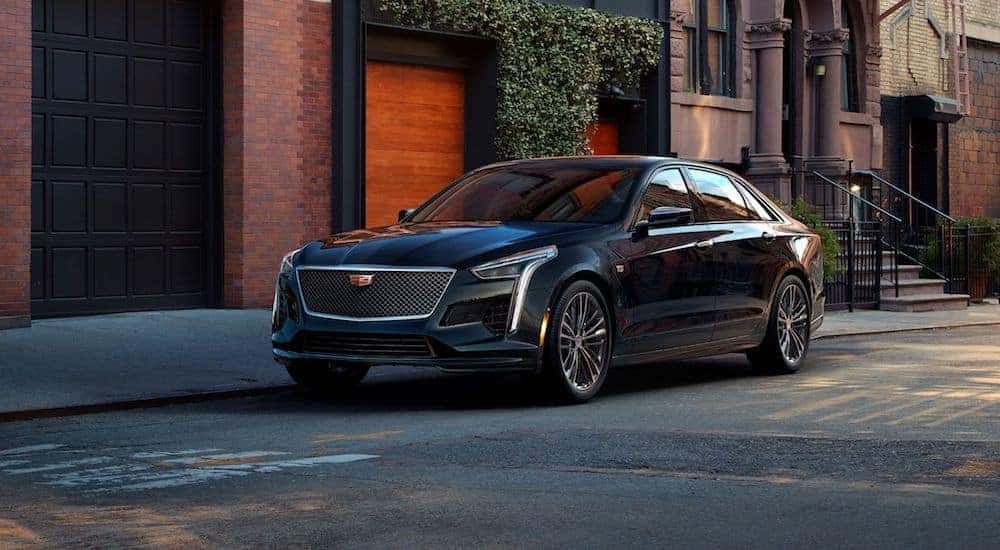 Nothing evokes thoughts of golden age Americana like the Cadillac. For years these beautiful cars were the epitome of luxury and style. Frank Kent understands the high standards of the brand. As a Cadillac dealership near Dallas in Fort Worth, Frank Kent has been happily providing the people in the Dallas/Fort Worth area with amazing service and products for over 80 years.
Why Buy a Cadillac?
The Cadillac will always be associated with the best of what America has to offer which includes icons like Hollywood and Rock n Roll. However, this is not a car company that rests on the laurels of its past glory. The company has been steadily coming out with new models that combine the newest state of the art technology with classic Cadillac quality. Here are some amazing examples:
Escalade
Cadillac's signature SUV. This is such a popular SUV model among Cadillac Dealerships in Dallas (and elsewhere across the country) that the company can barely keep up with the demand. The handcrafted leather and wood trims offer incredible style, particularly when paired with the awesome Bose speaker system. The model has a wonderful array of features to choose from including invisible rear windshield wipers and concierge lighting. The engine is both powerful and intelligent. This Cadillac even features magnetic ride control which automatically reads the road and adjusts to all types of surfaces.
CT6
This sedan will boldly take Cadillac into the future. This car has the strong presence one expects from the brand, but state of the art technology has allowed it to handle like a dream. The lighter platform and body is run by an engine that is quite efficient. This car will stand out from all the others and will let you travel in true Cadillac style.
XT5
This vehicle is an excellent entry into the already crowded crossover market. This car is sleek and less bulky than a lot of its predecessors. The interior features an amazing CUE interface and a customized menu layout that is compatible with both Apple and Android devices. The XT5 should easily satisfy any tech junkie with its onboard Wi-Fi and great tech options.
CTS
This is car that has all the power and performance of its German competitors without the hefty price tag. It handles beautifully and is much more responsive than similar models that are on the market today. Among other vehicles at a Cadillac dealership in Dallas, this car is quite the hidden jewel and a very smart buy.
ATS Coupe
A thrilling ride at an affordable price. The turbocharged engine offers amazing power that will make your heart race while not sacrificing any performance with 285 lb.-ft of torque. It also has magnetic ride control that will adjust to any road surface with ease. This stylish and powerful coupe proves that Cadillac is not just your grandparent's car company with an interface system that keeps you connected to all your most important apps and saves everyone's unique driver profile. No more having to adjust the seat and levels after your spouse drives the car.
ATS-V-Sedan
The quality and luxury of Cadillac meet the race track. This car goes from 0-60 in 3.8 seconds. This car was honed on the race track for amazing performance and speed. You can choose the mode which features Wet, Dry, Sport 1, Sport 2 or Race. The cooling system is on par with the best race cars in the world and makes sure the powerful engine never overheats. The electronic Limited-Slip Differential (eLSD) automatically directs power to the rear wheel so you can take corners with confidence since it provides greater control. This car is a win-win by being both fast and safe.
CT6-Plug-In
The Cadillac of hybrids. Cadillac is a company that deeply cares about the environment. They have come out with a hybrid that redefines the market. It has a 2.0L Turbo engine with 265 hp and 295 lb.-ft of torque and an Electric Variable Transmission (EVT). The panoramic sunroof and the 18-inch multi-spoke aluminum wheels allow you to be both environmentally friendly and arrive anywhere with true Cadillac style. The engine accelerates from 0-60 in 5.2 seconds, because buying a hybrid should never mean that you must sacrifice power. Of course, registering an amazing 62 miles per gallon makes it incredibly fuel efficient, which will be a wonderful relief to your pocketbook.
Why Frank Kent?
Frank Kent Cadillac has been a premier Cadillac Dealership in Dallas for 80 years. They are proud to be part of this rich and amazing community. They have earned a fantastic reputation with excellent service.
Value
At Frank Kent, they understand that people want good quality at a reasonable cost. They work with the customer to make sure that you get the most bang for your buck. Frank Kent Cadillac is honored to provide the people of Dallas with high-quality automobiles at affordable prices for many generations.
No Pressure
As a dependable Cadillac dealership in Dallas, we do not believe in employing high-pressure sales techniques. At Frank Kent, we always want the customer to feel comfortable and will go out of our way to make sure everyone always receives a fair deal. We understand that a solid reputation is the best advertisement and strive to be honest and straightforward with all our customers.
Knowledgeable and Friendly Staff
When you visit our Cadillac Dealership in Dallas, you will find that our staff is filled with people that are always happy to help. We respect the product and want to hold up the integrity of the Cadillac brand. The warm and friendly atmosphere at Frank Kent is created by individuals that take a lot of pride in our work and reputation. Our staff is always there to answer any questions and want to make sure that you feel good about your purchase. At Frank Kent, we understand that you have many options in car buying and we will go out of our way to make sure you become a customer for life. One can easily understand why Frank Kent is truly the Cadillac of auto dealerships.