Cadillac: The Best Choice on the Market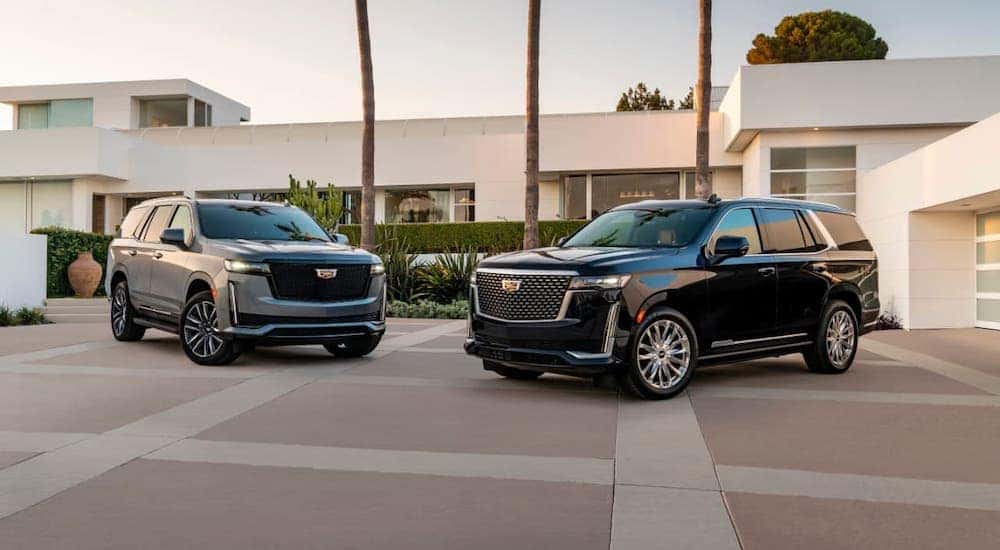 Many features set Cadillac apart from the competition, resulting in tons of "Cadillac dealership near me" Google searches. That is because, for a reliable luxury car that's manufactured by hand right here at home, there's no better choice than a Cadillac. And when it comes to Cadillac shopping, nobody treats you better than us at Frank Kent Cadillac in Fort Worth, TX. With multiple sedans and SUV options to consider, you can't afford to miss out on what our latest Cadillacs have to offer.
As Cadillac's lineup of vehicles remains seated at the height of luxury, it's incredible to watch this iconic brand continue to improve through each model year. From the massive Escalade, all the way down to the compact and stylish CT4, refined designs and expert engineering are the Cadillac standard. However, due to all of the details, it can be easy to get overwhelmed by Cadillac's range of appealing models. Luckily, at Frank Kent Cadillac, we put all the information at your fingertips to help you select the best choice.
A Little Bit About Frank Kent
Before we get into all of the Cadillac details, you should know a bit more about us. The name Frank Kent represents a century-long legacy in the automotive industry. It all started in 1917 when Frank Kent laid the foundation for our successful family-owned business today. Our motto of "morals, values, and ethics over profits" continues to guide every facet of what we do.
Unlike other dealerships that are just looking to make a one-off sale, we at Frank Kent Cadillac aim to create a lifelong partnership with our customers that extends from one generation to the next. And that is why today, we are going to go more in-depth about what makes our Cadillac vehicles so special; to give you a better understanding and allow you to make an informed decision. So without further ado, let's get into it.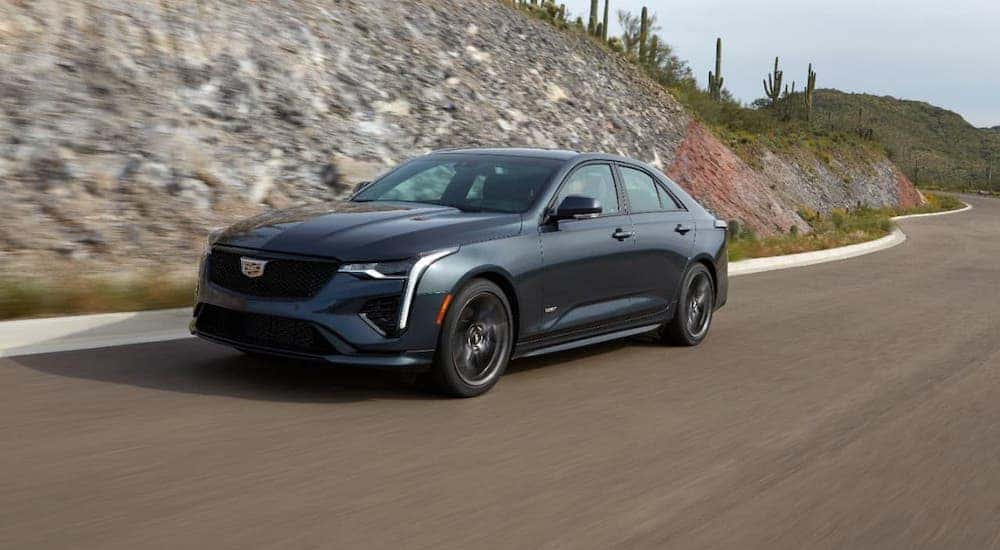 What Defines a Cadillac?
Cadillac has always been at the forefront of innovation and luxury. These days, technology is of increasing importance for prospective car-buyers. Cadillac's constant race for self-improvement means that it never falls behind the curve. One of Cadillac's most exciting features that sets it apart from the competition is adaptive cruise control. While cruise control itself is nothing new, the incorporation of advanced artificial intelligence has taken it to a supremely higher level.
Cadillac's adaptive cruise control allows you to make selections based on your preferences to automatically maintain a certain distance between you and the vehicle ahead. Choose from far, medium, or near distance following to guide your Cadillac on the correct gap length to keep.
Also available is a forward collision alert system to prevent you from rear-ending a vehicle that stops short in front of you. A "vehicle ahead" indicator will alert you of any vehicles ahead of you. If traffic slows or stops suddenly, you will see a flashing red windshield alert. Eight high-pitched beeps or pulses from an equipped safety alert seat accompany this warning, ensuring that you won't miss it. You can also select your preferred traveling speed, as with traditional cruise control.
How does the system work? By employing a combination of lasers, radar, and cameras, Cadillac's methods of keeping you safe seem to have been born out of a sci-fi movie. But this set of safety features is not the end of what makes Cadillacs great vehicles.
Super Cruise Driver Assistance
Beyond adaptive cruise control, the Cadillac Super Cruise driver assistance feature is an industry-leading innovation. It allows attentive drivers to go hands-free on compatible highways, separated from opposing traffic. Super Cruise's futuristic technology works in conjunction with adaptive cruise control.
The advanced driver attention system uses LiDAR map data. For those unfamiliar with LiDAR, you may be surprised to learn that the National Center for Atmospheric Research and NASA also utilize it. Believe it or not, due to LiDAR, researchers recently discovered a lost civilization surrounding a mysterious legendary city in the Mosquitia Region of Honduras. This area was known as La Ciudad Blanca or the White City. Because LiDAR can penetrate deep-rainforest cover, it could reach places that humans had previously avoided, deterred by thick vegetation and deadly species. LiDAR uses ultraviolet, visible, or near-infrared light to map and image objects. In Cadillacs, LiDAR enables the vehicle to get a clear picture of the road ahead.
The other half of the Super Cruise system helps to monitor driver attention. Even the best systems on the market are no substitute for attentive driving habits, so this technology reminds you to stay on your guard. A small camera is incorporated into the top of the steering column. The driver is monitored using infrared lights to ensure that your eyes remain on the road and not dangerously distracted by text messages or passengers in the rear of the cabin.
This unique feature allows for self-autonomous driving while keeping the driver immersed in the experience and, most importantly, safe. Weather conditions and road surfaces must be ideal to utilize the system, so it's best to drive the old-fashioned way during a storm.
Software changes over the years have made the system more user-friendly, promoting better steering and speed control. The most impressive evolution was the ability to lane change automatically. In one swift action, the system can activate the turn signal and change lanes. If it is not safe to do so, this technology notifies the driver, and the task must be performed manually. Additional Super Cruise updates include extensive map enhancements to enable more complex information processing. And if this fantastic technology is not enough to explain why Cadillac vehicles are a great choice, here is a bit more.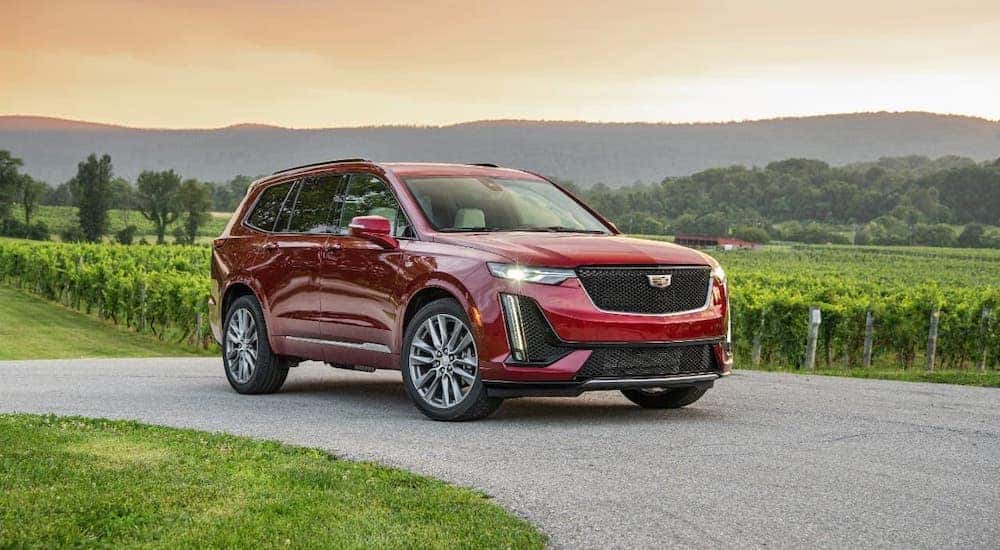 Supreme Comfort and Attention to Detail
Every Cadillac comes equipped with elegant interior designs that you just can't find in other brands. Unlike mass-produced factory cars, Cadillacs are hand-sewn using premium materials. Natural wood interiors and hand-stitched leather accents add an artisan human touch to a well-oiled machine.
In the spirit of true class, Cadillac bridges the best of the new and old world. A seamless marriage of futuristic technology and old-world craftsmanship solidifies Cadillac as the best of the best for anyone with good taste. Even sporty models are suited with high-performance fabrics, like suede microfiber, to keep you firmly planted in your seat at high acceleration rates.
Not only do they look good, but Cadillacs are also supremely comfortable and convenient. Climate controls adjust to your individual preferences, while extended comfort seats are designed with long trips in mind. With built-in wireless charging stations and Siri as your co-pilot, there's nothing you can't accomplish on your commute. Cadillac's 4G LTE wifi technology lets you connect up to seven devices from as far as 50 feet away. These features combined truly set Cadillacs apart from the competition.
Get a Cadillac Today
If you're looking for a vehicle that goes above and beyond getting you from point A to point B, Cadillac puts together the ultimate package. You will receive mind-blowing technology, impeccable design, and performance that knows no bounds. So don't waste time looking elsewhere. You've met your perfect match. And our dealers at Frank Kent Cadillac can't wait to bring you out on a test drive.