Cadillac SUVs: Where Luxury and Performance Meet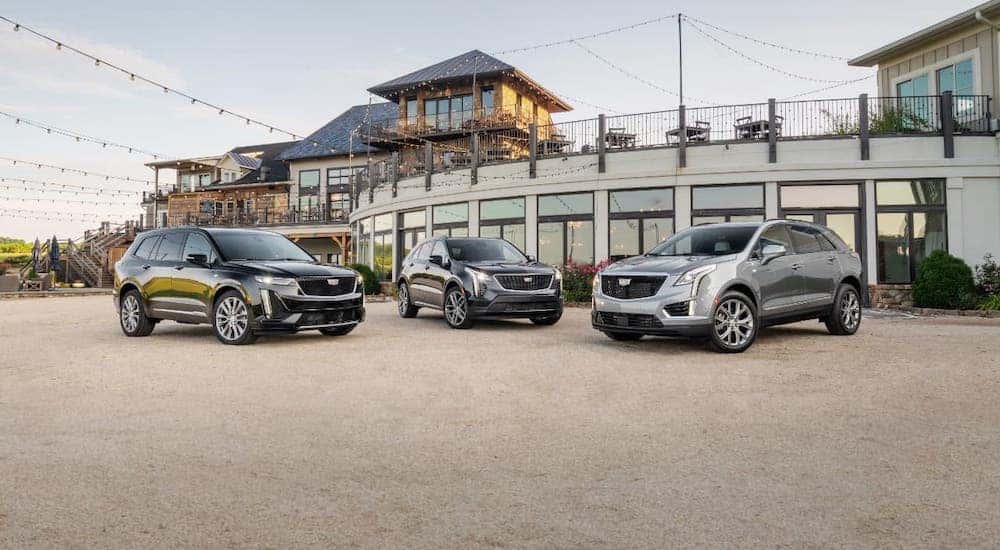 There is riding in an SUV, and then there is riding in a luxury SUV. Sure, your standard SUV will have a roomy interior, a decent amount of cargo space, a rugged exterior, and the ability to get you around even in inclement weather. But many of your average SUVs have been built as a compromise, short-changing you on luxury features and engine performance. And you know what? It often shows. This is where the luxury Cadillac SUV models come into play, and they steal the show.
Cadillac SUVs feature expert performance engineering, plenty of infotainment and safety features, and attention to detail that cannot be beaten. From the crossover XT4 to the midsize XT5 and XT6, all the way to the full-size flagship Cadillac Escalade and Escalade ESV, the Cadillac line is like none other out there on the road today. And if you want to test drive one of these magnificent Cadillac SUV models, stop by Frank Kent Cadillac in Fort Worth, TX. Since 1953, we have been proudly meeting Cadillac customers' needs in the greater Fort Worth and West Texas regions. But before you head over, here is a little more information about these modern luxury vehicles.
The Flagship Escalade and Escalade ESV
When you think of a full-size three-row luxury SUV, I bet the first thing that comes into your mind is a Cadillac Escalade. This is the luxury SUV that defined the market, which is a big reason that you see celebrities and athletes, who can have any car, choosing to drive a Cadillac Escalade. The exterior is bold with clean lines while the interior is like a luxurious living room, with plush leather seats and fine-wood trim, capable of seating up to 8 passengers. There is a 9-inch touchscreen infotainment system, allowing you to integrate your smartphone into your Escalade with Bluetooth connectivity and Apple CarPlay and Android Auto. There is even an optional rear-seat entertainment system for your second and third-row passengers.
The Escalade is powered by a 6.2-liter V8 gas engine paired with a 10-speed automatic transmission. This engine produces 420 hp and 460 lb-ft of torque, strong enough to make your Escalade capable of towing up to 8,300 pounds of trailer. The 2020 Cadillac Escalade has rear-wheel drive standard with optional four-wheel drive. One feature that you, as a driver, are sure to appreciate is the magnetic ride control that gives the Escalade the smoothest ride regardless of road conditions. Plus, safety features such as surround vision and automatic parking assist complete the package.
If that is not enough, Cadillac offers the Escalade ESV, which gives you the same luxury as the standard Escalade in a larger package. The wheelbase on the Escalade ESV is longer, fully 130 inches to the 116-inch wheelbase of the Escalade. And as a result, the trunk on the Escalade ESV provides 39.3 cu.ft. of cargo space, which opens up to an incredible 121 cu.ft. with the rear two rows of seats folded down. In comparison, the standard Escalade provides a full 94.2 cu.ft. of space. The third row of seats is even roomier than the already quite comfortable Escalade. Overall, both the Escalade and Escalade ESV are luxurious, comfortable, spacious, and powerful. And drivers who want all of those things except the size should consider Cadillac's crossover, the XT4.
A Luxurious Crossover Like No Other
If you think that a crossover is just for a young urban professional or an older suburban couple nearing retirement, you would be wrong. The Cadillac XT4 is a crossover like no other. From its sporty exterior looks to its roomy and well-appointed interior, the XT4 is all Cadillac. You can tell because the XT4 has the unmistakable Cadillac shield logo right there on its front grille.
The XT4 operates on a 2.0-liter Turbo 4-cylinder gas engine with a 9-speed automatic transmission. Although the engine size is not large, it utilizes the turbocharger to produce an impressive 237 hp and 258 lb-ft of torque. As a result, this vehicle is amazingly powerful for its size, able to tow up to 3,500 pounds of trailer. Further, even though the XT4 has amazing speed and pickup, it won't hurt you at the gas pump. The front-wheel drive XT4 has been rated to get 24 MPG in the city and 30 MPG on the highway. If you decide on the optional four-wheel drivetrain, the XT4 will still provide 22 MPG in the city and 29 MPG on the highway.
And speaking of efficiency, the engineers at Cadillac have given the XT4 plenty of interior passenger space without detracting from cargo space with a full 22.5 cu.ft. in the trunk that expands to 48.9 cu.ft. with the rear seats folded down. This is quite spacious for a crossover and provides the perfect combination of space, power, looks, and efficiency. But what about drivers who want something bigger, but not as massive as the Escalade? Don't worry, Cadillac offers two luxury midsize SUVs.
Two Luxury Midsize SUVs
Midsize SUVs are some of the most popular vehicles on the road today, and with two models to choose from, the XT5 and the XT6, the folks at Cadillac are surely doing the best to make your decision-making process as difficult as possible. But then again, these are the good problems to have in life.
The XT5
If you need a two-row luxury midsize SUV with seating for up to five passengers, your best bet is a Cadillac XT5. This beauty has a streamlined look that is unmatched by the competition, and a roomy interior passenger cabin that is all about luxury. Cadillac has equipped the XT5 with an infotainment system on an 8-inch color touchscreen to keep you and your passengers connected and entertained.
The trunk of this vehicle offers 30.2 cu.ft. of space with the option to expand it to 63 cu.ft. when you fold down the XT5's rear seat. The XT5 features your choice of a 2.0-liter Turbo 4-cylinder gas engine or a 3.6-liter V6 gas engine. The 4-cylinder Turbo produces 237 hp and 258 lb-ft of torque, while the V6 engine provides 310 hp and 271 lb-ft of torque. Both are equipped with a 9-speed automatic transmission, putting you in control of your XT5. The XT5 also gets impressive gas mileage, 21 MPG in the city and 28 MPG on the highway when equipped with the standard front-wheel drivetrain, and 18 MPG in the city and 25 MPG on the highway when you choose the optional all-wheel drive.
The XT6
But if you need a little bit more room for passengers, then the three-row luxury midsize Cadillac XT6 will be your ideal choice. All XT6 models come equipped with a 3.6-liter V6 gas engine paired with a 9-speed automatic transmission. This provides you with 310 hp and 271 lb-ft of torque, giving the XT6 incomparable speed and handling.
Cadillac has equipped the XT6 with some incredible entertainment features, including an 8-inch color touchscreen infotainment system. Plus, Cadillac has also given the XT6 plenty of cargo space, with up to 78.7 cu.ft. with both rows of seats folded down. The XT6 also is very fuel-efficient for an SUV of its size. It has been rated to get an estimated 18 MPG in the city and 25 MPG on the highway with standard front-wheel drive, and 17 MPG in the city and 24 MPG on the highway with all-wheel drive.
In all, both the XT5 and XT6 offer a great combination of the larger Escalade's space and power along with the smaller XT4's efficiency. Additionally, both midsize options are jam-packed with the luxury drivers expect in all Cadillac vehicles. If you need a midsize SUV, the XT5 or XT6 are both excellent options.
Drive a Cadillac SUV
Cadillac brings incomparable luxury and performance to their lineup of SUVs. Whichever one you choose, you are in for a treat when you get behind the wheel. So, what are you waiting for? Take one for a spin with a test drive at Frank Kent Cadillac – you are sure to fall in love.