Cadillac Escalade Fourth Generation Models And Features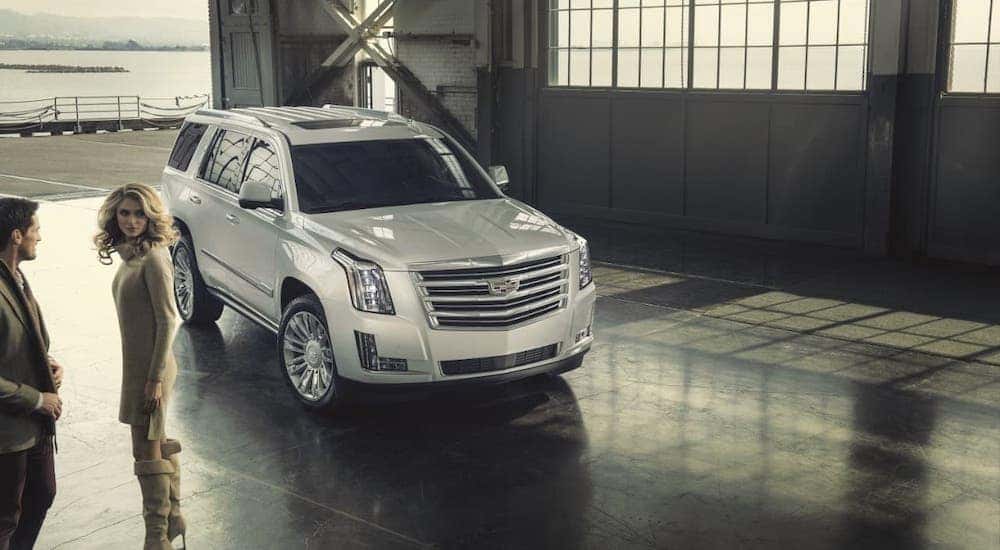 The fourth generation of the Escalade may already be behind us, but plenty of people are still interested in purchasing a new or used Cadillac Escalade for a number of reasons. For those of you unfamiliar with the various trims, packages, and options, or for those of you asking what features you can find on a Cadillac Escalade, this breakdown of the fourth generation features should help you narrow down your purchasing decisions with ease.
Fourth Generation Cadillac Escalade Models
There are four trims of the fourth generation Cadillac Escalade. These trims include the Standard trim, the Luxury trim, the Premium trim, and the Platinum trim. Each trim comes with two base configurations: rear-wheel drive or all-wheel drive. The all-wheel drive version is slightly more expensive, but if you're willing to spend a bit more, you can get some extra heft when traversing steep inclines or traveling through high-altitude locations.
All four trims also come standard with a 6.2-liter V8 EcoTec 3 engine with 420 hp, 8,300 lbs of towing capacity, and a payload capacity of 1,460 lbs. Additionally, all trims between 2016 and 2017 come with an 8-speed automatic transmission. For the 2018 and 2020 iterations, a 10-speed transmission was made standard for all trims. You'll also have a fuel economy of 14 MPG in the city and 23 MPG on the highway, while the four-wheel drive iterations will net you 14 MPG in the city and 21 MPG on the highway.
Standard Cadillac Escalade Features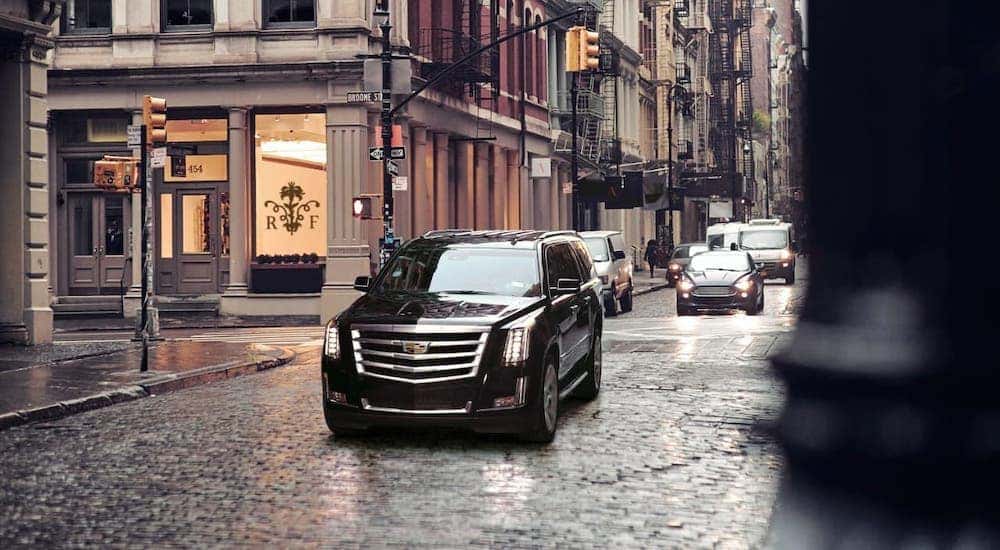 The base Escalade model features seating for up to eight people. It comes with ten different exterior color options, four of which were only introduced for the all of the fourth generation models made after 2016. There are four interior color options, including Jet Black, Kona Brown, Cocoa Accents, and Tuscan Brown.
20-inch chrome wheels come standard, but 22-inch wheels are optional. Front and rear anti-roll bars are included, along with power steering, touring suspension, and adaptive ride control. As far as functional convenience is concerned, two front tow hooks, a trailer hitch, a roof rack that can carry up to 200lbs, a trailering harness, heated door mirrors, a power liftgate, power windows, and a proximity key with a key fob for all of the car's doors/hatches are also included.
On the infotainment and convenience side of the Escalade's features, there are memory seats, navigation systems, auto-locking doors, floor console, an overhead console, steering wheel memory, pedal memory, heated steering, front and rear cup-holders, automatic temperature control, front and rear air conditioning, five USB ports, cruise control, and telescoping steering.
OnStar is built into all standard trims of the Escalade with 4G LTE internet access, turn-by-turn navigation, wireless smart device connectivity, 16 speakers, SiriusXM radio, voice-activated radio, automatic equalizer, and a primary touchscreen monitor. Optional infotainment features on the base trim of the Escalade include a built-in entertainment system with DVD support and two second row LCD monitors.
There are also two additional packages available such as the Interior Protection Package that adds all-weather floor mats or the Radiant Package that bumps the 20-inch wheels up to 22-inch alloy wheels, along with a polished exhaust and a Galvano surround silver grille.
Luxury Cadillac Escalade Features
The Luxury trim for the fourth generation Escalade comes with everything from the base trim, but with several additional perks made available as a standard. We'll get right into what features you can find on the Cadillac Escalade's Luxury trim.
Many of the changes or upgrades are cosmetic and quality oriented, fitting in line with the "Luxury" appellation, along with additional safety features such as forward collision alert, rear cross-traffic alert, and lane-keeping assistance. On the luxury side there's the addition of a sun-roof, adaptive headlights, and adjustable power seats for the second row passengers.
Another change is an upgrade from 20-inch wheels to 22-inch wheels, along with some exterior modifications, including the rear lip spoiler, a chrome bumper, and a chrome grille. There's also an optional color replacement for the grille in black or silver. Chrome inserts also come standard for the body and door handles, along with a metallic paint option.
There are four optional packages, two of which include the Interior Protection Package and Radiant Package from the base trim. The other two optional packages include the Escalade Sport Edition that features 22-inch spoke alloy wheels and a glossy black front grille, and the Sport Performance Braking Package that includes everything from the Escalade Sport Edition package and a performance front brake kit.
Premium Luxury Cadillac Escalade Features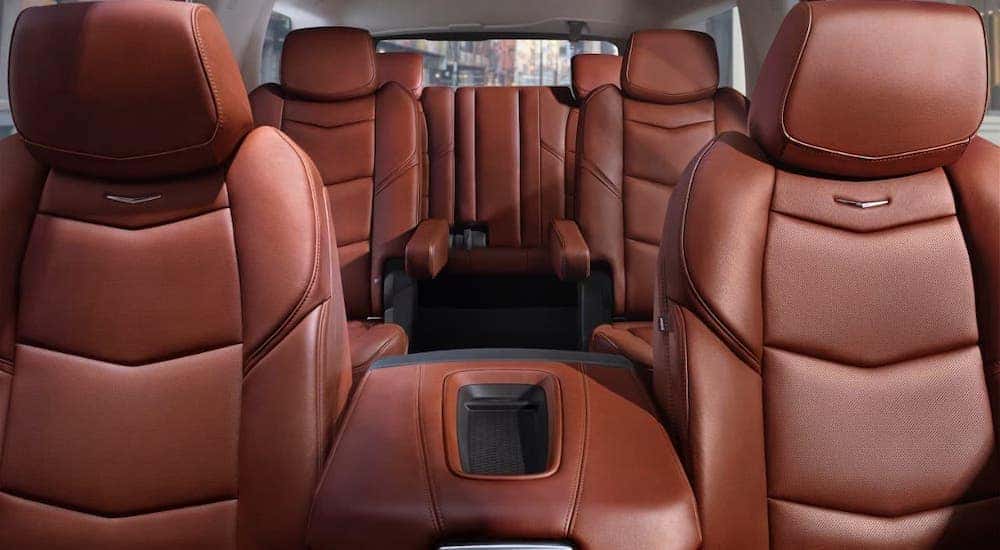 Like the previous trim before it, the Premium Luxury Escalade takes everything that was standard in the base and Luxury trims and then adds a few extra bells and whistles to the stable at a premium price.
The Premium Luxury adds adaptive cruise control to the line-up, along with enhanced automatic braking. A lot of the upgrades come in the form of standard entertainment inclusions, such as an audio/video remote, multi-source rear audio controls, and two wireless headphones for the back row passengers.
Speaking of the back row… those in the third row specifically have access to two LCD monitors that come with an entertainment Blu-ray/DVD system, in addition to the LCD monitors available in the second row of seats. The optional packages stay the same as the Luxury edition, including the Interior Protection Package, Radiant Package, Escalade Sport Edition, and the Sport Performance Braking Package. Whether you're looking for a new or used Cadillac Escalade, the Premium Luxury edition isn't necessarily going to be cheap to find.
Platinum Cadillac Escalade Features
If the price isn't a factor for you and you want to know what features are available in the Platinum Escalade, you probably won't be disappointed. The trim is cut from top to bottom in luxury, just as the moniker infers. The features start on the outside with power-retractable assist steps to climb up into the Escalade. From there, you're bombarded with a number of high-quality interior accouterments, including leather-wrapped instrument panels and door trims, semi-aniline leather upholstery for the first and second row seats, leather third-row seats, and 18-way adjustable driver and front-passenger seats with built-in massage options.
All of the top quality infotainment and quality of life features that are present in the Premium Luxury trim also return for the Platinum trim of the fourth generation Cadillac Escalade. This includes OnStar support, a navigation system, five USB ports, automatic temperature control, memory seats, an illuminated vanity memory, and cruise control with adaptive distance pacing and steering wheel controls. The LCD monitors with the Blu-ray and DVD entertainment system are also part of the Platinum package, with the added bonus of dual LCD monitors on the headrests of the rear seats.
The Platinum trim was reintroduced in 2016 fully featured all of the luxury features the brand had to offer. Like the Luxury and Premium Luxury trims, the Platinum Cadillac Escalade comes with four optional packages. These are the same packages from the other two trims, which include the Interior Protection Package, the Radiant Package, the Escalade Sport Edition, and the Sport Performance Braking Package.
Find A Cadillac Escalade Near You
Whether you're buying a new or used Cadillac Escalade, make sure you're well prepared and knowledgeable about which trim fits what you're looking for and what features you prefer out of a full-sized SUV. If you are in the Fort Worth, Texas area, then come visit Frank Kent Cadillac so that we can put you behind the wheel of your new Cadillac vehicle. Visit us at 3500 W. Loop 820 South in Fort Worth.