CADILLAC DEALERSHIPS – THEN AND NOW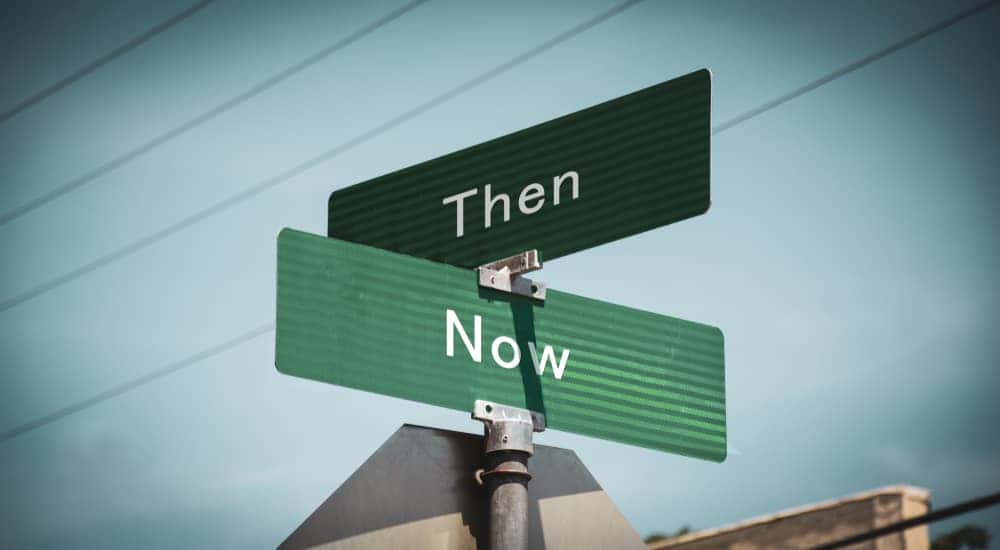 As one oldest automobile brands in the world today, Cadillac has produced luxury vehicles for over a century. Cadillac dealerships sell coupes, sedans, crossovers, SUVs, and even plug-in hybrids. When it comes to reputation and prestige, you will never find a more satisfying brand than Cadillac.
Cadillac as a brand was a first in many innovations over its years of flawless production. Cadillac was the first to have a V16 engine in 1930, as well as the first to have electric lights. As an innovator, Cadillac never fails to impress and shock in all the best ways.
Things You May Not Have Known about Cadillac
#1 – Cadillac was named after a French army officer
Who would have thought what would be a top-selling American automobile brand would come from a random Frenchman who founded what is now known as Detroit. He has nothing to do with automotive or the company, but they just found the name appealing and went with it.
#2 – Cadillac founder Henry M. Leland worked under Samuel Colt as a gunmaker
This was often remarked as the reason for Leland's amazing ability to produce such precise engineering and manufacturing know-how. Bonus fact is that he also souped up Oldsmobiles during his early years.
#3 – Cadillac was the first brand to be used as a bulletproof limo for the President
After the events of Pearl Harbor in 1941, high-profile officials were suddenly in need of extra protection. President Franklin D. Roosevelt was, of course, the highest priority, so the secret service got on it. On his way to his famous "Day in Infamy" speech, FDR road in the first presidential bulletproof limo, an impounded 1928 Cadillac driven by, wait for it, Al Capone.
#4 – Cadillac once put a mini bar in one of their vehicles
The 1957 Eldorado Brougham finally made fans drop their jaws when they introduced that it would have a way to get a drink. Talk about a fun time on the road, but we can only pray the driver wasn't enjoying this luxury as well.
Cadillac Vehicles
Cadillac has a high-class line of vehicles offering top quality, performance, and engineering at every price level they produce. There no corners cut with a Cadillac, regardless of the MSRP.
Cars
Cadillac ATS Sedan
MSRP: From $35,495
Dimensions: 183″ L x 71″ W x 56″ H
Seating: 5
Horsepower: 272 to 335 hp
MPG: 31 highway
Configurations: 9
Cadillac ATS Coupe
MSRP: From $38,495
Dimensions: 184″ L x 73″ W x 55″ H
Seating capacity: 4
Horsepower: 272 to 335 hp
MPG: 31 highway
Configurations: 9
Cadillac CTS Sedan
MSRP: From $46,495
Dimensions: 196″ L x 72″ W x 57″ H
Seating capacity: 5
Horsepower: 268 to 420 hp
MPG: 30 highway
Configurations: 6
Cadillac XTS Sedan
MSRP: From $46,295
Dimensions: 201″ L x 73″ W x 59″ H
Seating 2 or 5
Horsepower: 304 to 410 hp
MPG: 28 highway
Configurations: 12
Crossover and SUV
Cadillac XT5 Crossover
MSRP: From $46,295
Dimensions: 201″ L x 73″ W x 59″ H
Horsepower: 304 to 410 hp
Towing capacity: 3,500 lbs
Cargo volume: 30 ft³, 63 ft³ with seat area
Configurations: 7
Cadillac Escalade
MSRP: From $74,695
Dimensions: 204″ L x 81″ W x 74″ H
Cargo volume: 15.2 ft³, 94.2 ft³ with seat area
Horsepower: 420 hp
Towing capacity: 8,100 to 8,300 lbs
Configurations: 4
Hybrid
Cadillac CT6 Plug-In
MSRP: From $75,095
Dimensions: 204″ L x 74″ W x 58″ H
Horsepower: 335 hp
Battery: 18.4 kWh lithium-ion
Range: 31 mi battery-only
Charge time: 4.5 hours at 220v
Cadillac Ownership Perks
Protection Perks
Unique coverage packages and plans
Reliable Warranty
Service Perks
Personalized service
Professional Technicians
Roadside assistance
Resource Perks
Videos, manuals, and frequently asked questions resources
Signature Cadillac exclusive App
What to Expect from Your Cadillac Dealership
Convenience
If anyone tells you are buying a vehicle is easy, they are lying, disillusioned, or have been to a Cadillac dealership like Frank Kent Cadillac. Stress and buying a car, go together like peanut butter and jelly, but it does not need to be that way. A quality dealership breeds convenience in every step of the process from the first call to the last day you drive. Whether you require repairs, financial help, or guidance to find the right make, model, and trim, the process should be nothing but clean, quick, and calming. At a Cadillac dealership, dealers will make it their priority to get you in and out with care and simplicity.
Luxury
If you deserve some luxury in your life, you deserve a Cadillac brand vehicle. Cadillac as a brand was born strictly to make luxury and prestigious vehicles, and they refuse to back away from the mission. The exterior is stunning; the interior is refined, the features are modern and make you dream of better days as the world passes by you in perfect satisfaction and peace. As for the Cadillac dealerships, they are just as determined to raise the bar.
Cost
Cadillac is not a dealership for those looking for cheap, but for those looking for quality. The lowest you can pay for a Cadillac today is $34,705, and price tags can go over $90,000 if you include all premium options. Cadillac has a reputation for only producing the best high-class vehicles that are guaranteed to please and pamper every driver who invests in one.
Love
Buying a vehicle is kind of like match matching. You ask a lot of questions, do a lot of experimentation, do some snooping in private, and eventually, you come out with your one true love. When you are buying a car, you are investing a heck of a lot of money in order to get it. With an investment like that, there should never be a doubt that you love the vehicle you buy. Every car made by Cadillac assures quality, so it all comes down to trusting yourself to feel which one works best for your lifestyle and personal attractions. Every Cadillac brand vehicle is a superiority bachelor or bachelorette waiting to form a lasting bond.
Cadillac is a dealership with a lot going for it. It has a long and interesting history, a luxurious list of vehicle options, quality manufacturers and dealerships, and most of all the undying respect of the people who drive them.