A Few Things You May Not Know About the Cadillac XT4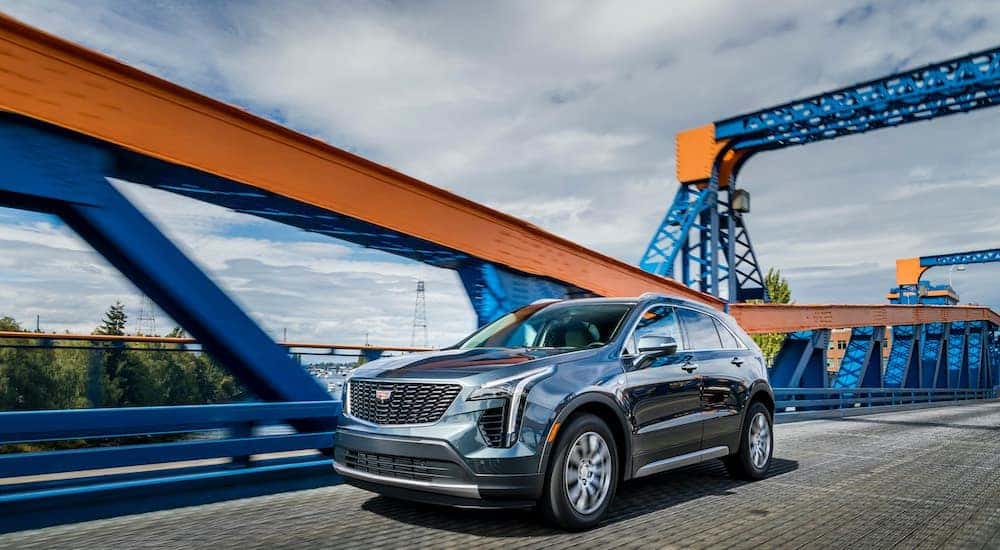 The Cadillac XT4 is a popular crossover SUV by one of the world's best luxury auto brands. While the XT4 is a young model for the company, it has already satisfied a popular demand for compact SUVs that combine the best of fun-to-drive, good performance sedans and spacious, well elevated large SUVs. You can find a used Cadillac XT4 for a good price, too. But many people have questions about these cars, including how to set up the infotainment system in the XT4. Read on for a few amazing things you may not know about the Cadillac XT4, including need-to-know features of the amazing CUE infotainment package in every model.
Its Name Actually Means Something
The XT4 may just sound like another random naming code. Just as other car brands have their distinct naming systems, like initials––what does a GLA even mean, anyway?––or just obscure references like an Equinox, Cadillac's name for their crossover SUV may seem like a simple code. But actually, XT4 is short for Crossover Touring 4, X representing "crossover." Cadillac determined that this was a fitting name for their new luxury SUV when they premiered their 2019 model in 2018.
The XT5, meanwhile, is a higher-end, pricier model. The XT6 is a larger, ultra-high-performance SUV. Many people confuse these three models, and not just due to naming conventions. They can appear similar to those who aren't Cadillac enthusiasts.
Just remember that as the name increases from 4 to 6, the size, volume, engine power, and price all increase as well. This is one reason why the XT4 is often referred to as Cadillac's entry-level, compact luxury SUV. It's an affordable SUV that's still luxurious and reliable enough to be worthy of the luxury Cadillac name.
It Looks Like a Cadillac for a Reason
The Cadillac XT4 is designed to fit right in with its older counterparts. While it's a very new model for the brand, Cadillac wanted to design its compact crossover SUV to look like a close relative of its other models. So they designed their XT4 with sharply angled sheet metal and that signature enlarged front grill. The Premium Luxury and Sport editions of the 2019 XT4 have some slight variations, including some aggressive, racecar elements in the latter, but the overall look of every XT4 is distinctly Cadillac. Robin Krieg, Lead Exterior Design for Cadillac, said of the XT4, "We were…successful in capturing the Cadillac essence in a really small athletic package."
Enjoy Tripower in an XT4
The XT4 has what Cadillac has called its "Tripower" system for superior engine performance. As aggressive as this name sounds, it just refers to variable valve lift and cylinder deactivation technology to increase performance and monitor fuel efficiency. And the results speak for themselves. For an impressively low price, the first Cadillac XT4 has a turbocharged 2.0-liter engine that offers 237 horsepower at 5000 rpm and 258 lb-ft of torque from 1500 rpm to 4000 rpm.
And for all that power, certainly competitive by compact SUV standards, you get a max estimated fuel economy of 30 MPG. While not the only amazing Cadillac sold in 2019, a used Cadillac XT4 gives you the perfect balance of luxury styling, engine performance, fuel economy, and a great price. Plus, you get to boast to your friends that your car utilizes Tripower––an impressive statement, even if they don't know what it means.
Choose Your Environment
Cadillac is true to its brand––no more so than when it describes its luxury auto interiors as distinct "environments." What's your favorite environment or interior ambiance? Is it bright and airy or dark and intense? If you shop for a used XT4, the best way to select a model is to sample the distinct environment in each one you come across. Find your niche!
One popular "environment" for the XT4 includes luxury light gray with leatherette, metal-trimmed black seats––for a modern but crisp environment that's peaceful even when your driving conditions aren't. For a more masculine and high-end environment that's dripping with class, try the all-black Premium Luxury package with aluminum accents and honed ambient lighting. Two-toned seat colors that include light gray or saddle brown, an ample sunroof, and genuine wood accents have an outdoorsy but elegant feel––think "glamping." Or, you can go sportier and more aggressive. Carbon fiber trim in red or black, a racing-inspired steering wheel and pedal setup, and low accent lighting make you feel like you're racing through the streets of Monaco, even if you're just commuting to work.
While you can certainly customize a brand-new XT4 to craft your perfect environment, you can easily explore a used Cadillac dealership to find ample options––for a custom feel without the brand-new-car price tag. You may be surprised by which interior environment feels like home to you. The only way to be certain is to step inside and feel the distinct ambiance inside.
The Infotainment System Is Seriously Advanced
While it's Cadillac's smallest SUV, the XT4 still contains the advanced, intricate, and totally convenient infotainment system, powered by Cadillac CUE software. Not only is it a crisp, easy to use, frameless touchscreen, but it also comes standard in every XT4! This is your hotspot for driver-assist features, standard safety technology, and climate control options.
Depending on the year and trim package, you can also get other amazing features like navigation assistance and active noise cancellation to quiet down your cabin. Premium Luxury and Sport models include a high-tech head-up display and even a wireless smartphone charging pad. But let's get to the entertainment side of "infotainment." The CUE system provides a Wi-Fi hotspot, Bluetooth device connectivity, and compatibility with Apple CarPlay and Android Auto––all of which are connected to a crisp speaker system.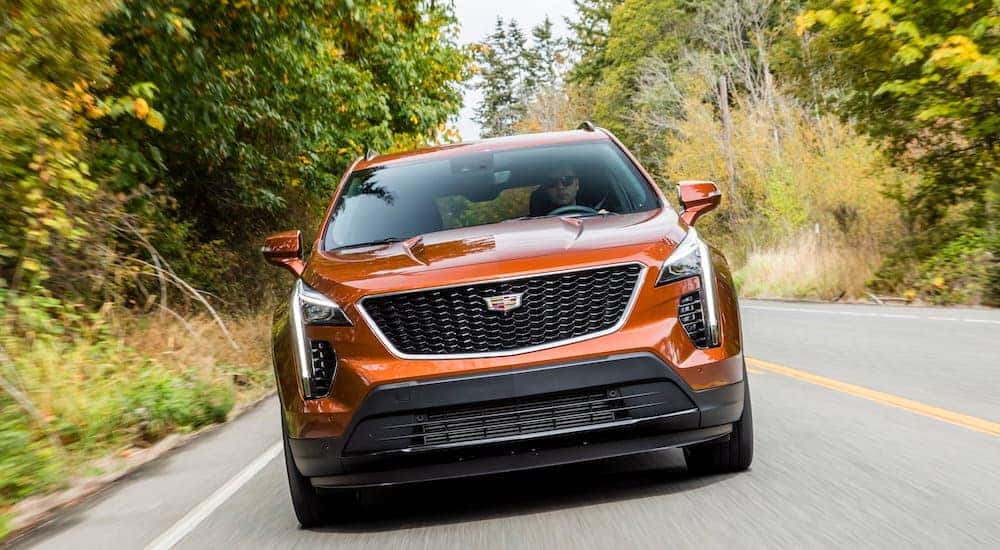 Is Setup Easy?
Setting up your CUE infotainment system in an XT4 is easy, even if it had a previous owner. First, press and hold the power button to ensure the system is on. Then, press the "Users" icon on the display to create a new user profile. Follow the simple instructions on the screen to set up your basic profile information and preferences.
Press the "Settings" button to set the date and time, language preferences, any custom display modes, and more. This is also where you can connect to your cell phone and sync info like your phone number and contacts to the infotainment system. You can also select the Wi-Fi option to personalize the name and password of the vehicle Wi-Fi, then connect your other smart devices (if activated).
To continue, you may also need to touch the "Privacy" option to allow location and data services. Once you've set up a user profile, you can save settings like climate and lighting preferences through your individual profile. It's easy to follow, and the infotainment system lays out a simple-to-follow progression for customizing your driving experience. Will you be sharing the car with another driver? Have them follow the above steps through the "Users" icons.
Then, press the music note button on the display to see the list of available audio sources, as well as to set audio preferences like the tone and volume. You can use the Bluetooth setting to connect to your phone's audio with the provided access information or press the Apple or Android buttons on the home screen to connect to these popular smartphone apps. Another cool feature: if you sign up for the Book by Cadillac subscription service, you can share your profile on multiple Cadillacs or GM cars that you own, so you can move saved features like phone contacts, navigation preferences, favorite places, and display settings between infotainment systems. You can also contact your dealership's service center for troubleshooting and other questions about setup, like personalizing a vehicle for teen drivers or adding and removing infotainment apps.
The Best Place to Find an XT4 is a Used Cadillac Dealer
Forget buying your car from an independent seller. Even if the price seems unbeatable, you take a huge risk and have little recourse if you're unsatisfied with your purchase. But you get the best value, quality guarantees, access to an amazing service package, a wide inventory to choose from, and other perks when you shop at your local used Cadillac dealer. You can also explore other Cadillac models like the XT5 and XT6 SUVs to find the right vehicle for you or your family. Contact us at Frank Kent Cadillac today to schedule a visit at our Fort Worth location and you can even test drive a Cadillac XT4.